You might be tempted to swing by Notting Hill just to snap the colourful townhouses or take a quick stroll down Portobello Road – but history likes to remind us that this affluent area wasn't always this desirable. In the 1800s it was a slum and centre for brick and tile production. Despite the wealthy James Weller Ladbroke starting to develop its rural surroundings, it never took off like Mayfair or Belgravia. In fact, it only really shook off the run-down image in the 1980s, and its popularity was helped along the way by Hugh Grant, Julia Roberts and that famous blue door. Here are five things to look out for the next time you're in the area.
1. Portobello Road pioneers
Notting Hill's most famous street began life as a rural lane and gets its name from Puerto Bello, a settlement in Panama that traded treasure with Spain. In 1739 the British Navy were eyeing up this profitable port and it was captured by Admiral Sir Edward Vernon. As a market, Portobello Road only really kicked off when trading hours were extended in 1927. A blue plaque claims Susan Garth, who ran the first antique shop in Red Lion Arcade, was the starting point that made the street 'an international institution'.
2. Pottery Kiln, Walmer Road
Once known as 'the potteries', Notting Hill's clay deposits meant it was perfect for making bricks and tiles. The only reminder of this today (apart from the street name 'Pottery Lane') is a rare nineteenth-century bottle kiln where the pottery products were baked, which can be found on Walmer Road.
3. Trellick Tower
Easily visible from Golbourne Road, Trellick Tower is one of London most controversial buildings. Nicknamed terror tower when it opened in 1972, it came to symbolise the failings of high-rise social living, thanks to problems with drug dealers on abandoned stairwells and residents being physically trapped in their flats. But typical London – a three-bed flat in that ol' tower will now set you back around £700k.
4. Electric Cinema, 191 Portobello Road
It may not look it, but this was England's first purpose-built cinema, originally called the Imperial Playhouse which opened in 1911. Loved by locals and saved in 2001 from re-development, it also has some darker tales associated with it. These include a German manager, chased out of town by those convinced he was signalling to zeppelins during WWI. Then there's John Christie, the serial killer who murdered eight women in nearby Rillington Place. It's thought he worked here as a projectionist during WWII.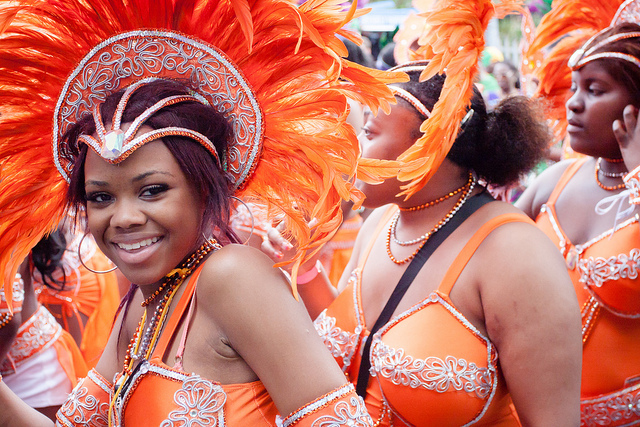 5. Carnival founder plaques
Notting Hill Carnival has been an annual traditional on the streets of W10 since 1966, born in response to the 1958 race riots. The first event was actually held in St Pancras Town Hall, organised by local Claudia Jones, often referred to as the 'Mother of Caribbean Carnival in Britain'. The carnival took to the streets with the help and determination of Rhaune Laslett-O'Brien, who organised the first Notting Hill Street Festival in 1965. Though not quite as eye-catching as the carnival itself, there are plaques celebrating these two women on Tavistock Road.
Check out ten pretty streets in west London you should definitely visit.