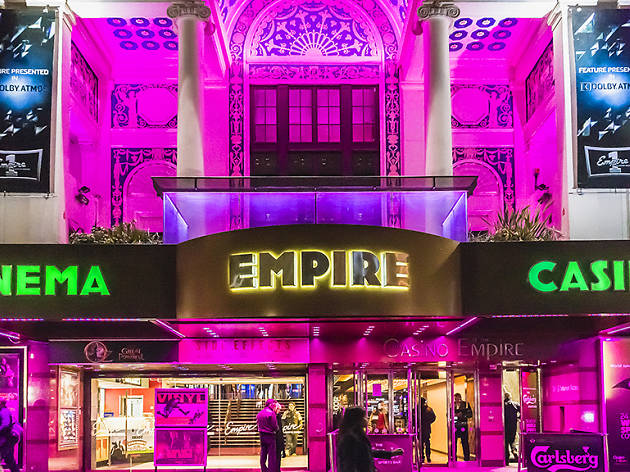 One of London's oldest cinemas (it opened as a theatre in 1884, and as a cinema following World War II) the Empire in Leicester Square was until recently home to London's biggest non-Imax cinema screen. It's now been refurbished, with its massive main auditorium separated into one full Imax screen and one smaller, 400-seat Impact (ie, big but not quite Imax) theatre. There are also a number of smaller screens tucked away throughout the building, making a total of nine. Don't come here to watch an award-winning three-hour Turkish drama. The programme is as mainstream as you'd expect from a central London multiplex, with all the big Hollywood hitters. The prices, too, reflect the cinema's tourist-friendly location. Snacks are the usual hot dogs, nachos and popcorn.
Venue name:
Empire Leicester Square
Contact:
Address:
Leicester Sq
London
WC2H 7NA

Do you own this business?
For all their global dominance, everybody wants these superhero movies to be better: funnier, smarter, more inclusive, more super. A huge step in the right direction, 'Black Panther' is that dream come true. Proudly African – even if its Africa co...

Read more

Part luxury real-estate advertisement, part corny TV-like procedural, 'Fifty Shades Freed' ends the mildly kinky, wildly successful series with a whimper, and not even a sexy one at that. The film opens with a wedding: Christian (Jamie Dornan) and...

Read more

Reliably, director Guillermo del Toro's mind goes to squishy, sexual places. He's a true voluptuary, not just the guy behind those bony creatures from 'Pan's Labyrinth' but also, per last year's Crimson Peak', a believer in grand, melodramatic f...

Read more

In a year with no Baz Luhrmann movie, 'The Greatest Showman' fills the gap with a big, brassy, unashamedly over-the-(big)-top circus musical with one eye on the multiplex and one on the pop charts. As befits an origin story for legendary American ...

Read more

Not the movie the notorious ice-skating flameout Tonya Harding probably deserves – but happily (for us) the one she's gotten – 'I, Tonya' is a dazzlingly complex and exuberant treatment of a disgraced figure. It flies along like 'Goodfellas': Dire...

Read more

Comfort is a word that keeps coming to mind while watching Richard Loncraine's lovely comedy. Comfort in watching a story holds almost no surprises, but goes everywhere you want it to. Comfort in watching actors with decades of experience playing ...

Read more

Not long after the heavy-handed 'Atomic Blonde' slipped Charlize Theron into the high heels, platinum wigs and dubious accent of a globetrotting spy, a stony-faced Jennifer Lawrence leads the way in the bleak, excessively long 'Red Sparrow', whi...

Read more
You may be interested in:
Rating Breakdown
5 star:

1

4 star:

2

3 star:

1

2 star:

0

1 star:

0
I went there just a couple of times but I think is one of the best cinemas in London. The rooms I saw are little and intimate, the seats incredibly comfortable. The staff was very friendly, they helped us to find our seats and also the food is amazing, you can find everything in the shops inside.
I loved the fact that you can book online and then collect your tickets at the machine. After the film, a little walk in the centre of London is simply necessary! :D