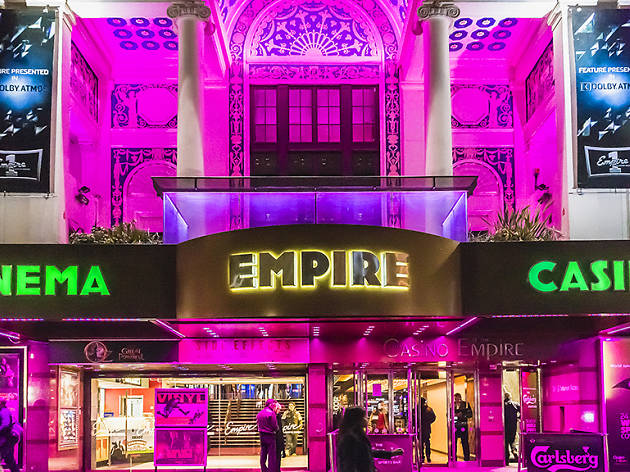 One of London's oldest cinemas (it opened as a theatre in 1884, and as a cinema following World War II) the Empire in Leicester Square was until recently home to London's biggest non-Imax cinema screen. It's now been refurbished, with its massive main auditorium separated into one full Imax screen and one smaller, 400-seat Impact (ie, big but not quite Imax) theatre. There are also a number of smaller screens tucked away throughout the building, making a total of nine. Don't come here to watch an award-winning three-hour Turkish drama. The programme is as mainstream as you'd expect from a central London multiplex, with all the big Hollywood hitters. The prices, too, reflect the cinema's tourist-friendly location. Snacks are the usual hot dogs, nachos and popcorn.
Venue name:
Empire Leicester Square
Contact:
Address:
Leicester Sq
London
WC2H 7NA

Do you own this business?
Overblown in almost every respect (not only its giant ape), 'Kong: Skull Island' is the kind of Hollywood fever dream that, in its first few minutes alone, throws at you a WWII bomber crash, a sizzling montage of Cold War nuclear escalation and a ...

Read more

"It's morphin' time!" fans will yell, as waves of light explode, color-coded armor creeps onto bodies, and tears of recognition are wiped away. Rarely has a franchise dominated childhoods as thoroughly as the '90s-era live-action 'Mighty Morphin P...

Read more

Before you get funny, no, they haven't come for his cat this time. Keanu Reeves is back as the taciturn ex-assassin prone to murderous rages: 2014's 'John Wick' saw him taking on the Russian mobsters who killed his dog (it reminded him of his dead...

Read more

British actor Dev Patel ('Slumdog Millionaire') is all grown up and back in India for this real-life tearjerker about Saroo Brierley, who as a five-year-old was separated from his family in rural India and later adopted by an Australian family. In...

Read more

The British explorer Percy Fawcett – driven crazy by his obsession to find a lost Amazonian city – vanished in the jungle in 1925. His story has everything you could possibly want in an adventure tale: treacherous colleagues, cannibals with bubbli...

Read more

America lies on the brink of ruin in this bleak and bruising comic-book road movie. It's 2029 and Logan aka James Howlett aka The Wolverine (Hugh Jackman) is working as a limo driver in El Paso, Texas, occasionally hopping over the Mexican border ...

Read more

This American horror film has more fun playing with racial tensions than with scaring us to death, which for some will be a bit of a letdown. The problem with 'Get Out' is that it is perhaps a touch too in love with its big idea: that for a young ...

Read more
Average User Rating
3.7 / 5
Rating Breakdown
5 star:

0

4 star:

2

3 star:

1

2 star:

0

1 star:

0
I went there just a couple of times but I think is one of the best cinemas in London. The rooms I saw are little and intimate, the seats incredibly comfortable. The staff was very friendly, they helped us to find our seats and also the food is amazing, you can find everything in the shops inside.
I loved the fact that you can book online and then collect your tickets at the machine. After the film, a little walk in the centre of London is simply necessary! :D