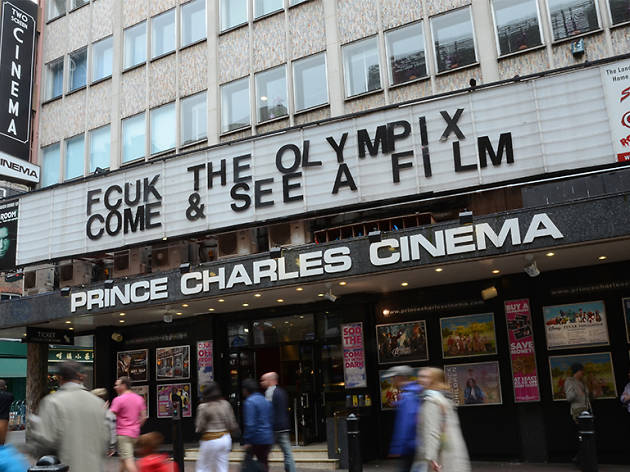 The Prince Charles in Leicester Square is the only cinema in London where no one is going to shush you. In fact, it's all about audience participation. Aca-along to 'Pitch Perfect', sing-along to 'Frozen' or get on your best jimjams and settle in for a marathon all-night pajama party. The Prince Charles started life as a porn cinema and it's still central London's wild card cinema. The programme isn't quite as sleazy as it might've been 40 years ago, but it's still a fantastic blend of new-ish blockbusters and arthouse titles with heaps of horror, sci-fi and teen-flick all-nighters, double bills and short seasons, often screened from 16mm or 35mm celluloid. Luxurious it ain't, but it's comfy, cheap and very cheerful, and the programming is as good as it gets. Voted 'best for fun' in Time Out's cinema awards.
Venue name:
Prince Charles Cinema
Contact:
Address:
7 Leicester Place
London
WC2H 7BP

Transport:
Tube: Leicester Sq
Do you own this business?
Enjoyable as it is, in its affectionate way, there's a feeling of  superfluousness about this latest spoof of the '70s-era Blaxploitation flick, directed by Scott Sanders from a story idea by its muscular star, Michael Jai White. White, with regul...

Read more

You might already know how the evacuation of Dunkirk in May 1940 turned out: how over 300,000 mainly British troops escaped from the beach and harbour of a northern French port while being bombarded by the Nazis. But the power of Christopher Nolan...

Read more

Co-produced by Japan's legendary Studio Ghibli (makers of 'Spirited Away'), this elegantly spare and dialogue-free animated film casts a magical spell. Set entirely on a speck of desert island, 'The Red Turtle' wrecks you with its luscious hues: t...

Read more

This charming animated family movie about a teenage Polynesian girl fighting to save her Pacific island's future feels like business as usual for Disney in many ways. There's a strong young female lead, catchy show tunes, lush landscapes and talki...

Read more

'No one likes a smart-ass,' Jack Slater (Schwarzenegger) advised young Danny (O'Brien), the kid who keeps insisting that Jack's fictional. He has a point. Here's the set-up: an elderly projectionist allows 11-year-old Danny to sneak into the midni...

Read more
You may be interested in: