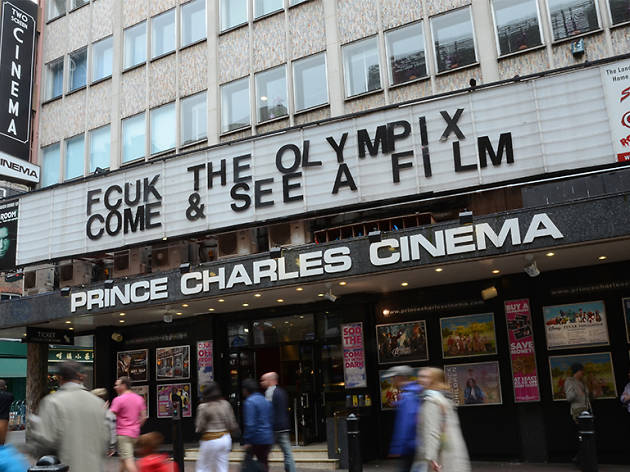 The Prince Charles in Leicester Square is the only cinema in London where no one is going to shush you. In fact, it's all about audience participation. Aca-along to 'Pitch Perfect', sing-along to 'Frozen' or get on your best jimjams and settle in for a marathon all-night pajama party. The Prince Charles started life as a porn cinema and it's still central London's wild card cinema. The programme isn't quite as sleazy as it might've been 40 years ago, but it's still a fantastic blend of new-ish blockbusters and arthouse titles with heaps of horror, sci-fi and teen-flick all-nighters, double bills and short seasons, often screened from 16mm or 35mm celluloid. Luxurious it ain't, but it's comfy, cheap and very cheerful, and the programming is as good as it gets. Voted 'best for fun' in Time Out's cinema awards.
Venue name:
Prince Charles Cinema
Contact:
Address:
7 Leicester Place
London
WC2H 7BP

Transport:
Tube: Leicester Sq
Do you own this business?
Striking one-off by a former record producer. A weirdly funny black comedy about an undersized cop, barely five feet tall but nursing a dream of becoming a Clint Eastwood hero. He makes the grade (after a fashion, since the dream turns sour) by wa...

Read more

Spielberg's Hook looks like a theme park. The PeterPan plot has been rejigged to suit Hollywood's dreary preoccupation with redemption; not that it matters much, since the story is largely becalmed so that we can wallow in the production values. T...

Read more

For eager young detective Jake Hoyt (Hawke), today is his first day in the field under the tutelage of Washington's jaundiced narc, Alonzo Harris. Shades of Seven immediately evaporate when Harris compels his partner to sample the illegal substanc...

Read more

'Blue is the Warmest Colour' is a minutely detailed, searingly erotic three-hour study of first lesbian love. Its writer-director, the French-Tunisian Abdellatif Kechiche, had a setback with his last film, 2010's 'Black Venus'. An imposing biopic ...

Read more

There are three things classic Disney animations are supposed to have. One: belting showtunes. Two: a bit of danger and darkness amid all the schmaltz. And three: a conservative message wrapped up in a traditional feelgood happy ending. Loosely in...

Read more

The first long shot of Howl's castle, moving through the fog of an Alpine pasture, is a doozy: its bullfrog-battleship bulk huffing and chunting along on a set of sure-clawed chicken-legs, it's the sort of organic-hydraulic hybrid at which Miyazak...

Read more

Fifty years since Ken Loach raged against homelessness in his television play 'Cathy Come Home', the British filmmaker has made a film infused with the same quiet but righteous anger about the failings of the society around him. 'I, Daniel Blake' ...

Read more

If you're a fan of Japanese animation house Studio Ghibli, don't miss this staggeringly beautiful film by rising-star director Makoto Shinkai (who's already being called 'the new Miyazaki'). 'Your Name' – Japan's highest grossing film of 2016 – is...

Read more
Average User Rating
4.5 / 5
Rating Breakdown
5 star:

10

4 star:

8

3 star:

1

2 star:

0

1 star:

0
The best independent cinema ever!!
Worth becoming a member for £10/£7.50 p.a. for the member screenings alone (£1) - and a reduction on the bar prices! Generally the cinema area itself feels a little "tired" but excellent value for money, friendly staff and wonderful sing-along parties.
Vintage art house cinema showcasing a great range of recently released European and International films.
We very much enjoyed 'Raleigh Ritchie Presents'. The format of the evening was a great idea: first Raleigh's "old" music video, then one of his favourite films "eternal sunshine of the spotless mind", his new music video and a Q&A. It was insightful to learn more about how music videos are made. I had not seen the film before, so it was great seeing it on the big screen. The cinema has friendly staff and comfy seats. I'd very much like to go to more of these events :)
'Raleigh Ritchie Presents' was a great evening, looking into the two different music videos he had made for his single Blood Sport, a Q&A with Raleigh himself and the team that put the music video together and in the middle of it all a viewing of the classic film Eternal Sunshine Of The Spotless Mind.
It was an entertaining evening because it was great to get an insight into how music videos are made and that Raleigh was such an enthusiast and likeable guy, completely different to the character he plays in Game Of Thrones. I was also surprised about how much I enjoyed seeing Eternal Sunshine again but this time on the big screen in such a nice cinema. It was only a shame that people seemed to shy away from asking questions in the Q&A.
We really enjoyed the full evening and the presentation of Raleigh Ritchie new video. Great atmosphere and cinema! Definitely coming back. X