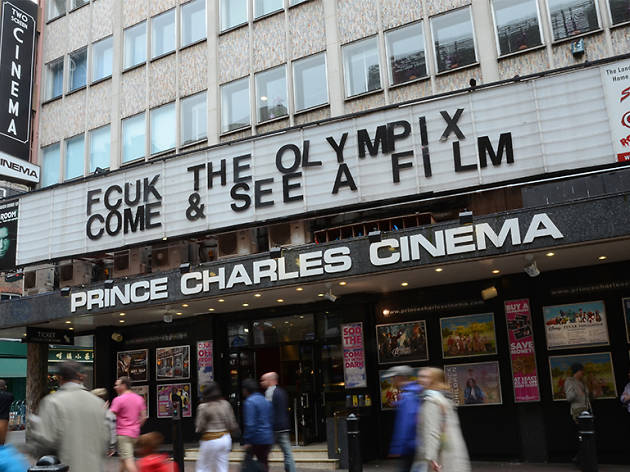 The Prince Charles in Leicester Square is the only cinema in London where no one is going to shush you. In fact, it's all about audience participation. Aca-along to 'Pitch Perfect', sing-along to 'Frozen' or get on your best jimjams and settle in for a marathon all-night pajama party. The Prince Charles started life as a porn cinema and it's still central London's wild card cinema. The programme isn't quite as sleazy as it might've been 40 years ago, but it's still a fantastic blend of new-ish blockbusters and arthouse titles with heaps of horror, sci-fi and teen-flick all-nighters, double bills and short seasons, often screened from 16mm or 35mm celluloid. Luxurious it ain't, but it's comfy, cheap and very cheerful, and the programming is as good as it gets. Voted 'best for fun' in Time Out's cinema awards.
Venue name:
Prince Charles Cinema
Contact:
Address:
7 Leicester Place
London
WC2H 7BP

Transport:
Tube: Leicester Sq
Do you own this business?
Car salesman Jerry Lundegaard (Macy) hires low-lifes Carl and Gaear (Buscemi and Stormare) to kidnap his wife, hoping that her wealthy father will pay a ransom from which Jerry can cream a share. The abduction goes according to plan, but the kidna...

Read more

A typically low-key domestic drama in Ozu's mournful, defeatist vein: it deals with the break-up between an office-worker and his wife when the husband embarks on a tentative affair, and surrounds both partners with extensive webs of friends, rela...

Read more

In 1993, Quentin Tarantino was cinema's boy wonder. 'Reservoir Dogs' had smashed indie box-office records, 'Pulp Fiction' was in production and his early scripts were being snapped up by the studios – including a matching pair of 'Badlands'-inspir...

Read more

The British explorer Percy Fawcett – driven crazy by his obsession to find a lost Amazonian city – vanished in the jungle in 1925. His story has everything you could possibly want in an adventure tale: treacherous colleagues, cannibals with bubbli...

Read more

Italian writer-director Luca Guadagnino likes to show off his homeland as a place of sensual self-discovery. That's especially true of his last two films, the exquisite Milanese romance 'I Am Love' (2009) – a film with the power to make you pack...

Read more

Set in 1902, on a barrier island off Georgia, this first feature is an impressionistic portrait of the ritual last supper of the Peazant family before migrating to the mainland. The younger generations are leaving the matriarch Nana (Day) and th...

Read more

Sex, sheep, silences and small steps towards a happier life define this confident and authentic-feeling British indie debut. 'God's Own Country' tells of a young farmer's romantic awakening on the windswept Yorkshire Moors. But man-of-a-few-grunts...

Read more
You may be interested in:
Average User Rating
4.6 / 5
Rating Breakdown
5 star:

16

4 star:

10

3 star:

1

2 star:

0

1 star:

0
It does't matter if you are looking to watch the newest blockbuster, or a cult film from the 80s, because the Prince Charles has got it all. Their calendar is packed full of events, from premieres to 35mm screenings, from pajama parties to sing-alongs. With a fantastic concession stand that sells everything from salted popcorn to alcoholic beverages, the Prince Charles is a must for any cinephile.
I highly recommend their member pass that is only £10 a year. The member pass offers a special £1 Sunday show, as well as discounts on nearly every film playing throughout the year.
The best independent cinema ever!!
Vintage art house cinema showcasing a great range of recently released European and International films.
We very much enjoyed 'Raleigh Ritchie Presents'. The format of the evening was a great idea: first Raleigh's "old" music video, then one of his favourite films "eternal sunshine of the spotless mind", his new music video and a Q&A. It was insightful to learn more about how music videos are made. I had not seen the film before, so it was great seeing it on the big screen. The cinema has friendly staff and comfy seats. I'd very much like to go to more of these events :)
'Raleigh Ritchie Presents' was a great evening, looking into the two different music videos he had made for his single Blood Sport, a Q&A with Raleigh himself and the team that put the music video together and in the middle of it all a viewing of the classic film Eternal Sunshine Of The Spotless Mind.
It was an entertaining evening because it was great to get an insight into how music videos are made and that Raleigh was such an enthusiast and likeable guy, completely different to the character he plays in Game Of Thrones. I was also surprised about how much I enjoyed seeing Eternal Sunshine again but this time on the big screen in such a nice cinema. It was only a shame that people seemed to shy away from asking questions in the Q&A.
We really enjoyed the full evening and the presentation of Raleigh Ritchie new video. Great atmosphere and cinema! Definitely coming back. X