The 100 best comedy movies
Which are the funniest movies ever made? Giggle along with our list of the best funny movies, as voted for by top comedians including Jack Whitehall, Dan Aykroyd, Jo Brand and Sharon Horgan
The best comedy movies of all time? We asked comedians, actors, directors and writers to share their favourite funny movies – old, new, mainstream, experimental.
The result is a definitive list of the top comedy movies ever made – a worthy companion piece to our lists of the best romantic, horror, sci-fi and action movies. Discover how many films in our list you've seen, and explore the top tens of our comedy experts. And if you think we're having a laugh, let us know in the comments section below!
By Dave Calhoun, Cath Clarke, Tom Huddleston, Trevor Johnston, David Jenkins, Kate Lloyd, Tom Seymour, Anna Smith, Ben Walters, Adam Lee Davies, Phil Harrison, Derek Adams, Wally Hammond, Edward Lawrenson, Gabriel Tate
The 100 best comedy movies: 100-91
The 100 best comedy movies: 90-81
The 100 best comedy movies: 80-71
The 100 best comedy movies: 70-61
70
'Free cable is the ultimate aphrodisiac.'
Director: Ben Stiller
Cast: Jim Carrey, Matthew Broderick, Leslie Mann
Produced by Judd Apatow, directed by Ben Stiller and starring Jim Carrey, Jack Black and Matthew Broderick, 'The Cable Guy' has all the building blocks of a legendary lad comedy. The film is no bromance though – Carrey plays a manic cable guy who drags newly single Broderick into his twisted fantasy world. Featuring a weird scene where a trip to a Medieval-themed restaurant leads to the two pals jousting viciously, this dark comedy's strengths lie in revealing the nasty side of Carrey's acting persona. KL
Read more
69
'I know a little German. He's sitting over there.'
Directors: Jim Abrahams, David Zucker, Jerry Zucker
Cast: Val Kilmer, Omar Sharif, Billy J Mitchell
Eager to parody the WWII spy flick but keenly aware that, despite what Mel Brooks might think, the Nazis really weren't all that funny, the 'Airplane' team of Zucker, Abrahams and Zucker hit upon the notion of a dimwit American rock star sent into East Berlin to infiltrate the Russkies. The result isn't quite as rampantly gag-stuffed as either 'Airplane!' or 'The Naked Gun', but the jokes there are land hard: Peter Cushing's amazing giant eye, Kilmer's pitch-perfect Beach Boys parody and some timeless wordplay (see above). TH
Read more
68
'Birdie num nums.'
Director: Blake Edwards
Cast: Peter Sellers, Claudine Longet
Today it is offensive – but back in 1968, people thought nothing of one of the country's most beloved comedians darkening his face to play a bumbling Indian actor at the party of a high-ranking studio exec. And the truth is, the filmmakers needn't have bothered with questionable identities and extra make-up because Peter Sellers could have pulled it off by simply being himself. From the moment his overly inquisitive extra arrives at the party, a battery of misfortunes unfold as the clumsy but well-meaning guest blunders from one hilarious mishap into another. DA
Read more
67
'Nobody wears beige to a bank robbery!'
Director: Woody Allen
Cast: Woody Allen, Janet Margolin, Marcel Hillaire
If you try to rob a bank, it helps if you can convince the bank you're a robber. And if you play the cello, it's maybe best not to join a marching brass band. Such is the life of Virgil Starkwell, the remarkably committed and useless criminal who, as a kid. 'Take the Money and Run', Woody Allen's directorial debut, is a messy, at times romantic, often baggy film, full of sight gags, overlaid with some of Allen's most trusted nightclub material. If this lacks the emotional dexterity of Allen's mid-career film, it remains a remarkable early calling card for one of the twentieth-century's defining comic actor/directors. TS
Read more
66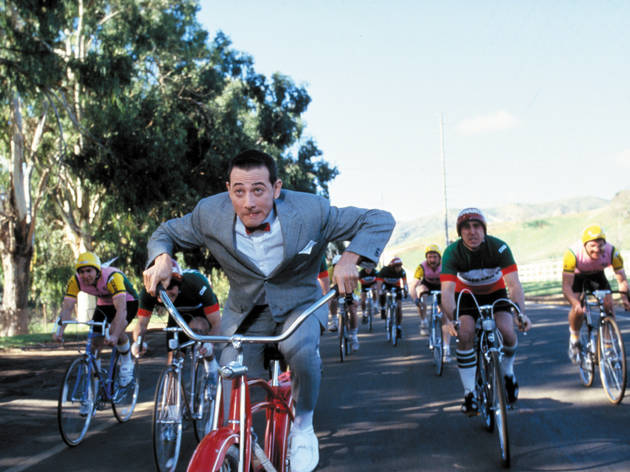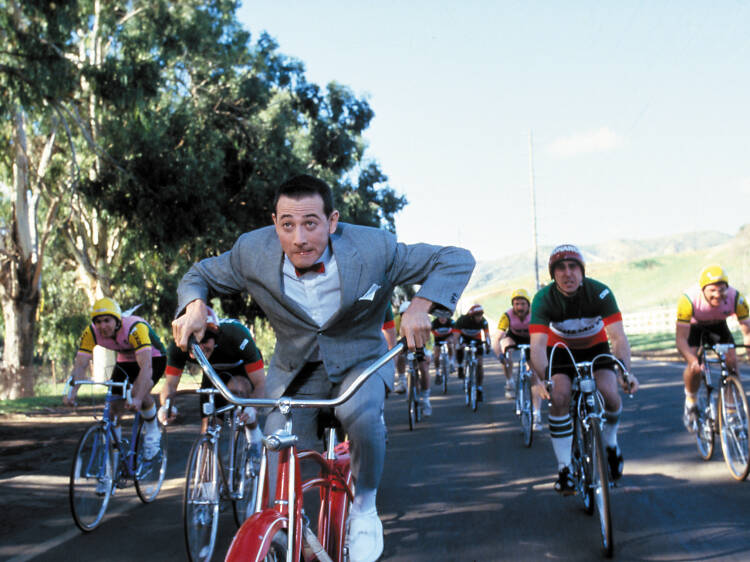 'There's a lotta things about me you don't know anything about, Dottie.'
Director: Tim Burton
Cast: Paul Reubens, Elizabeth Daily, Mark Holton
Paul Reubens's signature comedy creation, mischief-making bow-tied big kid Pee-wee Herman, was already a big live draw before Tim Burton's movie preserved this unique persona for celluloid immortality. A wide-eyed innocent abroad and a prissy egotist with a malevolent streak, Pee-wee certainly dances to his own beat, though it's one Burton is certainly attuned to, creating a cavalcade of carnivalesque wit, wonder and fear as the dauntless protagonist crosses America in search of his beloved stolen bicycle. TJ
Read more
65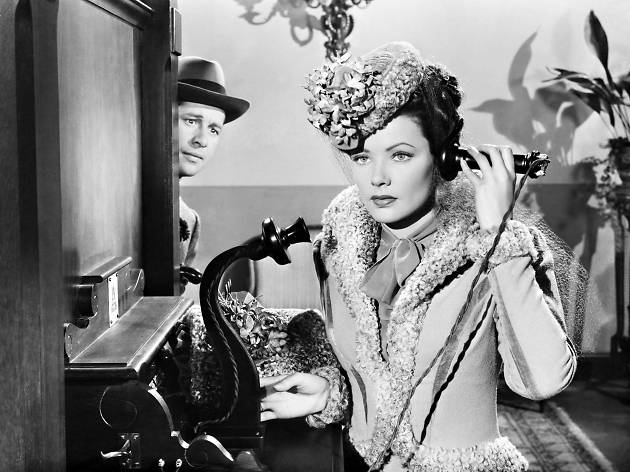 Heaven Can Wait (1943)
'It's a father's function to save his son from the mistakes he made.'
Director: Ernst Lubitsch
Cast: Gene Tierney, Don Ameche, Charles Coburn
A satirical portrait of a womaniser who messes up the great romance right in front of him, this Technicolor delight from the legendary Ernst Lubitsch features the screen's most elegant visualisation of hell: all marble columns and shiny floors, presided over by Laird Cregar's suave Satan, who decides whether new arrival Don Ameche is to go 'down below' or 'up above'. This is a sophisticated watch – if a little forgiving of male foibles, and more likely to give you an attack of wry smiles than out-and-out guffaws. TJ
64
'I make you laugh, I'm here to fuckin' amuse you? What do you mean funny, funny how? How am I funny?'
Director: Martin Scorsese
Cast: Ray Liotta, Joe Pesci, Robert De Niro
An unusual entry in a list of comedy movies, you might think – but top comedians voted for it, and here it is. And hey, Martin Scorsese's ferocious gangster flick is damn funny, when it isn't busy being terrifying, paranoid and ultraviolent. Joe Pesci's rabid chihuahua Tommy may grab most of the comic lines, including the infamous 'funny how?' speech. But Ray Liotta is no slouch in the raise-a-smile department, his sheer coke-fuelled haplessness a vital corrective to the steely gangster heroes of 'The Godfather'. TH
Read more
63
'I once stole a pornographic book that was printed in braille. I used to rub the dirty parts.'
Director: Woody Allen
Cast: Woody Allen, Louise Lasser, Carlos Montalbán
The plot of Woody Allen's second feature movie sounds like a Seth Rogen stoner comedy: lazy guy stumbles into job as leader of a South American revolution. Except this is a Woody Allen film, so amidst daft slapstick, cutting one-liners and guerrilla warfare you'll find commentary on the corruption of power and the role of the media. It's a bit mad – there's one scene where someone orders 1,000 grilled cheese sandwiches – but it's one of Allen's best. KL
Read more
62
'Did you ever find Bugs Bunny attractive when he put on a dress and played girl bunny?'
Director: Penelope Spheeris
Cast: Mike Myers, Dana Carvey, Tia Carrere
Heavy metal was under fire from all angles in 1992: Nirvana were on the up, Tipper Gore was on the rampage and, weirdly, poodle hair and spandex just didn't seem that cool any more. But the final nail in the coffin – unintentionally, it seems – was poor old innocent Wayne Campbell. In peeking behind the double denim and studs to uncover the cuddly mid-30s stay-at-home air-guitar nerd that dwells inside every hardcore cock-rocker, Penelope Spheeris and Mike Myers simultaneously celebrated the scene's finest elements – the solos, the camaraderie, the true icons like Alice Cooper – and lampooned its more ludicrous excesses. TH
Read more
61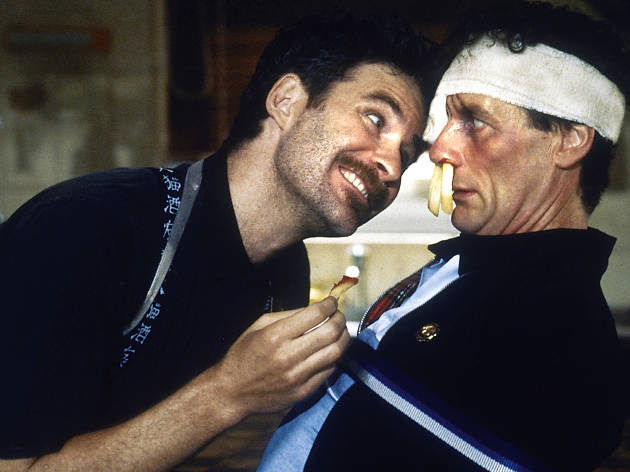 'You're the vulgarian, you fuck!'
Director: Charles Crichton
Cast: John Cleese, Jamie Lee Curtis, Kevin Kline, Michael Palin
Perhaps the best British comedy since the heyday of Python, as John Cleese deliberately attempted to move away from satirical silliness and back to a more plot-driven, unmistakably British brand of comic caper. (He even went so far as to hire 78-year-old Ealing stalwart Charles Crichton to direct.) The result is a film which, like its slippery American heroine, is madly in love with language, from tongue-teasingly delicious sarcasm to some truly outrageous swearing. Add to this four iconic performances (five if you count the inimitable Tom Georgeson as cockernee gangster George 'Unbe-fackin'-lieveable!' Thomason), and the result speaks for itself. TH
Read more
The 100 best comedy movies: 60-51
The 100 best comedy movies: 50-41
The 100 best comedy movies: 40-31
The 100 best comedy movies: 30-21
The 100 best comedy movies: 20-11
The 100 best comedy movies: top ten
How many comedy movies have you seen?
Do you love a chuckle? Put your comedy movie prowess to the test with our interactive checklist.
Read more
Who voted in our top 100 comedy movies countdown?
How did we choose the 100 best comedy movies of all time? We asked the experts – more than 70 stand-up comedians, actors and writer and directors who make a living tickling our funny bones. Explore the top ten entries from all our contributors, including Peter Capaldi, Sharon Horgan, Jack Whitehall and Jo Brand.
Read more