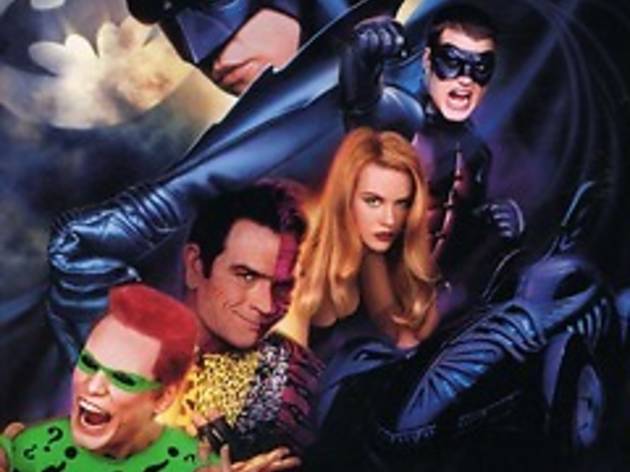 The second sequel to Tim Burton's 1989 blockbuster makes its predecessors appear models of subtlety and coherence. In theory the film marks a new lease of life for the caped crusader (new star, new faces, new director); in practice everything about Forever feels stale and self- conscious. Kilmer is a more sensual Bruce Wayne than Michael Keaton, but if anything his remodelled body-tight Batsuit proves even more of a straitjacket. As in Returns, our hero has to fight for screen time with not one, but two scene-stealing villains, Jones's (wasted) Harvey Two-Face and Carrey's Riddler, plus the love interest, Kidman's ludicrously perverse shrink Dr Meridian. As if that's not enough, he's been stuck with a partner-in-crimebusting, O'Donnell's butch young Robin, obviously designed to broaden the demographics (the queer styling even runs to a fetishistic close-up of the Bat-butt). The perfunctory plot concerns the Riddler's mass-marketing of a televisual brain drain.
Cast and crew
Director:
Joel Schumacher
Screenwriter:
Lee Batchler, Akiva Goldsman, Janet Scott Batchler
Cast:
Val Kilmer
Drew Barrymore
Chris O'Donnell
Tommy Lee Jones
Jim Carrey
Nicole Kidman
Michael Gough

Average User Rating
2.5 / 5
Rating Breakdown
5 star:

0

4 star:

0

3 star:

1

2 star:

0

1 star:

0
KILMER is a better Batman than crazy clutzy dumb KEATON. Kilmer's BRUCE WAYNE is suave, smart, and sexy. But the script is horrible, and the plot is INSANE. All that garbage is worth 200 million to produce?? The director and screenplay writers should be SHOT. TWICE.