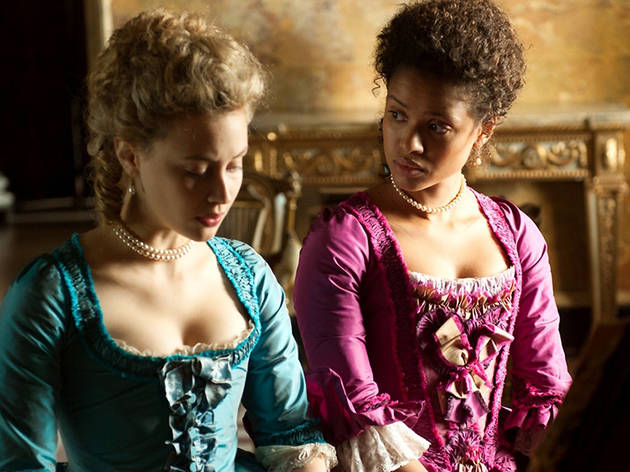 Time Out says
Sometimes you find yourself wishing for an alternative version of the film unfolding before your eyes. 'Belle' is a good-looking and exceedingly polite film where perhaps a more complex one with less good manners would have been better. It's the story of a mixed-race girl, Dido Belle (played first by Lauren Julien-Box, then Gugu Mbatha-Raw), who was brought up by an aristocratic family in Hampstead's Kenwood House in the late 1700s. Dido was the daughter of a high-born naval officer and a black woman about whom very little is known.
Most of 'Belle' plays out in drawing rooms and manicured gardens. The film is dominated by two questions. Will Belle be able to marry the man she loves, the son of a clergyman (Sam Reid)? And which way will her great uncle, the nation's top judge Lord Mansfield (Tom Wilkinson), rule in a case that will have implications for whether slaves are considered as cargo or human beings? Asante conflates these two strands into a simplistic, love-conquers-all plotline. It's creaky but effective.
You can't ignore what's missing. The relationship that bore Dido is barely imagined or explored here. Nor does 'Belle' deal with the inequity of race relations with anything like the unblinking gaze of '12 Years a Slave'. There are raw, uncomfortable moments, helped by a strong performance of fragile resolve from Mbatha-Raw, but they are few.
Instead, director Amma Asante ('A Way of Life') takes a genteel, even breezy approach, as if wooing – certainly not wanting to offend – the 'Downton Abbey' brigade. To Dido's story, Asante applies the same dance surrounding status, wealth, power and marriage that you'd expect from a Jane Austen adaptation. And perhaps that itself lends this unexceptional but watchable spin on an exceptional life the merest whiff of subversion.
Details
Release details
Rated:
12A
Release date:
Friday June 13 2014
Duration:
104 mins
Cast and crew
Director:
Amma Asante
Screenwriter:
Misan Sagay
Cast:
Gugu Mbatha-Raw
Matthew Goode
Emily Watson
Tom Wilkinson
Sarah Gadon

Average User Rating
3.4 / 5
Rating Breakdown
5 star:

2

4 star:

5

3 star:

4

2 star:

0

1 star:

2
A gripping story line from start to finish. Please don't be put off watching this excellent film because it falls under the umbrella of "Period Drama" as it is a very emotional but true story which has been excellectly made. It follows the difficult life of a young girl born of mixed race in the late 18th century. Dido Elizabeth Belle is claimed by her noble English Aristocratic father Admiral Sir John Lindsay, against many protests from his family. She is raised by her aristocratic great-uncle Lord Mansfield and his wife, Belle's aristoratic Father affords her certain privileges, yet her mixed race status prevents her from the social standing she would otherwise have enjoyed. While her cousin Elizabeth chases suitable bachelor's for marriage, Belle is left on the sidelines wondering if she will ever find love. After meeting a young vicar's son bent on changing societies attitudes, he and Belle help shape Lord Mansfield's role as Lord Chief Justice to end slavery in England. We challenge you to leave the cinema with dry eyes !!
Disappointing. This film sadly could not work out what it wanted to be; a hard hitting comment on the lead up to the abolition of slavery or a sickly sweet romance. I expected better acting from its stellar cast too. It is a visually beautiful film though. Not one I'd recommend to a friend though.
Belle - Gads sirrah, a damn fine film and no mistake! Emancipation, anti slavery, bosom heaving costume drama with a layer of 18th century Top Trumps style match making among the lords and ladies. Contrary to my good lady's expectations, there was not the slightest moment of heavy eyelids! Thanks again Ray Jones and Time Out.
Based on a true-life story, Belle is a beautifully shot period drama with a social conscience, and executed wonderfully by a stellar cast.A delightful enough and entertaining movie, however I was left with the impression that it could have delivered so much more. Too sugary to pack a punch, and ultimately failed to make the impact it so deserved. The end credits left me feeling a tad disappointed.
It can't have been easy being a woman of mixed race in the late 1700s, and this story based on the life of Dido Elizabeth Belle does an excellent job of presenting some of those difficulties without being overly sentimental or unduly dramatic. Whilst there has been some artistic license taken with the story, especially her romantic relationships, this works in the narrative and does not detract from the central theme of British opinions about race and slavery.
The film offers a compelling portrayal of an aristocratic family's struggle to deal with their own racial prejudices, their obligations to their illegitimate great niece, and societal norms and expectations, as well as their efforts to balance that against their emotional attachment to the child they have raised. Add in the true fact that the great uncle is the Lord Chief Justice of the day, with responsibility for ruling on pivotal cases that will ultimately decide the future of the slave trade in Britain, and it makes a fascinating story.
I found Belle to be engaging, insightful and immensely enjoyable.
Thanks for the tickets timeout! I usually enjoy period dramas, but to be honest, I was quite dissappointed by this one and wouldn't recommend belle. However the milbank cinema is definitely worth a visit. - nice location!
I thoroughly enjoyed the TimeOut Card screening of Belle at the Millbank Cinema. Period dramas have always appealed to me, and this true story set in Kenwood particularly appealed to me as I grew up in the area. It was wonderfully cast - especially Gugu Mbatha-Raw as the lead lady, and I look forward to seeing more from her in the future. I wish Belle every success upon it's release.
An enjoyable if conventional telling of the story , Well photographed, and acted . A few discrepancies in the plot/editing and although the music was appropriator, a little intrusive to the narrative. The issues dealt fairly if lightly .Hopefully it will do well .

Amazing film. Great acting. Very interesting
I had the pleasure of getting tickets to the preview of Belle at Millbank Tower, and I must say this was a great experience.
The movie was wonderful and I enjoyed every moment of it! A Must watch for anyone who is interested in the story of abolition of slavery

I have just got home from the Time Out Card screening at Millbank Tower. I have to admit to going in with low expectations. The poster showing the cast in period costume just did not turn me on. The movie however, really did. I loved it. From start to finish. I liked the way it faced its issues, with a light but firm touch. I hope Belle does well on its release. I will certainly be encouraging friends to see it.