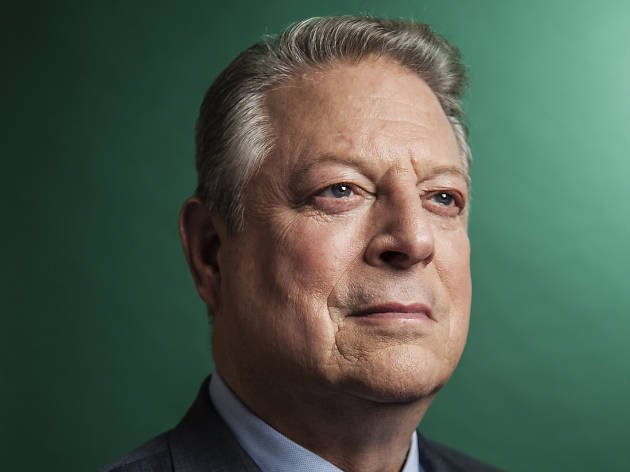 Climate change deniers, beware! Al Gore is back to save the planet
As the former US veep releases a follow up to 'An Inconvenient Truth', he talks to Time Out about Trump, veganism and how we can stop global warming destroying the Earth
The day I meet Al Gore is a wet one. As if to prove a point, the weather dumps more than a month's worth of rain on London in a freak shower so intense the Met Office has issued weather warnings. Al is unfazed. 'Extreme climate-related weather events have been more common and more severe since I released "An Inconvenient Truth" ten years ago,' the former vice president of the USA tells me as we dry off in a Piccadilly hotel. 'In the UK, you've had huge downpours and floods, and all around the world they've been really piling up.'
It's one of the reasons why the Nobel Prize-winning activist (pipped to the US top spot by George W Bush in 2000) decided to release 'An Inconvenient Sequel: Truth to Power'. Following Gore as he continues giving presentations on how burning fossil fuels is heating up our planet, the film makes two points. One: the solutions to climate change are here and getting cheaper. Two: global warming is already affecting our world. Drought has made millions of Syrian people refugees. Rising sea levels have submerged roads in Miami (there are fish swimming in the street!). And global warming may be responsible for some of the weird weather we've had here. At the same time, the opinions of climate change deniers are increasingly amplified both online and in world politics. In rainswept London, we talk about Gore's hopes, fears and why it's time to act.
What makes you most worried about our future?
'From time to time, a scientific report will show up signalling that some important ice sheet is beyond the tipping point and is going to melt 
into the ocean and raise sea levels no matter what we do. But we should focus on what we can do.'
Was there a place you visited for the film that had a massive effect on how you felt about the crisis?
'The interactions I had with the survivors of Typhoon Haiyan in the Philippines. There were 4.1 million climate refugees there, not to mention the thousands who died. It was powerful.'
'We're close to a tipping point beyond which we'll see much more rapid progress'
How was that storm affected by climate change?
'It crossed over waters of the Pacific that were 3C warmer than normal, and that's why it became so destructive. We're trapping as much extra heat in the Earth's atmosphere every day as would be released by 400,000 Hiroshima-class atomic bombs exploding every 24 hours; 90 percent of that is going into the ocean.'
Climate change deniers have been given a political platform recently. Has there been movement in the opposite direction too?
'Oh yes. There was a global survey of countries showing that concern about the climate crisis has grown considerably and is now twinned with terrorism as one of the two issues people are most concerned about. Even people who may not be politically comfortable talking about global warming are noticing that the weather is weird.'
In London this summer, pollution hit the headlines because the city's air had become 'toxic'.
'And that's from the co-pollutants that come from burning fossil fuels. It's also because when air gets warmer than normal, it holds pollution more.'
Are there any cities that London should look to 
as environmental role models?
'Stockholm is certainly one. I would pick Georgetown, Texas, as another. There are a lot of cities now that have converted to 100 percent renewable energy. There are also cities that ban automobiles from their downtown areas.'
What's happening in Georgetown?
'This is a city in the heart of oil country that describes itself as "The most conservative Republican city in the Republican state of Texas". The mayor is a Trump supporter, but he did 
the arithmetic that showed him everybody in 
the city could save money if the city converted 
100 percent to solar and wind energy. Now their bills are lower. It's kind of a side benefit that they're helping save the future of humanity.'
Is there one green habit you struggle to keep up?
'Unplugging my cellphone charger. I feel guilty when I don't do it.'
I googled your name. It autocompleted with 'Can Al Gore run for president in 2020?'. Would you?
'I'm a "recovering politician". And the longer I go without a relapse, the less likely one becomes…'
Do you think you've managed to bring about 
more change than you would have done as president?
'I feel lucky to have found ways to try and make the world a better place outside of the political system. But I don't have the illusion that there is any position with as much potential to bring change as the position of President of the United States.'
Donald Trump has said he doesn't believe in climate change. How much of a threat do you think his presidency is to the planet?
'Less of a threat than I feared it would be. He is doing damage every day, but I worried that he would lead other countries to follow his example. When he made his speech pulling the US out of the Paris Agreement, the very next day the rest of the world redoubled their commitments to it, as if to say "We'll show you, Donald Trump." '
Young people now have grown up believing in the climate crisis. Do you think that this, paired with rising interest in activism post-Trump, could bring real change?
'It is already having a very powerful effect. Your generation is the largest in history and your views are beginning to determine the views of the body politic generally. It's a bit like gay marriage in the sense that many people in my generation struggled with the idea of gay marriage and your generation said: "Hello! What's the big deal here? Come on, let's move forward." We are close to a tipping point beyond which we're going to see much more rapid progress.'
'Even people who may not be politically comfortable talking about global warming are noticing that the weather is weird'
Are there any documentaries that you've really loved recently?
'I liked "Inside Job" – I thought that was very good. "Forks Over Knives", "Food Inc"… there are a lot of food documentaries now.'
Am I right in thinking you've been vegan for 
five years?
'I am. I don't proselytise other people to change their diets because it's a personal choice. I started out just trying it for 30 days and I felt better.'
Is it better for the environment as well?
'Yes, it takes about 8lb of plant protein to end up with 1lb of animal protein, so as the meat intensity of diets increases, the land needed increases and greenhouse gases from agriculture increase significantly.'
Have you eaten any good vegan food while you've been in London?
'I get food from Mildred's. And there's an Indian restaurant just a block from here – it's not entirely vegan – Gymkhana.'
Finally, is there something that gives you hope?
'Yes. An 11-year-old girl came to some climate training I did in Denver. I asked the staff, "Are we sure she's old enough to do this?" Two weeks later, I clicked on a video that was going viral and the same girl showed up at the town hall meeting of her congressman in Colorado, giving him hell on climate. She invited him to come to her science class the following week. He was busy that day.'

'An Inconvenient Sequel: Truth to Power' 
is in cinemas now.
The best films of summer 2017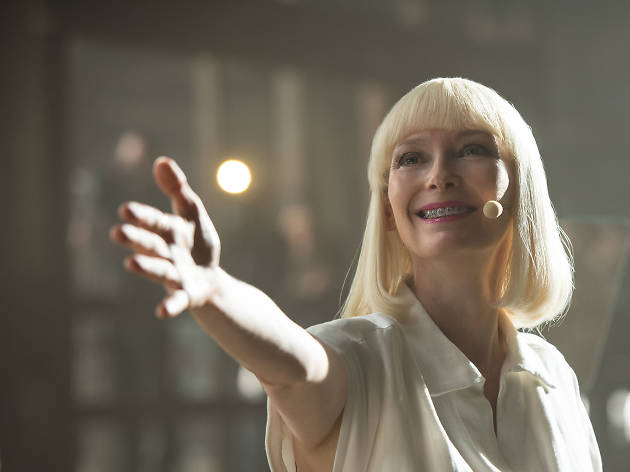 Here's our pick of the best films hitting cinema screens over summer 2017, from the year's biggest blockbusters to sweet stop-motion, bicep-heavy reboots and petrifying space prequels.
Support Time Out
We see you're using an ad-blocker. Ad revenue is Time Out's main source of income. The content you're reading is made by independent, expert local journalists.
Support Time Out directly today and help us champion the people and places which make the city tick. Cheers!
Donate now