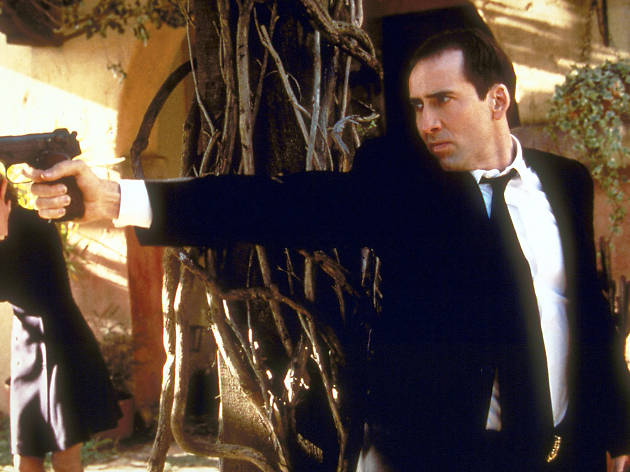 Pay attention, none of this makes much sense. Five years after the murder of his son, FBI agent Sean Archer (Travolta) finally has the drop on terrorist Castor Troy (Cage) - but with Castor comatose and a bomb ticking somewhere in LA, Archer's persuaded to undergo facial surgery, swapping Castor's features for his own. In this way, Archer-as-Troy (Cage) hopes to trick the location out of Castor's brother Pollux (Nivola). Unfortunately, Castor wakes up, and makes off with Archer's face, killing everyone who's in on the secret, and moving into his enemy's office. Woo's poetic-kinetic style has evolved, if not to the point of abstraction, then to delirium: he makes a virtue of incredulity. With two of Hollywood's most flamboyant actors playing each other, the movie becomes a kind of pop Heat, an elaborate self-parody and quasi-serious examination of the art of film acting. Yet there's an authentic subversive frisson as Travolta (as-Troy-as-Archer) sizes up his rebellious teenage daughter, puts the sizzle back into a stale marriage, and generally carries on with the air of a sociopath getting the most out of life. 'Are we having any fun yet?' he demands. Twice over.
Cast and crew
Director:
John Woo
Screenwriter:
Michael Colleary, Mike Werb
Cast:
Gina Gershon
Alessandro Nivola
Joan Allen
CCH Pounder
John Travolta
Nick Cassavetes
Nicolas Cage
Harve Presnell
Dominique Swain

Rating Breakdown
5 star:

3

4 star:

0

3 star:

0

2 star:

0

1 star:

0
This is a brilliant action / crime film.
The concept is unique, the story gripping.
The quality of acting and filming are high up there. The soundtrack is absolutely memorable.
This is one of those rare films that take a very unlikely (impossible some might say) plot and yet does not make you got "as if!" or "whatever!". It all looks plausible, it all holds together in what is an extremely intense movie where everything will go from good to bad in an instant and when you least expect it - a true cinematographic rollercoaster.
Special mention about Nicolas Cage's performance which was the best of his career I would say.
it was the best film of all time watch it im a 12 year old sayin this youll enjoy this
it was the best film of all time watch it im a 12 year old sayin this youll enjoy this