Meet the team behind 'Belle'
Dido Belle was the only mixed-race aristocrat in 1700s London and her life shines a light on Britain's role in slavery. We talk to the makers of 'Belle', a new film about a black London heroine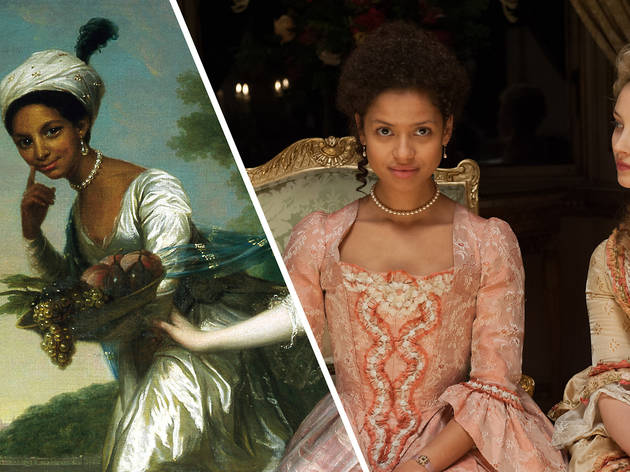 We do love a corset drama in this country. But '
Belle
' is possibly the first ever to feature a mixed-race heroine. It's the story of Dido Belle, who grew up in the home of one of London's most powerful men in the late 1700s. History might have swept her story under the carpet if not for a painting – a portrait from 1779, portraying Dido as a beautiful teenager in a fine silk frock, hair wrapped in a turban, posing with her white cousin.
'When you look at the painting, you can see this girl clearly has a personality,' says Gugu Mbatha-Raw, the actress who plays Dido in the film. 'She's got a vivacious, almost impish look on her face. Women in paintings of that time are supposed to have a demure, expressionless gaze. But her personality shines through.'
Dido was born in 1761, the illegitimate daughter of naval officer Sir John Lindsay and an African woman (historians believe she was probably a former slave). Rather than hide his daughter away, Lindsay sent Belle to live with his uncle Lord Mansfield in the family pile, Kenwood House, on the edge of Hampstead Heath. At the time, more than two-thirds of London's 10,000 black population were slaves. But Dido and her cousin, Lady Elizabeth, were raised as sisters. In the film we watch as Dido, a dazed little girl, is rescued from poverty and sent to Kenwood.
Not much is known about Dido, according to Laura Houliston, the curator at Kenwood House. 'But in contrast to the brutal treatment meted out to slaves, Dido seems to have been considered as one of the family. Lord Mansfield was very fond of her.' In private Dido was an equal. But when guests came to dinner she was sent to the parlour. 'I'm too high to eat with the servants, too low to join you at dinner,' she complains to her uncle in the film. Her portrait now hangs in Scone Palace, the Earl of Mansfield's Scottish home.
There's another twist in Dido's story – her link to the notorious Zong Massacre, a shocking slavery case that brought abolition a step closer. The case involved the murder of 142 diseased African slaves, thrown overboard by the crew of a British ship, the Zong, after it ran out of food and water at sea. When the ship returned to England, its owners put in a claim to their insurers. They wanted £30 for each dead slave – their attitude being that lost cargo is lost cargo, whether it's a human life or a rotten mango. When the case reached court, guess who passed judgment? Lord Mansfield, Dido's great uncle. Did Dido sway his decision? 'Every day of filming it was going through my head,' says Amma Asante, who directed 'Belle'. 'It's difficult to know for certain.'
Asante, who grew up in London to Ghanaian parents, is a bonnet-drama addict. She was drawn to the Jane Austen elements of Dido's story – a marriage market, society girls coming of age, romance – combined with a story about slavery: 'I'm a big, huge romantic. There's no better romance than a costume drama. Now I feel I've got a claim on them too, because we've got a black girl in there.'
Mbatha-Raw agrees. 'Speaking as a mixed-race woman, there aren't many historical stories about people like me. Dido was a pioneer of her time. Her story needs to be known.'
'Belle' opens in UK cinemas on Fri June 13.
Watch the 'Belle' trailer
Read more about 'Belle'
The film is dominated by two questions. Will Belle be able to marry the man she loves, the son of a clergyman (Sam Reid)? And which way will her great uncle, the nation's top judge Lord Mansfield (Tom Wilkinson), rule in a case that will have implications for whether slaves are considered as cargo or human beings? Asante conflates these two strands into a simplistic, love-conquers-all plotline. It's creaky but effective.
Read more
See more about 'Belle'