Outdoor cinema in London
The best places to see open-air movies in the capital this summer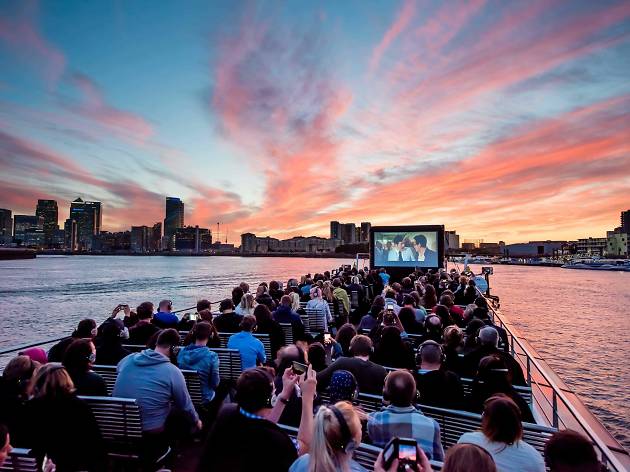 Life is short, and so is the summer. On a balmy London evening, nothing beats watching a movie under the stars. Whether you want to shriek-along to 'The Shining' in a graveyard or catch a romcom in a gorgeous Royal Park or palace, add outdoor cinema to your fair weather bucket list. This list of London's outdoor cinemas is arranged by month and Time Out's film team will be keeping it updated all summer long.
Outdoor cinema in July
For a perfect London night out, sail along the Thames while watching a movie on a giant screen.
Where Along the river – starting and finishing at Tower Pier.

July highlights 'Four Weddings and a Funeral', 'Casablanca'
Read more
Watch a film in the clouds on top of the Bussey Building in Peckham with a 360° panoramic view over the city
Where Peckham

July highlights 'Pride & Prejudice' (2005), 'Alien' and 'Brokeback Mountain'
Read more
The beauty of Luna Cinema is walking into a Royal Park or some other date-perfect location with a picnic just as everyone else is leaving.
Where Venues across London

July highlights 'Fantastic Beasts and Where to Find Them' at One New Change, 'Top Gun' at Kenwood House
Read more
A two-week season of movies on a floating pontoon on the Thames at St Katherine Dock near Tower Hill
July highlights 'La La Land', 'Beauty and the Beast'
Read more
Recline in a deckchair and enjoy a cinema experience on the sand with a new series of outdoor summer screenings at the Roundhouse's urban beach.
July highlights 'Lion' and 'La La Land'
Read more
Four nights of free movies in Hyde Park as part of the British Summer Time festival

July highlights 'The Jungle Book' and 'The Lion King'
Read more
Throughout July, The Scoop (an amazing 1,000-seat concrete amphitheatre near London Bridge) will be screening movies for free most Tuesday nights.

July highlights 'The Lego Movie', 'Cool Runnings'
Read more
Directors' chairs, wireless headphones and blankets – the Rooftop Film Club have perfected the art of outdoor cinema
Where Stratford

July highlights 'Withnail & I', 'Eternal Sunshine of the Spotless Mind'
Read more
Shout-at-the-screen favourites in London park at the nice price of £12

July highlights 'Shaun of the Dead' at Canada Water and 'The Big Lebowski' at Coram Fields
Read more
Show more
Outdoor cinema in August
Watching a movie under the stars in Somerset House's beautiful courtyard on a balmy summer evening is a nearperfect London experience. This year's dates are Aug 10-23.

August highlights 'The Square' 'Moonlight'
Read more
Rooftop Film Club: Queen of Hoxton
Outdoor cinema in September
One of east London's most charming venues is screening free movies on Tuesdays (with £5 membership), showing cool docs and dramas.
What: See the sweet side of east London
September highlights
Check back soon
Read more
Floating Cinema
Floating Cinema's 60-foot barge is a regular on London's canals over the summer. While a hefty chunk of outdoor cinema events are about sitting you down in front of a cheesy 1980s fave, these guys take an arty approach.
Highlights Check back soon