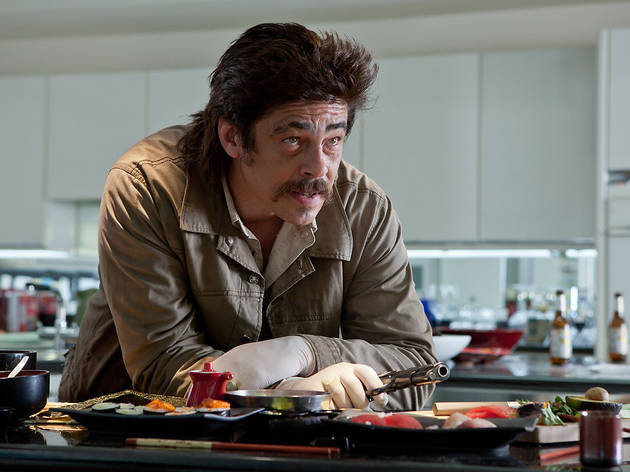 The hippy dream is alive and well in Oliver Stone's initially entertaining, ultimately exhausting, typically irreverent and disappointingly irrelevant drug-war drama. Taylor Kitsch and Aaron Johnson are Chon and Ben, Californian entrepreneurs whose special brand of weed has made them counterculture icons. Chon is a former soldier, Ben is a cowardly trustafarian, and they're both – happily – in love with O (Blake Lively), a blonde mother-sister-surfer-whore type who gives both these overgrown adolescents all the love, sex and attention they could possibly need. That's until she's snatched by sadistic Mexican drug lieutenant Lado (Benicio Del Toro) on the orders of temperamental kingpin Elena (Salma Hayek).
This is the scrappy, happy Stone of 'U-Turn' rather than the arch-satirist of 'W' or the dogmatic documentarian of 'South of the Border'. 'Savages' can be a lot of fun, particularly when Del Toro and Hayek are allowed to chew the scenery – you'll not find Mexican villains this sleazy and grotesque outside of soap opera. Stone's political instincts aren't entirely suppressed – a deconstruction of the drug war arrives in the form of corrupt DEA agent Dennis (John Travolta), while a troubling torture scene riffs on black-ops rendition.
But too much of the film feels tired. Kitsch and Johnson are game, but their buddy-buddy shtick involves zero chemistry, and neither character is remotely likeable. Lively is a bore: she delivers a series of cod-poetic voiceovers like a bored Valley girl reading a Hallmark card. Stone revs his engines and chucks in some off-kilter angles, a few film-stock shifts and a handful of noisy, bloody shootouts, but it all smacks of trying too hard to mask the absence of strong material. The result is not nearly savage enough.

Release details
| | |
| --- | --- |
| Rated: | 15 |
| Release date: | Friday September 21 2012 |
| Duration: | 130 mins |
Cast and crew
Director:
Oliver Stone
Screenwriter:
Don Jakoby, Shane Salerno
Cast:
Blake Lively
Trevor Donovan
John Travolta

Average User Rating
2.5 / 5
Rating Breakdown
5 star:

0

4 star:

0

3 star:

2

2 star:

0

1 star:

0
STONES POINT BREAK... BONKERS BUT ENTERTAINING... THE 2 HOURS FLEW BY.. THE LEADS WERE LIKEABLE... SOME VERY RIPE PERFORMANCES FROM THE SUPPORTS... SOME SNAPPY DIALOGUE LOST IN THE MIX... WOULD LIKE TO ON DVD WITH SUBTITLES KEEP ON BANGIONG THEM OUT OLIVER
Hit-and-miss crime drama. Some good bits - Del Toro`s deliciously evil savage, Travolta`s twinkle-eyed cop, lots of rich colourful visuals. Some bad-bits - the hippy-dippy voiceover, Hayek`s soap opera drug queen, the lame ending.
Californians and Mexicans, as portrayed by Californians. In California one policeman is corrupt, but in Mexico it's the whole political system. The Californians' hippy friends are particularly irritating, at least the soldier friends keep their mouths shut. Some nice scenery but boring and far too long.