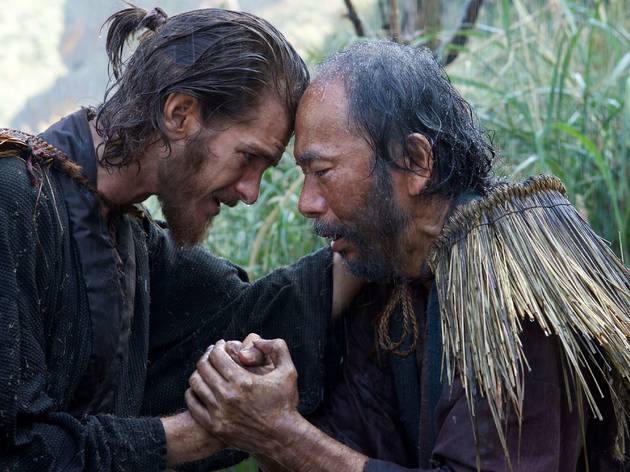 Martin Scorsese has hit a career high with this searing, thoughtful literary adaptation about two Jesuit priests venturing into seventeenth-century Japan
When Martin Scorsese puts away his strutting cocks – his raging bulls, comedy kings and Wall Street wolves – the results can be astounding. This quieter, lesser-seen director is the one who gave us 'The Last Temptation of Christ' (1988), the exquisite period piece 'The Age of Innocence' (1993) and now 'Silence', a furiously alive and concentrated parable about faith under fire set in seventeenth-century Japan that ranks among the greatest achievements of spiritually minded cinema.
Like much of Scorsese's work, 'Silence' is consumed with doubt, ego and sacrifice – this time, of black-robed Portuguese missionaries in a foreign land, one that ends up breaking them. But the refinement here is something else. Based on a 1966 novel by Shûsaku Endô, 'Silence' is a project Scorsese has obsessed with for close to 30 years, and you feel that: it looks and feels lean, with no wasted gestures, only inward agony. It's his most mature movie, almost completely free of comic relief yet vibrating with passion and, provocatively, an apocalyptic sense of conviction burned to the ground.
Two bearded Jesuits, idealistic Rodrigues (Andrew Garfield, wet-eyed and soulful) and his sturdy counterpart, Garrpe (Adam Driver), make up an 'army of two', heading to a Japan shrouded in smoke and mystery. It's partly the terrain of Scorsese's beloved Akira Kurosawa – epics like 'Ran' and 'Throne of Blood' – and partly a natural paradise. (Cinematographer Rodrigo Prieto bathes the imagery in ashen grays and a rare, precious sunlight that struggles to penetrate the gloom.) The men seek their mentor, Ferreira (Liam Neeson), unheard of for years. Even as 'Silence' sets up its simple imbalance of power, between well-intentioned but alien invaders hoping to spread the word of Christ, local potentates who hunt them down as fugitives, and the frightened religious converts in the balance, you can feel it easing toward a larger showdown.
That clash is the one you're waiting for, the one that turns 'Silence' into a powerful, all-time statement on the threatening power of colonisation. It comes after the central pair is dealt multiple setbacks and split in half. Even as Rodrigues languishes in an outdoor prison – there's a strong whiff of 'Apocalypse Now' – Scorsese's screenplay stresses unusual internal battles: the purring Japanese inquisitor, Inoue (the extraordinarily weird Issey Ogata), who sees in his captive a man worth psychologically snapping instead of martyring; and the weak local boatman, Kichijiro (Yôsuke Kubozuka), who pesters Rodrigues for an absolution he doesn't deserve.
Is 'Silence' ultimately a compassionate film? Undeniably, but it also dares to expose cultural dividing lines. Scorsese has hit the rare heights of filmmakers like Ingmar Bergman and Carl Theodor Dreyer, artists who find in religion a battleground that leaves even the strongest in tatters, compromised and broken.
Release details
Rated:
15
Release date:
Sunday January 1 2017
Duration:
161 mins
Cast and crew
Director:
Martin Scorsese
Screenwriter:
Jay Cocks, Martin Scorsese
Cast:
Andrew Garfield
Adam Driver
Liam Neeson
Issey Ogata

Average User Rating
3.8 / 5
Rating Breakdown
5 star:

4

4 star:

2

3 star:

1

2 star:

1

1 star:

1
If by lean, you mean 2.5 hours of pure arrogance and ego driven Christian propaganda, then sure. I am a big fan of Scorsese's work, and even more so, the three notable actors - but by the end, I found myself laughing at the endless whispering voiceovers, the convoluted plot and self indulgent performances, culminating in my uproarious laughter when the voice of God encourages a whimpering Garfield to "step on me."
A potentially interesting story completely mishandled and a great example of a director having too much creative control, not enough people around him to honestly tell him - edit the film!
And if anyone walked away from this film questioning Scorsese's motivations or standpoint on a very interesting issue of religious persecution, just know that opening night for the film was at The Vatican.
"Silence is the loudest cry for love".
The story of "Silence" fellows two Jesuit priests, Sebastião Rodrigues and Francis Garrpe, who travel to seventeenth century Japan which has, under the Tokugawa shogunate, banned Catholicism and almost all foreign contact.
This was tough. Seriously, this was the hardest thing I've ever digest in terms of progressing my thoughts. It's so mesmerizing with so many things going on at once that it takes awhile to sink in. Gets you thinking on a subject that you wasn't originally interested in. A movie that leaves you completely paralyze of reacting or forming a sentence to describe what you just witness. But after four days of letting it sink in, it has been settled.
What I love about "Silence" is that it doesn't judge-the potential arrogance & imperialism of missionary work. It doesn't make you pick aside to root for, but understand where both sides are coming from. It's up to you - the audience, to decide if their actions are right or wrong.
"Silence" is easily one of best movies of 2016. A film in which you get so involved of whats going on that it stays with you long after it's over. It's one of Scorsese's finest achievement of his career.
For almost 30 years, Scorsese has been trying to get Shusaku Endo novel "Silence" made. You see, Scorsese grow up Catholic and had desire to become a priest at a young age. So the book deeply moved him in a personal way. But the reason why he couldn't get it made sooner is because he wasn't ready to take on anything like this. To him, this was something big and challenging. So all these years he tried to really think how a story like this could be cinematic.
Martin Scorsese is my favorite director and every movie he makes, I'm there. I haven't seen all of his movies yet, but those are for a special time. Now people have ask the question of who's the best living director working today - It's Scorsese all the way. While Steven Spielberg and Ridley Scott will always be legends, but Marty doesn't just make a movie to stay relevant or just do it for the sake of it. You can see the passion behind every film his done. "Silence" is no different. It's a deeply spiritual film and has multiple layers of meanings. Marty reminds us of that old cinema we love.
Andrew Garfield was absolutely fantastic in this movie. Garfield once again proves that he's a great actor. His performance was emotionally striking and he nailed the character down. It a real shame that he got nominated for "Hacksaw Ridge" and not this. I thought he was far better in "Silence". Because he starts off 100% dedicated to his own faith, but towards the end he's a complete wreck. The challenges he had to face was more compelling and soul crushing to watch.
Adam Driver and Liam Neeson were also great. Driver performance was natural and tremendous that you see the deep passion he's character had for faith. Neeson doesn't have a big role, but his presence on the story is immense and unique.
All the Japanese cast were all stellar. Especially Issei Ogata and Yôsuke Kubozuka. Those two were the stand outs for me. Ogata character can be best describe as Christoph Waltz from "Inglourious Basterds", as he's both comedic and menacing. Kubozuka broke my heart a couple of times, as the cowardly Christian who keeps letting others down many times. But when he begs for forgiveness, it's hard not to fall into that routine again.
The score for this movie is quite interesting. I say "interesting" because there's not much music, but sounds. Nature sounds you would here in the Forrest or a swamp. It's a score that creeps into my head and psychological effects you.
Rodrigo Prieto cinematography in this movie was just flawless. The look of Japan has this foggy, warmth, and damp look to it. Prieto captures the cruelty and the hidden beauty to it.
Unfortunately, this isn't going to be for everyone and I've already seen different sides. It ask questions more than answers. Quite honestly, I glad it dose. As it opens to discussions with others and gets you talking. You know, like a movie should.
And yes it may be frustrating for some, but I think that's the right reaction that a movie like this should have. A movie that puts you in the shoes of what the characters going through and their main struggles. If all that is perfectly captured on film, it's less than a negative, but more of an achievement. For a 2 hour and 41 minute movie, it never dragged for me.
Overall rating: "Silence" touches every rope of your mind and soul. This is one of those movies which may not be appreciated until many years later, for those who can grasp the true heart and meaning of this film, it's a transcendent experience. I was captivated from start to finish.
Hail Scorsese!
This is a relentlessly tortured film where faith is seen as an invasion into the culture of 17th Century Japan, is a truly powerful and magnificent film. The practical interrogation of the inquisitor, luring the priest away, could be the voice of Dostoyevsky. This film puts into sharp relief what it was and still is like to have the stark choice, life or death, betrayal or remain true. Tough stuff for our comfortable, predictable, safe and tolerant world.
Silence is a film about the struggles of Portuguese priests in 17th century Japan, where Christianity is illegal. The story is an adaptation of a Japanese book, from the 60's. The film is very pretentious, both in content and form. I suppose that Scorsese and the people involved with the project wanted to subvert the Classic Hollywood style of narrative, by making it a slow-paced, aesthetically ambitious religious film. It works up to a point. The film strives for a personal and intimate style, achieved, in part, by an exceptionally good editing. However, the Hollywood overall feel is incoherent with the artistic ambitions of the film; the English speaking Portuguese priests, the epic sequences, Scorsese's meticulous vision are all too safe. Overall this is a good film, with a slow and visually beautiful narrative style.