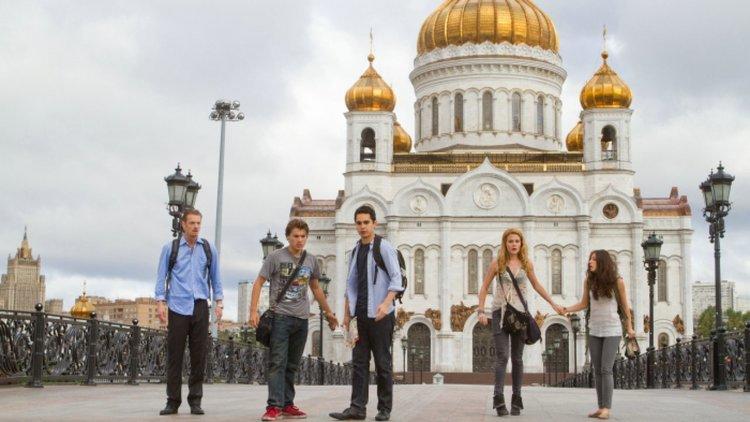 After 'Skyline' and 'Battle: LA', does the world really need another high- concept, low-rent, alien-invasion movie? Russian-US co-production 'The Darkest Hour' attempts to shake things up by sending its fresh-faced American cast off to Moscow, just in time to face a plague of wispy, ethereal energy spheres from space, bent on sapping our precious natural resources. But there's literally nothing here that works: the SFX are limp, the acting is dire and director Chris Gorak seems to be fighting a losing battle with the concept of narrative logic. Worst of all is the appalling script: try taking a shot of whisky every time a character states the bleeding obvious ('They killed them all!', 'They're coming this way!'). It might be the only way to make it through this slack, senseless sci-fi snoozer.
Release details
| | |
| --- | --- |
| Rated: | 12A |
| Release date: | Friday January 13 2012 |
| Duration: | 89 mins |
Cast and crew
Director:
Chris Gorak
Screenwriter:
Jon Spaihts
Cast:
Olivia Thirlby
Emile Hirsch
Max Minghella

Average User Rating
2.5 / 5
Rating Breakdown
5 star:

0

4 star:

0

3 star:

1

2 star:

0

1 star:

0
Appalling...that I had SO MUCH FUN watching this crap! Due to dreadful reviews expected nout (timed it so I could bail if needs be into HAYWIRE) but no need! All the "bad" things make for "good" as a whole (unless you are daft enough to pay £10+, that's YOUR fault!) and it may well be regarded in a Showgirls type of way in the not too distant future...See it now just in case but free/cheepo/unlimited card types only, or you will be VERY angry at yourself! 6/10 for inept hilarity!
Easily the worst film of the year. I knew it would be rubbish but unfortunately Dragon Tattoo was sold out and there's no way in hell I would pay for some Thatcher/ Tory propaganda so my only option was this, Even though I set the bar low I was still surprised at just how bad the film was. The plot, acting, dialogue, special effects... everything was below par. It is beyond me how a group of people can come together and find millions of dollars to produce a film which has absolutely no merits whatsoever. I give it one star (and that's only because I'm rounding up).
Up there with the most painful and costly waste of 2 hours. There is nothing good to say about this film. The acting was Am-Dram at best, delivering the most unbelievably bad script. The School Project sets and weaponary were beyond awful. And the 3D was as lame as the film. The studio should be taken to Court for false advertising and forced to return our money. Shockingly bad!