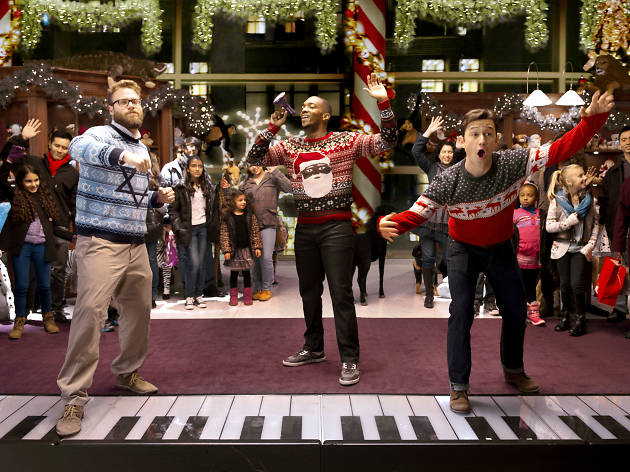 It's boys gone wild as Seth Rogen and Joseph Gordon-Levitt take on the Christmas movie, with mixed but generally pleasing results
This night of debauchery and hugs from '50/50' director Jonathan Levine hits a sweet spot of inoffensive offensiveness. The three main characters – childhood friends from New York – all have their substances of choice. Ethan (Joseph Gordon-Levitt), a failed musician, warbles his way through 'The 12 Days of Christmas' clutching a large tumbler of scotch at a family gathering. Chris (Anthony Mackie), a pro-football star, secretly jacks up with steroids. And Isaac (Seth Rogen), about to become a dad, pushes away his anxieties with the greatest Hanukkah gift of all: a tiny box filled with an assortment of 'shrooms and coke.

In a former life, these guys established a Yuletide tradition involving dorky sweaters and Chinese food. This year will be their big final blowout, and while 'The Night Before' sometimes strains to be bad (some of the lesser gags deploy dick pics and James Franco grinning inanely), the movie scores when it savours its camaraderie. A '90s flashback to Ethan's grief after losing his parents will surprise you with its sincerity. And the bugged-eyed presence of Michael Shannon, as an intense but oddly gentle pot dealer, steers the movie back to welcome weirdness.
Release details
| | |
| --- | --- |
| Release date: | Friday December 11 2015 |
| Duration: | 101 mins |
Cast and crew
Director:
Jonathan Levine
Screenwriter:
Evan Goldberg, Kyle Hunter, Jonathan Levine, Ariel Shaffir
Cast:
Lizzy Caplan
Joseph Gordon-Levitt
Seth Rogen
Anthony Mackie