London's best Sunday lunches
If you're looking for a traditional pub roast or a cracking restaurant serving Sunday lunch in style, you've come to the right place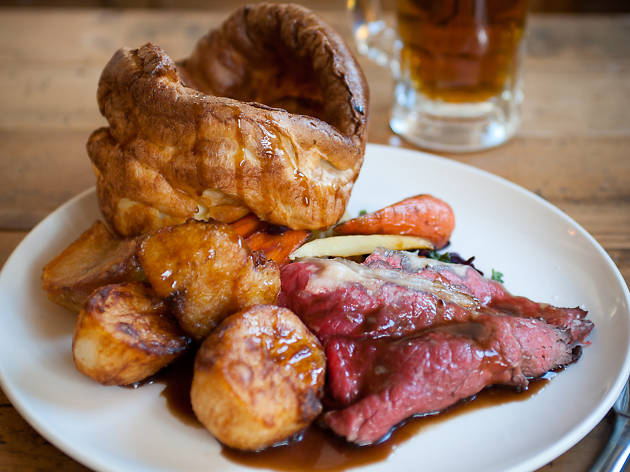 Let Time Out experts guide you through the best Sunday lunches in London – from traditional roasts in London's best pubs to meat, two veg and a whole lot more in London's best restaurants. Think we've missed a great place to have Sunday lunch? Let us know in the comment box below.
Reviews by Laura Richards, Nicola Arencibia, Tania Ballantine, Megan Carnegie, Phoebe Trimingham, Hayley Joyes, Ashleigh Arnott, Cath Clarke, Dave Calhoun, Alex Plim and Alexi Duggins.
Make the most of your Sunday
Brunch in London is bigger than ever. You can bearly set foot out your front door at the weekend without stumbling across a steaming pan of shakshuka or finding the waft of waffles in the air. So let us guide you to the best spots in town for a kick-ass weekend brunch in London, from boozy bottomless brunches to traditional Full English fry-ups and even New York-style feasts, you can start off your weekend in style.
Read more
Sponsored listing
Burger & Lobster Bond Street
This Bond Street branch of Burger & Lobster has its lobster tank on view, so you can see what you'll be eating, if you're into that kind of thing. Alternatively you can watch the bartenders whip you up a fancy cocktail from the comfort of a barstool, or sit down to a more private meal at your own table. Born from the minds of four schoolmates on a rooftop in London, this restaurant chain grew from a pop-up in a Mayfair boozer to ten branches London-wide, and more to boot around the the world. In case the name isn't enough of a hint, these guys specialise in lobsters and burgers. It might come across gimmicky, but ignore that initial impression because if you're after good lobster, you'd be hard pressed to find it at better value for money than here. You can get a lobster (boiled, grilled or in a brioche roll with mayo) with a substantial salad and french fries for £23-£31, depending on how you have it and which branch you're in. For a smaller budget, the beef burgers will set you back £16.
Venue says: "Simply the best burger and lobster in town. See our Facebook page for the latest news and updates."