Afternoon teas in London
Go on, treat yourself to the best afternoon tea in London. Read on for recommendations on classic tea and scones in five-star hotels or a quirky cuppa in fun London restaurants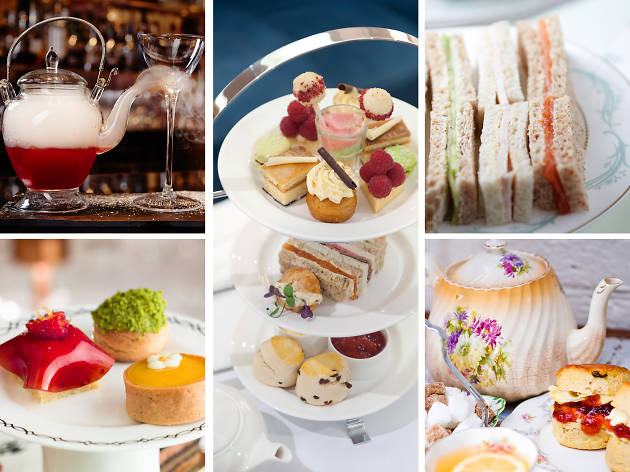 Afternoon tea is the ultimate indulgence, and it doesn't get much better than the way it's served in London hotels, restaurants and cafés. We've tucked into the post-lunch, pre-dinner treat and British institution at venues all around town to find you the very best afternoon tea in London. From classic tea, sandwiches, scones and clotted cream to quirky afternoon teas with a glass of champagne and a finger to the establishment (little finger, naturally). Pinkies at the ready!
RECOMMENDED: Check out these tip-top offers on afternoon tea in London
Classic afternoon tea in London
Quirky afternoon tea in London
Treat yourself to more indulgence
In this list – surely the ultimate guide to the best restaurants in London – you'll find it all: zeitgeist-defining celebrity haunts, the best new restaurants in London, Michelin star restaurants with starched linen napkins and restaurants serving cheap eats where you'll have to eat with your fingers. What they all have in common is that they serve some of the best dishes in London at fair prices, with service befitting the setting. In short, if you're looking for a great meal, you've come to the right place.
Read more
Sponsored listing
Fishcotheque
This Waterloo Road fish and chip shop has been around for years - half a century, in fact. It's very much a traditional chippie, with a look that suggests not a lot has changed here since it opened back in 1964. There is one notable recent aesthetic adornment, though - a photo of John Prescott picking up a take away. If that's not a ringing endorsement we don't know what is. The fish is fresh and not frozen, with the usual suspects fizzed in the fryer: cod, haddock, rock, plaice and scampi - plus the odd special. They're available alongside saveloys, sausages, pies, Southern-fried chicken, burgers, omelettes, kebabs, onion rings, mushy peas, gherkins and pickled onions. Diners certainly shouldn't want for choice.   Apple pies, banana fritters, chocolate fudge cakes and banana splits make up a keenly priced dessert selection. Drinks are soft, with carbonated staples alongside teas, coffees, that kind of thing.
Venue says: "We support sustainable fishing!"