Afternoon teas in London
Go on, treat yourself to the best afternoon tea in London. Read on for recommendations on classic tea and scones in five-star hotels or a quirky cuppa in fun London restaurants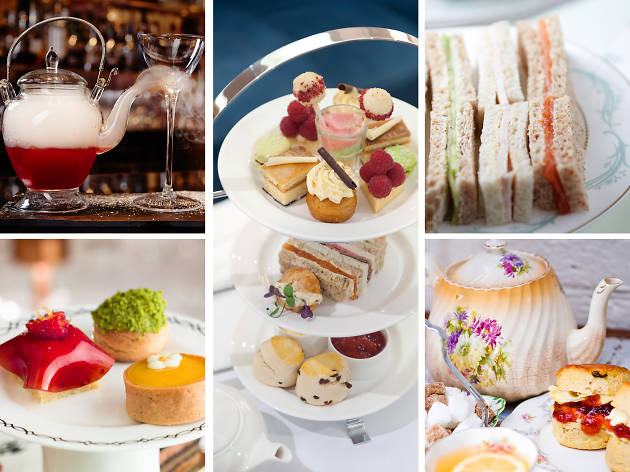 Afternoon tea is the ultimate indulgence, and it doesn't get much better than the way it's served in London hotels, restaurants and cafés. We've tucked into the post-lunch, pre-dinner treat and British institution at venues all around town to find you the very best afternoon tea in London. From classic tea, sandwiches, scones and clotted cream to quirky afternoon teas with a glass of champagne and a finger to the establishment (little finger, naturally). Pinkies at the ready!
RECOMMENDED: Check out these tip-top offers on afternoon tea in London
Classic afternoon tea in London
Quirky afternoon tea in London
Treat yourself to more indulgence
In this list – surely the ultimate guide to the best restaurants in London – you'll find it all: zeitgeist-defining celebrity haunts, the best new restaurants in London, Michelin star restaurants with starched linen napkins and restaurants serving cheap eats where you'll have to eat with your fingers. What they all have in common is that they serve some of the best dishes in London at fair prices, with service befitting the setting. In short, if you're looking for a great meal, you've come to the right place.
Read more
Sponsored listing
Four Winters
Four Winters is an ice cream parlour with a rather unusual secret ingredient: liquid nitrogen. They've patented a special machine that freezes ice cream to order with a blast of the gas. Don't panic. It all sounds nuttier than it actually is at this, Four Winters' small, bright Soho branch. Yes, it's a bit weird watching your ice cream billow clouds of gas as it's frozen in that patented machine – but said contraption looks a bit like a standard Magimix, really, and the staff doing the freezing are wearing hairnets. There's nothing less glamorous and more stoically familiar than a hairnet. But what does nitrogen-laced ice cream taste like? Pretty much like normal ice cream, if a tad smoother. Four Winters do a changing 'seasonal' offering as well as year-round specials, and the best flavour I tried was a tart, zingy passionfruit on the spring menu. Also excellent was a rich and nutty peanut 'butter cup' shake. The only disappointment was a rather cheap-tasting chocolate ice cream, which was too much like something you might hoover up at a kid's birthday party and then deeply regret. Everything else was good though, and you've got to love the novelty nitrogen. And the hairnets.  
Venue says: "Four Winters is a new-generation ice cream maker that harnesses the power of liquid nitrogen to create customisable made-to-order ice cream."