Afternoon teas in London
Go on, treat yourself to the best afternoon tea in London. Read on for recommendations on classic tea and scones in five-star hotels or a quirky cuppa in fun London restaurants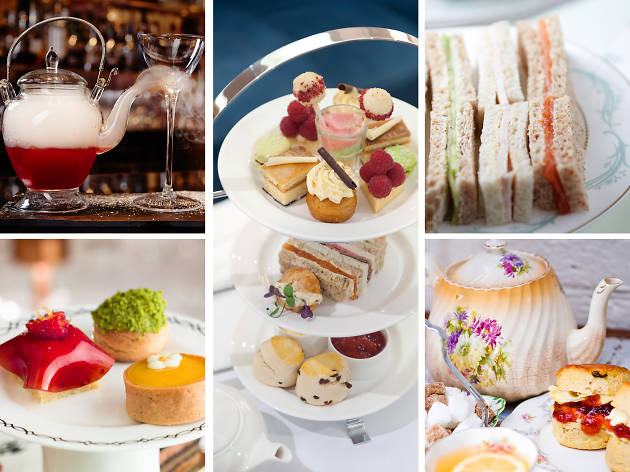 Afternoon tea is the ultimate indulgence, and it doesn't get much better than the way it's served in London hotels, restaurants and cafés. We've tucked into the post-lunch, pre-dinner treat and British institution at venues all around town to find you the very best afternoon tea in London. From classic tea, sandwiches, scones and clotted cream to quirky afternoon teas with a glass of champagne and a finger to the establishment (little finger, naturally). Pinkies at the ready!
RECOMMENDED: Check out these tip-top offers on afternoon tea in London
Treat yourself to more indulgence
In this list – surely the ultimate guide to the best restaurants in London – you'll find it all: zeitgeist-defining celebrity haunts, the best new restaurants in London, Michelin star restaurants with starched linen napkins and restaurants serving cheap eats where you'll have to eat with your fingers. What they all have in common is that they serve some of the best dishes in London at fair prices, with service befitting the setting. In short, if you're looking for a great meal, you've come to the right place.
Read more
Sponsored listing
Savini at Criterion
If you've never poked your head around the door of the 133-year-old Criterion restaurant, what are you waiting for? With its gold mosaic ceiling and other luscious features inspired by exotic corners of the globe, it offers a rare window on a long-gone imperial world. (It is, incidentally, where Downton's Lady Edith went for 'date night'). In recent years the Criterion's owners have struggled to make this cavernous, eye-grabbing dining room pay: its latest incarnation is as the London outpost of Savini, a supremely upscale Milanese restaurant. The food is very good – but so it should be when a meal for two with a bottle of wine and a couple of glasses of champagne comes to well over £200. The veal Milanese (£29) was a whopping slab of crisp and tasty meat, while the pasta of the day (£28.95) – 'woven' intrecci with white prawns and scallops – was a highlight. The trouble is, Savini boasts extravagant prices but no atmosphere. The new bosses have dampened the longstanding opulence with a layer of conservative Italian decor, but it's hard to see this place becoming a hip spot for anyone, regardless of budget. My advice? Splash out at the plush bar just to take in the surroundings.
"Delicious espresso made with love! The perfect wake-up. Open from 8am. Try our afternoon tea, a fusion of English and Italian traditions."
Piccadilly Circus
Online booking