Children's theatre in London
Keep the kids quiet with a bit of culture at one of London's family-friendly shows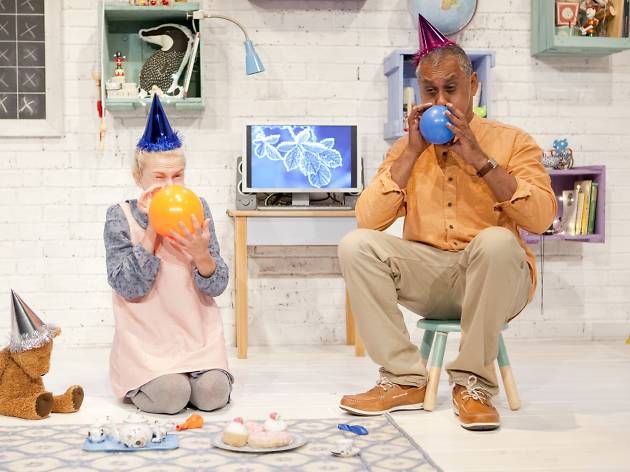 Theatre for all the family
'Matilda' must be making its creators, playwright Dennis Kelly and comedian-songsmith Tim Minchin, a very pair of proud parents. Like the curly-haired little girl in the famous nursery rhyme, when it is good, it is very, very good. And it's even better when it's horrid.
Book now
Read more
Treat the kids to a hysterical historical day out this half-term. The smart, funny children's book series 'Horrible Histories' is brought to life in a series of colourful shows by The Birmingham Stage Company and their latest show at Hampton Court palace is an outdoor romp through the centuries, taking a sideways look at Britain in all its gory glory. Find out the gruesome truth behind the fates of Henry VIII's wives, what actually happened to Guy Fawkes and just how quirky Queen Victoria really was. The one-hour show is staged in the Palace grounds – bring a blanket and a picnic then enjoy this theatrical feast of fun. Visit here for more information.  Prices: Live show only £12, child £7, under-fives free (but ticket required). Live show PLUS palace, maze and The Magic Garden entry £26, child £13, under-fives free (but ticket required).   
Read more
Magical duo Morgan & West are back, and they're getting ready to show kids a trick or two. 'More Magic For Kids' is a family magic show that's filled with astounding sights to entrance people of all ages.
Book now
Read more
Nothing prepares you for the sheer impact of 'The Lion King's opening sequence. With the surge of 'Circle Of Life' reverberating through your chest, Julie Taymor's animal creations march on, species by species. For a global blockbuster, 'The Lion King's absolute theatricality is astonishing. It's perfect for a musical, allowing both distinct flavours and an eclectic carnival spirit.
Book now
Read more
A ragtag crew of adventurers set out to catch the mysterious Snark in this musical version of Lewis Carroll's famous nonsense poem. It opened in Cardiff last year, where it landed strong reviews for its up-to-date approach and quirky cast of puppets. 'The Hunting of the Snark' is adapted by playwright Annabel Wigoder from Lewis Carroll's poem. It also features an acoustic guitar soundtrack by Gareth Cooper, and is directed by Gemma Colclough. Suitable for the whole family.
Book now
Read more
Flying carpets, magic lamps, beautiful maidens and adventuring sailors: the stories of the Arabian Nights have captured kids' imaginations for centures before Disney's 'Aladdin'. This outdoor promenade show from London Bubble will tell some of Scheherazade's best stories in two South London parks, Greenwich Park and Southwark Park. 'Tales from the Arabian Nights' is the handiwork of playwright Farhana Sheikh, who first created it for community-focused company London Bubble. This revival, directed by Jonathan Petherbridge, with designs by Yasuko Hasegawa, is a welcoming show for all ages - and you can even bring the family mutt along
Read more
See more recommended family shows