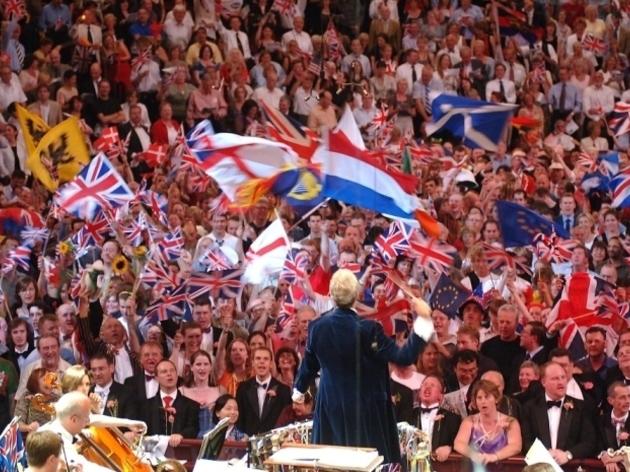 1/9
© BBC/Mark Allan
2/9
Last night of the Proms – © Tim Ande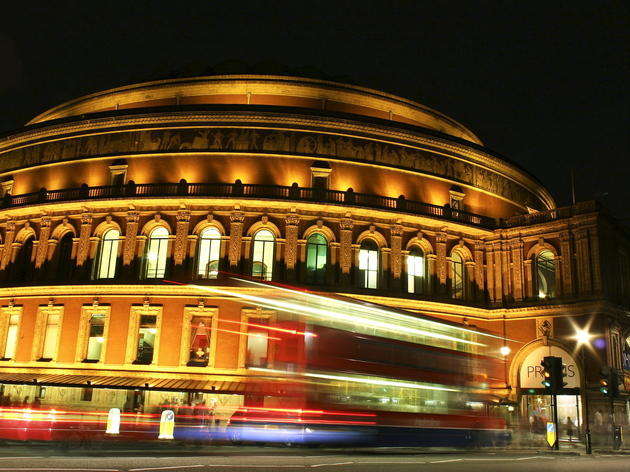 3/9
© Olivia Rutherford / Time Out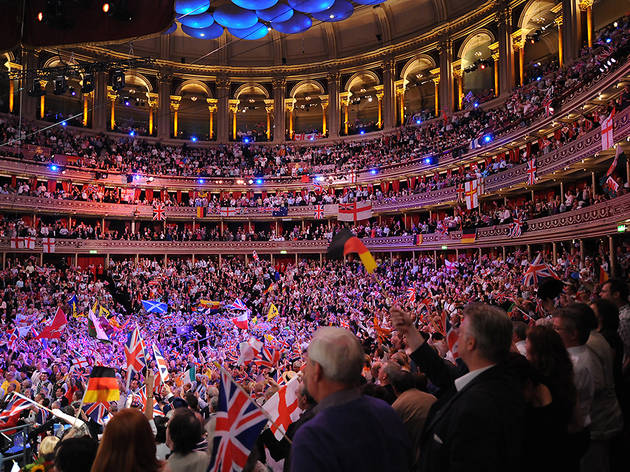 4/9
Last night of the Proms
5/9
6/9
Proms queue - © Rob Greig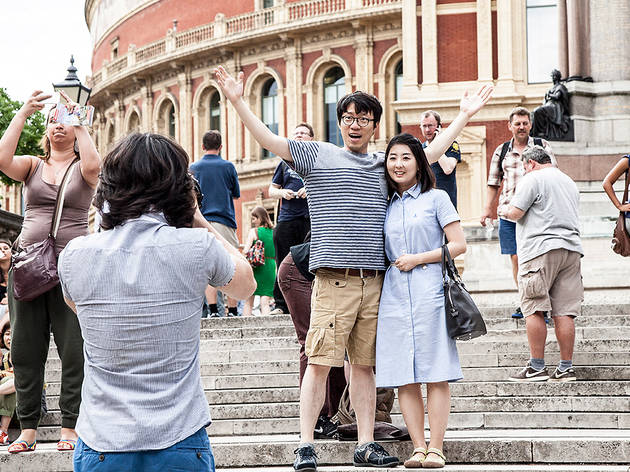 7/9
Proms queue - © Rob Greig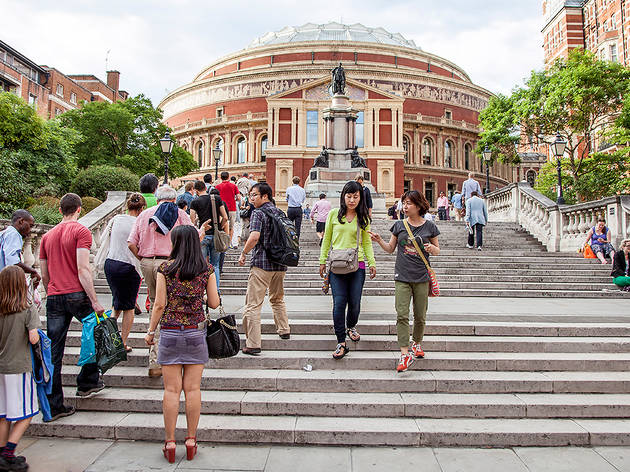 8/9
Proms queue - © Rob Greig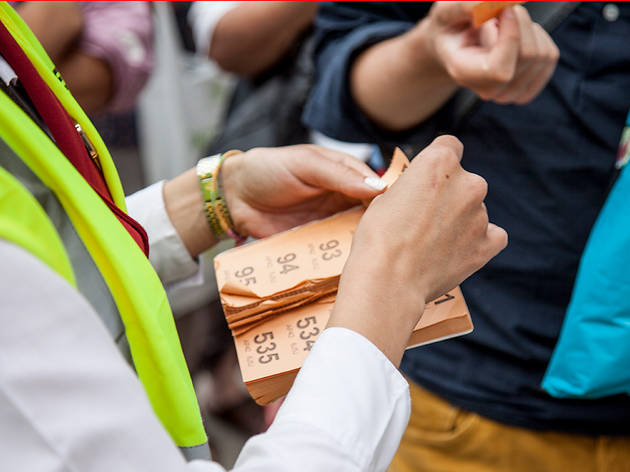 9/9
Proms queue - © Rob Greig
Built as a memorial to Queen Victoria's husband in 1871, the Royal Albert Hall's vast rotunda was once described by the monarch as looking like 'the British constitution'. It has been the venue for the (now BBC) Proms since 1941, despite acoustics that do orchestras few favours. The Royal Albert Hall's splendid exterior is matched by the regal red-and-gold interior which is crowned by a domed stained-glass skylight. Occasional classical concerts are held throughout the year – look out for recitals on the Willis pipe organ. Other key events in its calendar include pop and comedy gigs (including the annual Teenage Cancer Trust shows), and circus extravaganzas from the likes of Cirque du Soleil.
In addition to seasonal tours during the Proms, the RAH has launched daily Secret History Tours, which draw on a rich seam of stories about London's largest hall for hire and offer access to areas not normally open to audiences.
Venue name:
Royal Albert Hall
Contact:
Address:
Kensington Gore
London
SW7 2AP

Opening hours:
Tours run daily 10.30am-4.30pm (Apr-Oct), 10.30am-3.30pm (Nov-Mar)
Transport:
Tube: South Kensington
Do you own this business?
Thanks mainly to the technical dexterity of producer/ director Joe Boyd, this succeeds in communicating a real sense of Hendrix via his music and his friends. There are amusing and enlightening appearances from Noel Redding, Clapton, Townshend, Ja...

Read more

'S wonderful! 'S marvellous! 'S a teensy bit smug! Yes, Vincente Minnelli's groundbreaking, breathtaking musical returns to the screens in a spanking new print, giving a new generation of viewers the chance to admire Gene Kelly in a puce body stoc...

Read more

Who wanted a Disney remake of 'The Jungle Book'? No one. Especially not one combining CGI with a real-life boy. But forget about your worries – this new version is the jungle VIP. Director Jon Favreau hasn't monkeyed around, dipping into the 1967 ...

Read more

Is there such a thing as a perfect film? One that knows what it wants to achieve and does it, flawlessly, artfully and intelligently? If so, then 'Jaws' is as good a candidate as any. Thirty-seven years on (and reissued in a new HD print), this ta...

Read more
The Bootleg Beatles/Royal Liverpool Philharmonic Orchestra

In collaboration with the Orchestra, the well-known Beatles tribute band performs the music from the classic album Sergeant Pepper's Lonely Hearts Club Band to mark its 50th anniversary. The presenter is the Liverpudlian poet, Roger McGough.

Covers bands

Thursday June 1 2017

Show more
Average User Rating
4.7 / 5
Rating Breakdown
5 star:

13

4 star:

5

3 star:

0

2 star:

0

1 star:

0
This is a jewel in London's crown. The most stunning place to see a gig if you have a decent seat, or if you are standing for The Proms. I have spent some memorable nights here. The best ever was Frank Sinatra, Liza Minnelli and Sammy Davies Junior. If I had a time machine I would return every night. I also have memories of Les Miserables 10th Anniversary and wild nights in the company of Eric Clapton. Come to think of it there have been too many to list including the most bonkers Blues Set from Robert Plant and his World Orchestra. Sublime - nearly as good as The Last Night of the Proms which is the calendar highlight here.
But .... and it's a big but.
Beware of the balcony seats, rear choir and balcony standing.
Unless you are desperate to be there or really tight , don't bother.
Also, don't bother writing to the management if the sound is bad.
I had one of the worst nights ever here when I saw Paul Weller "Waking up the Nation". The sound was appalling. I wrote to the The Albert Hall and the letter I got back was between arrogant and insulting - hoping I would have a better night next time (or words to that effect)
Well fortunately I have had better nights and encourage all of my friends to go to at least one gig at The RAH. Get a good seat , soak up the views and hopefully the sort of crisp sound they hoped for when the mushrooms were hung from the ceiling.
It was a dark Halloween night last Thursday that I found myself sat at the Albert Hall waiting for the emergence of former Led Zeppelin front-man Robert Plant. The audience were excitable in anticipation, and thankfully there was nothing gloomy about the performance. Rivalling Brain May for the best hair in rock, Plant appeared ready to have a fine time. The wonderfully gifted voice that Plant has possessed since the '60s was in fine form, having matured with age and showcasing rich tones that blended so well with the mix of rock, blues and African rhythms vibrating around the hall to much applause. The appearance of the Gambian musician Juldeh Camara added to the layers of high quality musicianship that the band (which featured musicians from Bristol and Liverpool) had in droves. A friend had told me that he had seen Plant play on tour with Alison Krauss last year and that he looked tired and thought that he may be finding it hard to keep up. I have to say the opposite was true here; it is possible that Plant's decision to not make another album with Krauss after all their success (winning 5 Grammys for their album 'Raising Sand' as well as much acclaim)and instead pursue working on something different to keep music fresh and interesting for him seemed to be paying off. While a lot of his peers look tired and worn with their best days behind them, he looked fitter and stronger than he has in the last few years and he was flying around the stage, throwing the microphone around with ease and prowling around with an unbelievably menacing presence; and who wouldn't feel 10 feet tall with such a remarkable voice? I could have closed my eyes and believed that the man on stage was the Plant of old not a man of pensionable age. He seems to be enjoying the aging process ('I can travel for free now') as well as the music more than ever. 'This is an invigorating time for me'. Quite. The quality of the band was obviously helping to keep him on his toes and he looked to be having the time of his life, and wonderfully, so were we. With the music ranging from old blues classics to Led Zeppelin numbers (which were met with roars of approval), it all blended in together beautifully. 'Whole Lotta Love' , 'What Is and What Should Never Be' and other classics went down a storm and Plant looked like he could continue all night. Despite finishing at 10 minutes past midnight (leaving most struggling to make the last tube home) I think we would have all quite happily stayed all night for a lock in. Greedy yes, but it truly would have been heavenly. Trick or treat? Treat definitely. A really thrilling night out. Rating; 10/10
I have seen many performances here, however on World Ballet Day 2016, I saw Carlos Acosta's A Classical Farewell. It was super pared back and featured a number of other creme de la creme of dancers young and experienced. It is fair to say, not having seen Carlos in his prime that he is "past" his physical prime as this show featured a young Cuban male dancer who looked liked he was carved from stone and flew effortlessly in the air. You can directly compare the two in terms of physicality. However Carlos brings a lot of emotion to his dance, and you totally get the story rather than just the performance. I sat in the Arena so I couldn't see all the fancy footwork. However I highly recommend this, it's a treat for lovers of dance and it might be the last time Carlos does classical dance before he moves onto contemporary.
I agee the AH is not the best for sound although its better than it used to be before the hanging baffles were installed . However nothing in london has the same atmosphere as the Albert Hall it seems to have a buzz all its own with a unique feel of closeness to the action that no concert hall i have been can match. Imho the greatest concert venue in the world dispite any accustic failings.
Great guide for classical concerts, theatre , ballet .
More venues
Sponsored listings