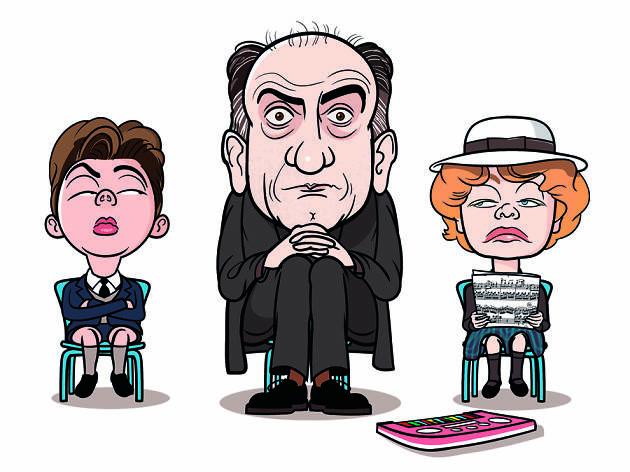 Armando Iannucci: My Grade 1 piano hell
The man behind 'The Thick of It' and 'Veep' has been a classical music fan for most of his life. In an extract from his new book, he tells us about learning to play an instrument in his forties.
I've always been a passionate listener of classical music. I stress 'listener', because I missed out on the opportunity to learn to read music or to take up an instrument. I did try the clarinet in the sixth form. The teacher was mostly morose and sarcastic, and all I remember from the weekly half-hour lessons was me making faces at him behind his back. After about six months of lonely gurning, I put my clarinet away and settled into the happy life of the listener.
From about the age of 11, I'd been absolutely mesmerised by the sounds classical music could make. I liked to put Shostakovich on full blast on my brother's very expensive speakers. Sibelius, Stravinsky, Mahler bellowed out loud enough to annoy the neighbours. Bartók and Bach made the ceiling shake. I loved listening, and for quite some time came to accept that it was possible to go through life loving music but without the slightest idea how it was written or played. Yes, I felt occasionally excluded when a Radio 3 presenter talked about 'legato' or the second theme's playful transition to the major. On the whole, though, listening was the happy limit of my contact with music.
Then, for my fortieth birthday, my wife bought me a piano. Nothing too ambitious, but a good digital keyboard that gave the perfect sonic imitation of a baby grand. A thousand and one other buttons let it imitate everything else, from a small pipe organ to a steam train passing through Middlesbrough, but the piano setting remained on and I made a commitment to myself that I'd learn to play.
A year later, there I was sitting in someone's kitchen with a lot of seven-year-olds, clutching some sheet music. I was about to take my Grade 1 exam. Music exams, I found out, tend to take place in people's houses. Grade 1s tend to be sat by seven-year-olds, which is why I was in among a row of them, sitting on a very low plastic blue chair. Next door were the sounds of someone very, very competently playing an elaborate piece of Debussy. The music stopped, and out walked a six-year-old. A very tall person came over to me. She was probably only five feet five inches high, but from where I was sitting she seemed to touch the ceiling. 'Are you the candidate?' she said to me. Yes I was, I replied. 'Well then, good for you!'
I still wasn't due to play for another 20 minutes. Two other candidates were before me. One looked about four and sounded like she was able to play piano duets on her own, and the other was a remarkably precocious baby. While I waited, I had the chance to practise. There was a plastic toy keyboard for me to warm up on. It had red and yellow and green and blue keys, and made the noise of the instrument nursery teachers use when they accompany you all singing 'The wheels on the bus go round and round'. A sort of warm clanging sound. I clanged away, trying to prop my prepared piece up on a non-existent music stand.
It struck me then that I really didn't have to be here. I could have run away, and no one would have been able to do anything about it. The police wouldn't go looking for me. A teacher wouldn't report me for unauthorised absence. I was 41. I'd been to the Baftas, directed television shows, made speeches in front of MPs and industry executives, and once, on camera, duped OJ Simpson into signing a piece of paper saying 'I Did It'. In 1997 I presented a three-hour live comedy election-night special. I'd even given the odd Radio 3 interval talk. I was a fully grown human being: I really didn't have to be in this peculiar situation in a stranger's kitchen.
Sitting in the kitchen, clanging my Grade 1 prepared pieces out to a benchful of seven-year-olds, I resolved not to be a wet quitter. I'm glad I did. Learning the piano suddenly made music physical. I could touch music, not just listen to it. I could see it too. I can't say the music I made was anything someone else would want to hear, but it made me examine it close up. Suddenly, pieces I'd always loved were there in front of me, and what I saw was revelatory and disarming. The aria at the opening of Bach's 'Goldberg Variations', for example, now looked so simple, so direct. Frankly, there weren't that many blobs on the page.
Surprisingly, I wasn't disappointed. I think that seeing it all laid out and looking so simple only made it all the more magical. I found that was the case with all the pieces I played. The best of them were the ones that didn't try too many tricks, and where the composer had confidence in simplicity over complexity. Haydn does that a lot, I found. The variety and flourishes in his music are actually subtle nudges from a steady line or a forward pulse that doesn't go away.
Of course, these were Grade 1 pieces, so nothing was going to be as taxing as Liszt's most flamboyant 'Transcendental Studies'. And there was a downside: since Grade 1 is attempted mostly by young children, I did start off spending hours practising tunes from kids' music books, such as 'Farmer Joe's Billy Goat Got Stuck in a Bush', or whatever one of the hundreds of farmyard incidents children's music seems determined to celebrate in song. Worse than that, I had to play faux-jazz. But once I'd got past 'Dental-Ache Blues' and 'Swinging Nanny', it wasn't too long before I could attempt Bach and Mozart.
Take heart: I'm told now that there are decent adult beginners' books, reflecting the expanding market for grown-ups taking up the piano. Today it's easier than ever before to practise. YouTube clips and online classes mean you can search out and focus on the individual pieces you like. Qualified piano teachers are more prepared to take on older pupils. If you've ever yearned to make that leap from listener to practitioner, there's never been a better time.
We will all have our own different reasons for wanting to play, and different ways of making ourselves practise. In my case, it was straightforward; I'm so used to living by deadlines, I knew the only way I was going to push myself was by imposing them on me, through weekly piano lessons with a teacher and a Grade 1 exam applied for and placed firmly in my schedule. Which is how I found myself in a stranger's kitchen, warming up on a blue plastic chair.
It was so ridiculous – indeed, everything connected with this occasion seemed so loopy – that I laughed all the way through my prepared piece. I passed, though. It really is that easy. So you have no excuse.
'Hear Me Out' by Armando Iannucci is published by Little, Brown on Thu Sep 28.
Fins the finest sounds in town
Discover the very best classical music, concerts and opera in London.
Support Time Out
We see you're using an ad-blocker. Ad revenue is Time Out's main source of income. The content you're reading is made by independent, expert local journalists.
Support Time Out directly today and help us champion the people and places which make the city tick. Cheers!
Donate now