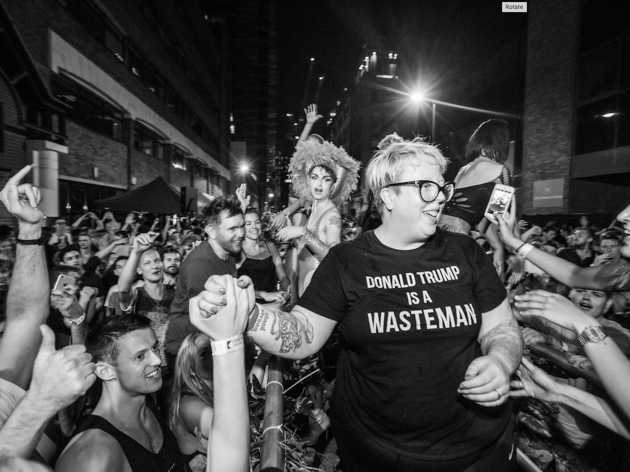 Bitch, she's The Black Madonna: Meet the coolest woman in music
She's one of the most successful, globe-trotting DJs of her day. But all she really wants is to enjoy London and watch 'Dynasty'
Don't come to The Black Madonna for wishy-washy opinions. The adoptive Londoner is one of dance music's loudest voices when it comes to gender equality, queer pride and the sorry state of US politics (her pinned tweet is a reply to Donald Trump back in 2012, poetically stating: 'suck my balls'). But as someone who grafted in the disco-house-techno margins until her forties, Marea Stamper is also one of the friendliest faces in the business: a serial hugger and vociferous supporter of her fellow non-male DJs. Underground DJs who become massive stadium-pumpers often get sneered at for selling out. It's telling that this hasn't yet been the case with The Black Madge.
Born in the Appalachian mountains of Kentucky, Stamper got her start after impulse-buying a local DJ's entire collection: a tobacco barn full of funk and disco records. Six years on, she's one of the most in-demand DJs in the world – with the perpetual jet lag to prove it – and is finally putting the finishing touches on a debut LP. Ahead of Field Day this weekend, she tells us about her Kardashian-related meltdown and that time she punched a cop.
You grew up in the Appalachians in Kentucky – what was it like to be a young raver there?
'You make your own world there. The scene is whoever gets up in the morning and puts on their big-girl pants and decides to make a scene! The freedom is great. Each weekend, you'd drive to whichever neighbouring city was holding a big rave. We'd drive through the buckle of the Bible Belt in America and everyone would stop at a gas station looking like they fell out of an acid trip.'
You became a resident at Chicago's Smartbar back in 2012. It's said to be the world's oldest still-operating nightclub. What's so special about it?
'Smartbar is like an old ship in that you get the sense it's had lots of adventures, which have kinda soaked into the walls. I put my arms around one of the columns in the middle of it when we're soundchecking. I don't mean this to sound like mumbo jumbo, but it's a really spiritually charged room. Lots of shit has happened there. Tom Waits showed up and demanded to play a DJ set once.'
Compared to most DJs, you've broken through quite late in your career. What's given you the energy to tour as much as you have?
'When I started to get booked all the time it was like taking someone who'd never eaten before to a buffet. From being really poor and not having a ton of success, you can feel like the well is gonna run dry. For the first few years my strategy was just to work as much as possible, because I loved it and I wanted to continue doing it. I thought: If I go to enough places and do a good job, maybe they'll let me come back. And they did.'
Given how worldly you are now, if you were randomly plonked in a DJ booth and had no idea where you were, could you work it out just by reading the crowd?
'I think so. You become hyper-aware of body language in a crowd. Reading a room and being aware of people's feelings and what their deal is, is a real quality. I could probably work out if they'd had too much to drink, or were having a bad week, or were fighting with their girlfriends or boyfriends.'
Are there types of records that you know will go down better in London than anywhere else?
'Yes: bass. If you play jungle or breakbeats in the south of Italy, they may not care about it. But in London, jungle is a language that is spoken. London is its own ecosystem musically, and it's frankly why I live here now. Legitimately good dance culture is a part of normal people's everyday lives. That's not the case in America. I don't know if anyone has ever loved London as much as I do!'
But do you actually get to spend any time here?
'Every other month I'll have a free week or two, but when festival season comes it's different.'
And how do you deal with festival season?
'I will get desperately homesick and want to call my husband every five minutes. I will pet every dog that I see on the street. I will call my mom, crying, at least once. Last year I had my big meltdown in Australia while watching "Keeping Up with the Kardashians". They're always going to the doctor with each other on that show. It's always like, "Oh, Kim's got a thing on her foot" – so half the family goes to the doctor with her. And the thought of being able to go to the toe doctor with your mom just seemed like such an unbelievable dream. I went hysterical. I had to call my mom, I took a sleeping pill, I ate a steak and sobbed.'

Okay, so imagine I gave you a weekend off in London. What would you do?
'Sit in bed with my husband and watch [the original version of] "Dynasty". We just got the box set. That'd be
a big weekend.'
You became an ambassador for Help Refugees – how did you get involved with that cause?
'I thought about my husband, who in his immigration papers looks like the most cherubic child in the world. There are a bazillion people who are just like he was. He was lucky enough to get to come to the United States and start a new life. People talk about refugees as if they're a different species of human, and they're not. They're just moms and dads and queer people and babies who need to get the hell out of wherever they are.'
You were immortalised in Grand Theft Auto, where you knock out a police officer with a single punch when your rave's shut down. Could you do that IRL?
'No. But one of the stipulations I had for being in the game was to punch a cop. One imaginary cop had it coming. Anyone who's experienced a bad rave bust would know. I would never do it in real life. I loved doing the motion capture. That cop, when I hit him, was a real dude. We had to wear the suits with little dots and act out the roles. They gave me real bourbon, they even brought in real ravers. The amount of detail is unbelievable.'
There's also a rumour you'll be returning with another Shoreditch street party this summer.
'We will! The announcement will be coming soon. The party we did with Krankbrother last year was phenomenal – we had people crowd-surfing down two blocks. London in the summertime is magical.'
Field Day runs Fri Jun 7-Sat Jun 8 at The Drumsheds. Meridian Water rail.
Fancy trying another festival in London this summer? Check out Time Out's guide to the best music events happening in the capital.