British Summer Time festival guide
See the line-up, local information and travel advice for the Hyde Park series
By Oliver Keens and James Manning Mon Jun 30 2014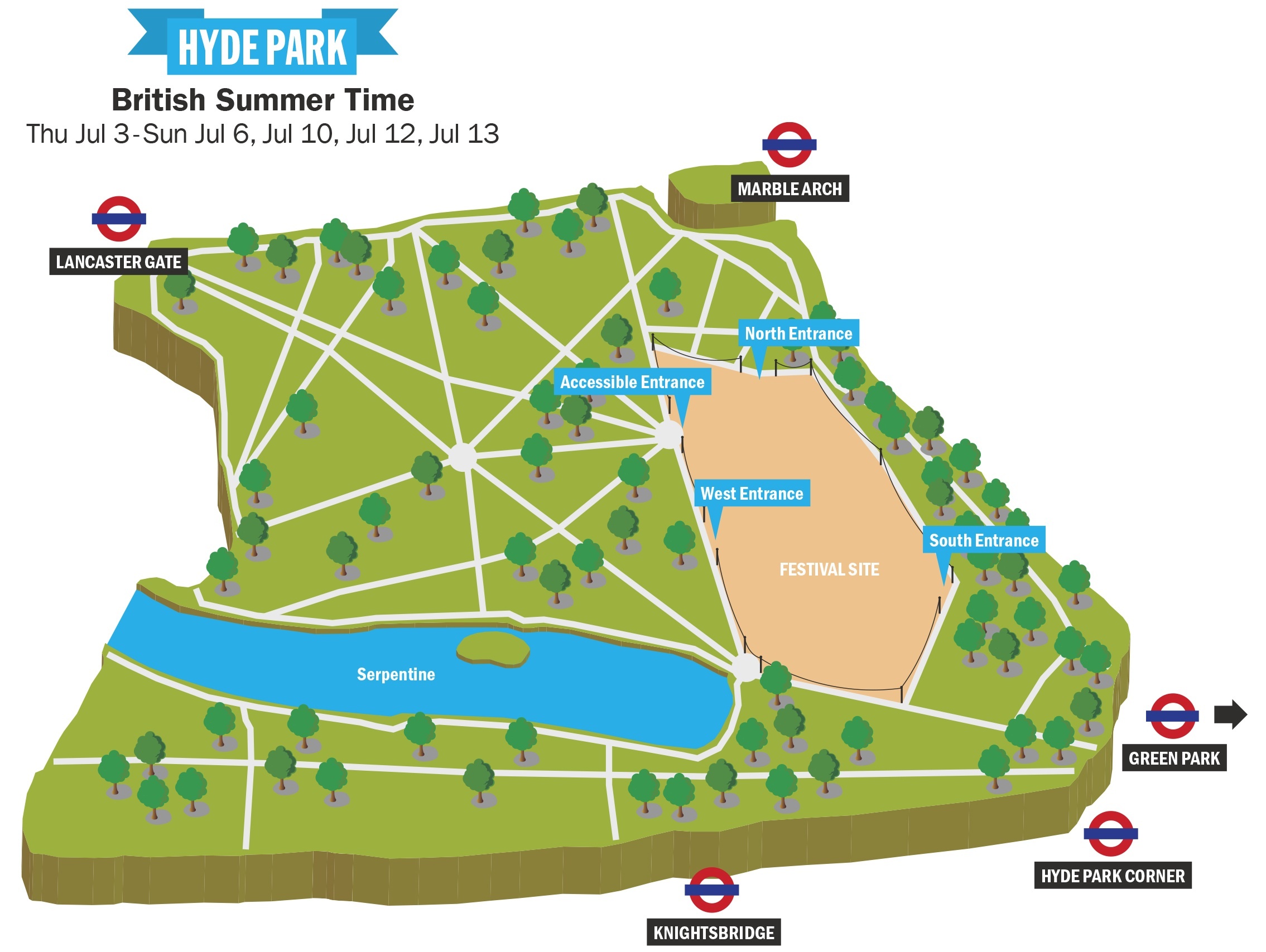 The background
Hyde Park has been a controversial venue in recent years, amid complaints over low sound levels, not to mention Bruce Springsteen and Paul McCartney being abruptly cut-off in 2012. That said, last year's BST went off smoothly.
The big names
Mighty Montrealites Arcade Fire kick off BST's run of seven standalone concerts on Thursday with a carnival-inspired live show that will lean on their disco-channelling last album 'Reflektor'.
Things take a turn for the dark and heavy on Friday when Ozzy Osbourne's metal overlords Black Sabbath rock the headline slot, with support from a host of disciples including Soundgarden, Faith No More and Motörhead.
Probably the most anticipated show of the festival takes place on Saturday, when London's indie contingent swarm in for the return of The Libertines. Will it be a shambles? It's likely, lads – but it could also be rather glorious.
Boy band BOGOF McBusted's set on Sunday marks the end of BST week one. Then the whole thing kicks off again, with musical comedy from Tim Minchin on July 10, marathon rock jams from Neil Young on July 12, and family-friendly belters from Tom Jones on July 13. Phew.
Don't miss
Kicking off proceedings on Thursday are Future Islands, the Baltimore synthpop trio who shot to viral fame a few months ago thanks to their frontman's eccentric footwork. Come for the awkward moves, stay for the awesome sounds. Our hot tip for Friday, meanwhile, is frantic Japanese psych-rockers Bo Ningen, whose thrashing live show must be seen and (hopefully deafeningly) heard to be believed.
Where to meet for a pint
Try either The Nags Head or The Grenadier in Belgravia. Both are small, hidden-away old-school boozers, and only a five-minute walk from the festival site.

Where to carry on afterwards
Fans of The Libertines could do worse than venture to Camden for indie-disco Buttoned Down Disco, or walk to The Borderline on Charing Cross Road for long running Britpop-fest The Christmas Club.
What do residents think?
They're not chuffed, if this quote from the head of the Residents' Society of Mayfair & St James's is typical: 'We can't be supportive over this sort of individual [Pete Doherty]. Together with the Ozzy Osbourne concert the day before, it's the last thing we need in the middle of Mayfair.' Chin up Mayfairites – at least Eminem won't be performing. According to a Freedom of Information request obtained by The Mirror, the Royal Parks vetoed him for his 'unsuitable' lyrics.

---
---