It's a weekday night at The Garage in Highbury and there are tampons flying over the stage. Beneath them, it's chaos. The room has the same energy as a party scene in 'Skins' circa 2007, except with pink glitter instead of neon face paint. A teenage crowd of mainly girls in Tumblr wardrobes crash into each other. At the epicentre of that mayhem is GIRLI, an 18-year-old from north London and potential saviour of pop music.
'I think I underestimated 14- and 15-year-olds,' she laughs when I meet her a few days later. 'I've only experienced moshing at rock gigs, so when I got in the crowd at The Garage and people were properly shoving me, I was like: this is sick!'
We're sat together in a plush office on Regent Street, and GIRLI is a stark contrast to her glossy surroundings. For a start, her hair is Manic Panic magenta and her outfit looks like it was bought at Cyberdog then spray-painted pink. Plus, it only takes five minutes for her to tell to me a story about her mate getting a 'putrid' tattoo at a party. 'It was just above his dick,' she says animatedly. 'And it said, "get a grip". He was just like, "Woohoo!"'
GIRLI's whole vibe completely contradicts that of recent buzzy pop stars: inoffensive singers like Låpsley, Halsey and James Blake who make music for twenty-somethings to stream at work. Her tracks layer brash, shouty rapping over beats inspired by the trancey, glitchy sounds of London's PC Music cartel. They're rebellious, obnoxious and – to be honest – you might think they're awful. But, it's the very fact they're not middle-of-the-road that makes them exciting. 'If someone was like, "This is shit," I'd be cool,' says GIRLI.
With lyrics inspired by texts and 'listening to what completely fucked people are saying at parties', the tracks reflect the realities of the teen experience in a way that a former Disney star never could: think K Cider, twosing cigarettes and Snapchat stories. It's probably because GIRLI is inspired by the realism of The Streets and Arctic Monkeys' lyrics. 'They relate to you on a really close level,' she says. 'Like: oh, that's jokes, I've also been to a chip shop at 2am and thrown up.'
That's not to say GIRLI doesn't love pop music. She listens to a lot of Drake and gushes over Taylor Swift's melodies, but she tells me she thinks artists have a responsibility to say something with their music. It means her anecdotal lyrics add up to a political message. She samples Katie Hopkins on single 'Girls Get Angry Too' and at one point she stops her gig to shout, 'Fuck Brexit!' The crowd burns up with angry support.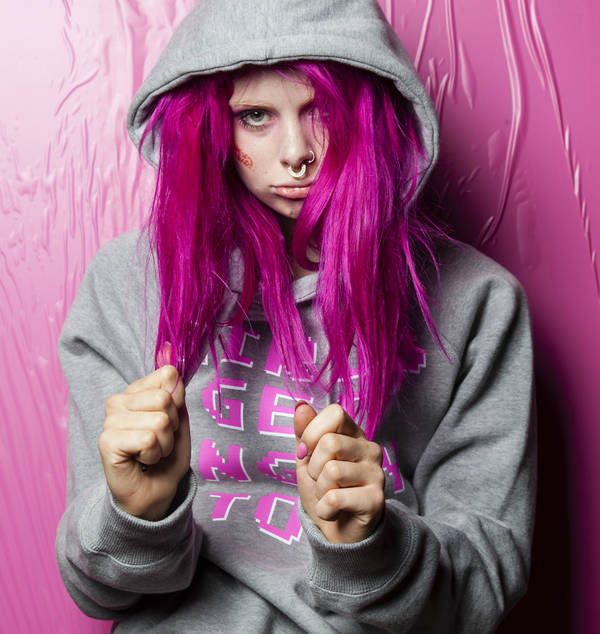 GIRLI's interest in politics isn't a new thing. 'In school I was that geeky one who was always setting up after-school clubs,' she says, telling me about a video that surfaced showing her debating work experience policies at a 'Camden Council Youth Parliament thing'. She adds that she was so 'uptight' that during recent student protests she stayed at school and campaigned in the corridors rather than climbing over the gate to the march. It was only when she headed to music college in Stratford that she found her rebellious side. It's something she reckons must have been hard for her parents.
'I think sometimes my mum's a bit worried about me,' she says. 'But I think she sees that I can look after myself now.' In fact, her mum's so supportive she bought GIRLI a fake ID when she joined a band at 15 and needed to get into over-18s venues. 'We went on Fake ID.com together,' she laughs. 'It was the most surreal experience of my life. I don't think I ever used it for a gig but I used it for lots of other things…'
Last year she spent her nights out running between free-to-enter clubs on Kingsland Road: 'Because Alibi had a free cloakroom we'd go there at the beginning of the night, drop off all our stuff, get the stamp, leave Alibi, go to Visions, go to Dalston Superstore, and then at the end of the night go back to Alibi and get our stuff.' More recently she's had so many house parties that her landlord's threatening to kick her out, and likes to go to Hendon to rave under the railway tracks.
It's clear that GIRLI's learned how to throw a good party, but interestingly, she tells me the most important thing about her gig was that people felt safe there – something she says girls don't experience at most events. 'Sometimes as a girl you feel judged and not completely safe at gigs,' she says. 'But I want people to come to my gigs and feel like they can express something that they're angry about.'
As the gig at The Garage ends and sweaty teenagers rush to get the last tube, it's obvious that her attitude works. Teens in 2016 are often portrayed as selfie-obsessed and apathetic, but maybe people who say that just aren't looking in the right places. In fact, while it's been claimed that young people's obsession with 'safe spaces' is ruining rave culture, GIRLI's gig suggests it might actually be what helps rebuild it – it's just that this time round, the girls will be in charge.
GIRLI's next single, 'It Was My Party' is out on Aug 19.