Kings Of Leon – 'Mechanical Bull' album review
The maturing Followills are back, armed with some superior songs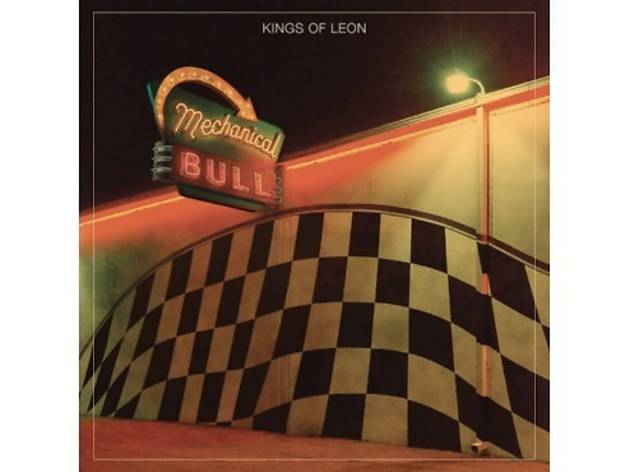 'Mechanical Bull' shows the four-piece emerging from this sticky patch on introspective form. The maturing band has gone back to their Nashville roots, while simultaneously delivering what the fans have been missing: superior rock songs that will sound incredible live. Opener 'Supersoaker' is bright and cheeky, but it's the unapologetically punkish 'Don't Matter' that really sets things off. At less than three minutes long and with time to spare to include a crowd-pleasing guitar solo, it's a welcome reminder of the sort of streamlined energy Kings of Leon can produce at their best.
There's also a fair amount of melancholy on 'Mechanical Bull', including the country-influenced anguish of 'Comeback Story': 'I'll walk a mile in your shoes… now I'm a mile away and I've got your shoes,' Caleb reflects, with bitter humour, over a luscious string arrangement backed by lap steel guitar twangs. It's outdone, however, by the intense longing and pain of 'Wait For Me' – the record's standout ballad.
There are blips – 'Family Tree', for example, starts promisingly with a catchy riff but descends into what sounds like a Zutons cover of 'Play That Funky Music' – but they're minor, and there are enough gems on 'Mechanical Bull' overall to call it a return to form. It will certainly leave you wanting another ride.
Jamie Afoke, 28, is a lawyer from Borough. He was selected to write this review as part of the Time Out Takeover – a special edition of the magazine written entirely by our readers.
Buy this album here
What are your thoughts? Let us know in the comments box below or tweet us at @TimeOutMusic.
Sponsored listing
Wigmore Hall
Built in 1901 as the display hall for the German company Bechstein Pianos, the Wigmore Hall was seized as enemy property in WWI and sold at auction for a fraction of its value. These days, boasting perfect acoustics, art nouveau decor and an excellent basement restaurant, the 'Wiggy' is one of the world's top chamber music venues and currently hosts around 400 events a year. Programming leans on the classical and Romantic periods. The Monday lunchtime recitals, broadcast live on BBC Radio 3, are excellent value, as are the Sunday morning coffee concerts. Musical luminaries who have performed at the Wigmore Hall include Sergey Prokofiev, Shura Cherkassky, Paul Hindemith, Andrés Segovia, Benjamin Britten and Francis Poulenc. Tours of the auditorium, with its famous Art Nouveau mural, and other parts of the building take place during the Open House London event in September.
Venue says: "Wigmore Lates is back this summer with £5 tickets for under-35s. Book now for late-night concerts followed by live Jazz in the Wigmore Bar."