Seven things you didn't know about Rudimental
Discover some little-known facts about the Hackney dance group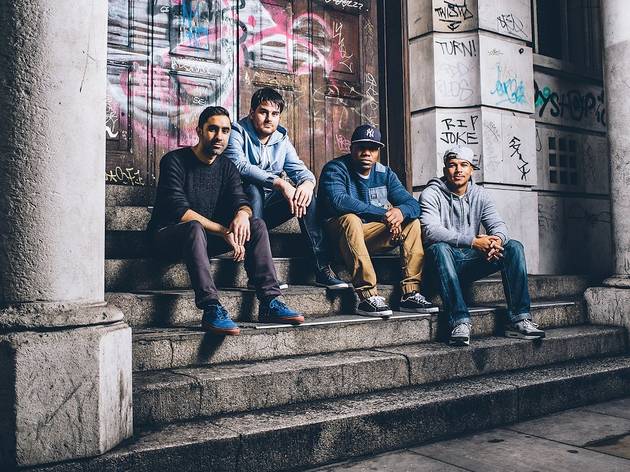 1. This incurably upbeat four-piece are Kesi Dryden, Amir Amor, Piers Agget and DJ Locksmith. They tour as a nine-piece… and are yet to comment on toilet conditions on the tour bus.

2. Their first ever single to chart, 'Feel the Love' featuring John Newman, went in at Number One. It was the first ever UK chart-topper for their label Asylum Records in its 40-year existence.

3. The band are all proud Hackneyites. The cover of their debut album 'Home' is a picture of Dalston's famous Peace Mural, designed by Ray Walker.

4. Rudimental 'live, work and party' in their East London studio, Major Tom's. It looks set to be the home of a new creative collective, including the likes of MNEK and John Newman. We hear Lianne La Havas has been working with Rudimental on their new album there too.

5. The 'Feel the Love' video (see below) was filmed in Philadelphia and features urban riding clubs galloping horses through the city. We're hoping that that in time Rudimental will exert their influence on Boris, and persuade him to allow horses to run free on the streets of London too.

6. The band have chosen not to feature in their own videos, and are quick to concede that they are 'not the hottest boy band'. With reports of Harry Styles's receding hairline sweeping the blogosphere, this may have been a smart move.

7. They have cited Sade, Lauryn Hill and Bobby Womack as dream vocal collaborators. Oh, and that famed songbird Ian Brown. Hmmm… perhaps they want him on roadie duties?


Watch Rudimental's 'Feel the Love' video
Sponsored listing
The Blues Kitchen Shoreditch
This Curtain Road venue is close in style and sentiment to its big sister, The Blues Kitchen over in Camden. Expect, then, a restaurant, bar and music venue with a hefty Stateside influence - from its bourbon and its barbecues all the way to its blues.  Music does have a big part to play here. There's live artists pretty much every night of the week, with everything from rock 'n' roll to swing, motown, roots and even gospel complementing all that smokey blues. Keep an eye out for nights where food and music combine in happy harmony - think bargain ribs gnawed to a soundtrack of soul.  An in-house barbecue, with meats smoked over fruit woods in their own fire pit, is kept busy - orders of beef brisket, smoked chicken, short beef ribs and burnt ends glazed with a beer and hickory barbecue sauce prove popular. Chilli,gumbo and a catfish jambalaya also feature. 
Venue says: "'Free wing Fridays' between 5-7pm at the Blues Kitchen Shoreditch. Come down and get your wing on!"