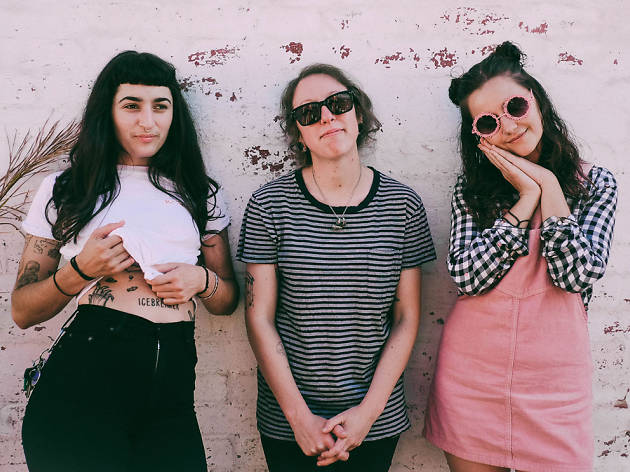 What's the deal with… Camp Cope?
Introducing the emo-tinged Aussies giving indie rock a feminist kick up the tushie
Okay. Hit me.
So, Camp Cope's lead singer Georgia 'Maq' McDonald was already pretty popular in Melbourne's indie-rock scene before the band started, but she mostly played solo in pubs, sang in her bedroom and uploaded grainy tracks onto Bandcamp. Shit got real when she met KellyDawn 'Kelso' Hellmrich and Sarah 'Thomo' Thompson. They added drums and bass to the equation and the trio released a grungey eponymous debut LP that made them real popular, real fast. Now they're selling out shows across the world.
Nice, but what do they actually sound like?
They're just as Aussie and addictive as Courtney Barnett, but Camp Cope's style of indierock is a little heavier and (dare we say it) borders on emo. Maq is a kickass songwriter and her killer one-liners will get stuck in your head for hours. Their 2016 self-titled debut was angsty and raw, but the new album ('How to Socialise & Make Friends') is all about power and fighting back. If the first record is the perfect accompaniment to a break-up, the new one will make you feel like you can take on the world.
Do I have to like Australian accents?
Don't worry – Maq's will grow on you. Especially when she's eloquently expressing every feeling of anxiety you've ever felt. Like that time you were in bed by yourself watching 'Lost' when all your friends were out having a great time. Yeah, she gets it.
Sweet. How do I start?
Listen to 'Done' from the debut then move on to the much boppier title track from the new album. Feeling angsty? 'Jet Fuel Can't Melt Steel Beams' is all about gun violence and 'Song for Charlie' is the one to listen to when you're crying in the car.
Anything else I should know?
The trio founded the #ittakesone movement to end violence and sexual harassment at gigs, and they regularly call out festivals for the lack of women on the line-up. They are a feminist force to be reckoned with.
Sick. When can I see them?
Their next London show just got upgraded from Boston Music Room to The Dome (that's double the capacity). Get in quick.
Swat up on more brilliant new acts
Meet the precocious LA singer who's impassioned pop will make you feel all fuzzy inside.