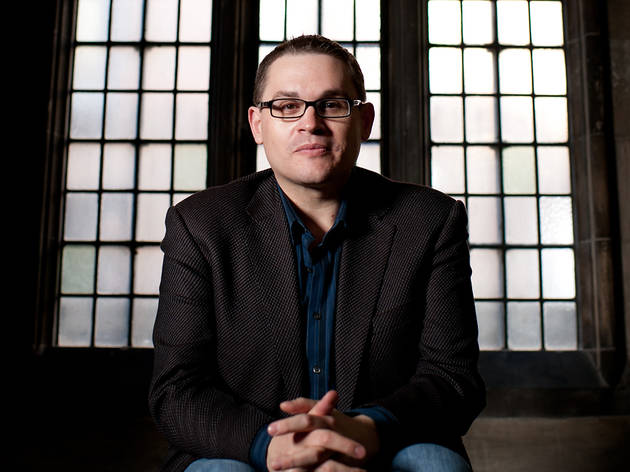 Paul Mealor interview
After his Christmas Number One, the composer says he's out to challenge his fans
Every composer hopes that their work will be enjoyed by a large audience. The premiere of Paul Mealor's choral work 'Ubi Caritas', however, was heard by 2.5 billion people, commissioned as it was for the royal wedding in April 2011. It catapulted him to international recognition. 'Unbelievable!' he exclaims. 'You work hard, you write music and sometimes you get a break. I just happened to get a really amazing break.'
Indeed, that year was an extraordinary one for the 37-year-old Welsh composer. The release of 'A Tender Light', an album of his work sung by the choir Tenebrae, hit Number One in the classical charts and remained in the Top Ten for two years. It was the product of his love of choral writing, which comes from the religious faith he discovered as an Anglican choirboy.
Meanwhile, in 2011, egged on by TV choral conductor Gareth Malone to write a song for his Military Wives Choir, Mealor's 'Wherever You Are' became the Christmas Number One and spent six weeks there. The words were compiled from the women's correspondence to their soldier partners. 'They sent me boxes of letters they had written,' he explains. 'Amazing! People's deepest feelings for those they might never see again.' Later, asked to write another piece for them, his duet 'In My Dreams' became the title track for an album that also went to Number One, knocking Bruce Springsteen off the top spot. Mealor is simply amused by it all. 'Imagine! Two pop chart Number Ones,' he laughs uproariously. 'It's insane!'
Perhaps because he is now best known for his lighter songs, he has struck back with a new thrillingly powerful piece. On Tuesday July 2 '
The Farthest Shore
' is performed at St Bride's Church, Fleet Street. The 35-minute extravaganza is a dramatic Welsh folk tale inspired by the mystical Isle of Anglesey. It tells how a stranger washed up on the beach weaves a spell over the locals, overcoming their hostility through his healing powers. What Mealor describes as 'a beautiful expression of humanity' is an exhilarating work for a 40-strong children's choir, the BBC Singers, Onyx Brass, an organist and two solo singers.
It is the latest commission by JAM (John Armitage Memorial), a small commissioning body set up by sound engineer Ed Armitage in memory of his dad, which works tirelessly and with little external funding with the aim of not only creating new work for combinations of choir, brass and organ, but also to achieve the rare feat of repeat performances.
'The Farthest Shore' received a standing ovation at its premiere in Wales a month ago and promises to be a terrific experience, featuring not just soaring music but choreographed choirs moving around the audience.
Mealor was supported by the organisation as a student and later commissioned by it to write 'Now Sleeps the Crimson Petal', which he later reworked to become 'Ubi Caritas'. He is eternally grateful. 'The truth is that if it wasn't for JAM commissioning that, I wouldn't be where I am now,' he says.
Now that he is best known for his chart-topping songs, he hopes that his fame will inadvertently bring in a new audience to experience this powerful dramatic oratorio, as it did at its Welsh premiere. 'We sold out St David's probably because it was full of people who thought it is was going to be like "Wherever You Are",' he laughs, 'and then they get this.'
Although, he obviously doesn't need a supplementary job, Mealor is Professor of Composition at the University of Aberdeen. 'I love teaching,' he declares. 'Without it, I wouldn't be grounded. For me it is really important to know what young people are thinking about now, otherwise you get stuck in a vacuum of what you think is important rather than what is important.'
His working ritual, though, remains the same whether in Aberdeen or Anglesey, where he owns a house and works on larger projects over the summer. 'I compose every morning,' he explains. ' I get up at 6 o'clock and stroll along the beach – even in the winter in Aberdeen, which can get really cold, believe me. But it wakes you up and gets you focused and then I sit down and write. Even if nothing comes out, I sit there because it is important to have discipline. Like a sportsman you have to warm up and do it every day.'
And is he in danger of becoming a national treasure? He thinks for a moment; the idea amuses him. 'It would be quite nice if I was a national treasure,' he sniggers. 'Then people would actually listen to what I have to say about things.'
Paul Mealor's 'The Farthest Shore' is performed alongside works by James MacMillan and Benjamin Britten at St Bride's Church, Fleet St, Tue July 2, as part of the City of London Festival 2013.