The Girl of the Golden West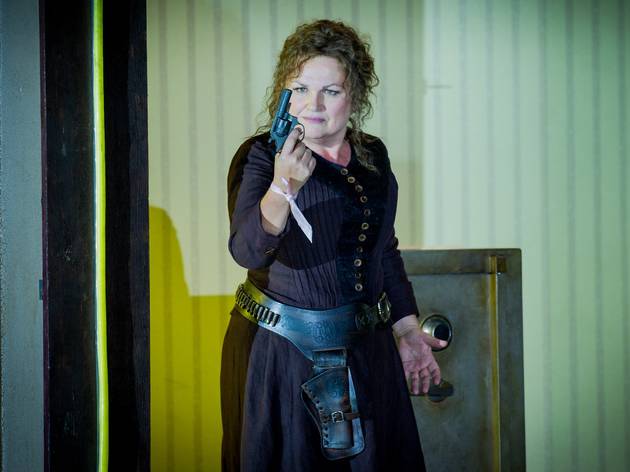 1/9
© Robert Workman
'The Girl of the Golden West'
2/9
© Robert Workman
'The Girl of the Golden West'
3/9
© Robert Workman
'The Girl of the Golden West'
4/9
© Robert Workman
'The Girl of the Golden West'
5/9
© Robert Workman
'The Girl of the Golden West'
6/9
© Robert Workman
'The Girl of the Golden West'
7/9
© Robert Workman
'The Girl of the Golden West'
8/9
© Robert Workman
'The Girl of the Golden West'
9/9
© Robert Workman
'The Girl of the Golden West'
English National Opera's first new production of Puccini's cowboy opera is gripping from start to finish.
Gripping from start to finish, this is the English National Opera's first new production of Puccini's glorious 'cowboy opera' in 50 years. Director Richard Jones and designer Miriam Buether have clearly had a lot of fun – Jones with the excellent cast, and Buether with the stylish set and its historically suspect decor.

On a stage monopolised by men, the star is the only woman. British soprano Susan Bullock is terrific as Minnie, the tough broad with a big heart, loved by all the disillusioned gold miners frequenting her Polka saloon.

Wrapping her Wagnerian tonsils around the role, Bullock comfortably holds her own, even with the orchestra and chorus at full tilt – and in an American accent.

Picking the best, however, is tricky with such talent on hand, from the 50-strong all-male chorus in ravishing form to the near-faultless principals. Craig Colclough is superb as sneering sheriff Jack Rance, who fails, like all the miners, in his advances towards Minnie. She only has eyes for the outlaw Dick Johnson, splendidly performed by tenor Peter Auty. Of the rest, Leigh Melrose is a very watchable hound dog-like Sonora, while George Humphreys is gripping as the blind minstrel with the mesmerising voice.

Canadian conductor Keri-Lynn Wilson makes an impressive UK debut. From the explosive start of the short overture, she keeps the orchestral texture clear, allowing the details to shine (particularly in the woodwinds), while always in control of the soaring strings.

Though the action might be set in the 1850s, the yellow strip-lighting and metal furniture of this Polka saloon suggests that the California Gold Rush took place somewhere in Hoxton. But that's the fun: rather than sticking to historical accuracy, this sly, enthralling production allows anachronisms like electric lights and modern swivel chairs to glitter on set like nuggets of gold.