The best ice cream in London
The scoop on the capital's best places for ice creams, sorbets, gelato and soft-serve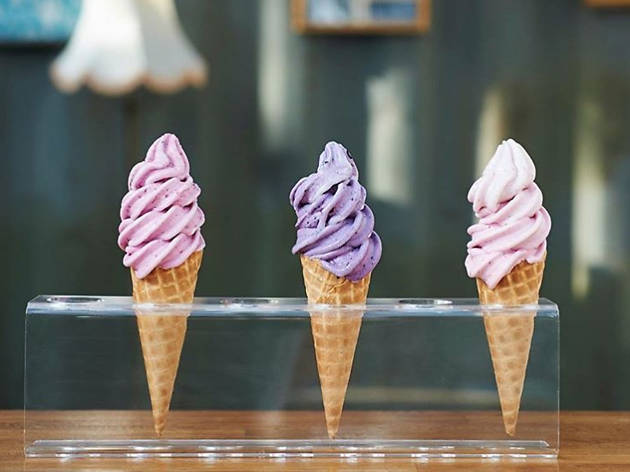 Check out our sticky-fingered guide to the best cold stuff in the capital. We've put together a list of top-notch ice-cream parlours serving unforgettable frozen cones, scoops, ice lollies and ice-cream sandwiches. Think we've missed a great London ice-cream parlour? Use the comments box below or tweet your suggestions.
The best ice cream in central London
The best ice cream in north London
The best ice cream in east London
The best ice cream in south London
The best ice cream in west London
Find show-stopping ice cream in London
Are you tired of eating the same old ice cream, with only the 'how long to brain-freeze' game to keep things interesting? What you need is a hand-picked list of the best signature flavours, from the capital's finest ice-cream makers, so you can spend all summer sampling and judging them for yourself.
Read more
Sponsored listing
Chicken Society
With a name like Chicken Society, this new Finchley Central restaurant must specialise in chicken, right? Wrong. Well, half right. Despite its name and the chicken-themed decor, there isn't just one bird on the menu here – it also serves rotisserie duck. But if you're in any doubt as to the general remit, the walls are adorned with neon signs saying things like 'fire it up' and 'bird is the word' – it all feels slightly overdone. Happily, the chicken is not. Lightly seasoned with paprika, oregano and garlic, it was perfectly tender and served with a griddled lemon, which was a nice touch. It's the best thing here. The duck, flavoured with a five-spice rub, was disappointingly dry. Both birds come in quarter, half or full portions. As well as mac 'n' cheese and crinkle-cut chips (don't bother with the parmesan and truffle version – they're not worth £5), there's also, er, spiralised courgettes. But don't panic, they're deep fried – the Hemsley sisters would not approve. The website promises that there's 'never been anywhere like the Chicken Society', which seems a bit much. But it's a decent enough option if you're in the area.
Venue says: "Chicken and duck, marinated in herbs and spices, and spit-roasted until golden and gorgeous. Served alongside fresh tasty sides and morsels."