Dalston restaurants and cafés
Discover our recommendations for the best restaurants in Dalston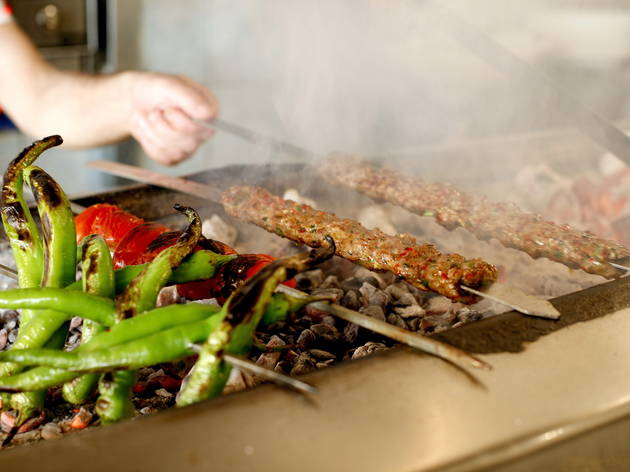 Dalston may have a reputation for amazing Turkish food (which places like 19 Numara Bos Cirrik I uphold), but there's actually a huge range of outstanding restaurants in the area now. Shanghai Dalston brings Shanghai's regional dishes to east London, whilst British food is provided by A Little of What You Fancy. And for simple, seasonal fare alongside Regent's Canal, you must go down to Towpath.

Think we've missed a great restaurant or café in Dalston? Let us know in the comment box below.
Grill: Turkish

The tang of carbonised meat that hangs in the air of Stoke Newington Road is an olfactory reminder you're in ocakbası territory.
Read more
Coffee house: European

Here, the magic comes from Square Mile beans and a shiny, top-notch La Marzocco machine. Our barista pulled the perfect shot.
Read more
Venue says: "Mega offer! Get free four bottles of Budweiser beer when you spend £30 (minimum of two people)."
Grill: Turkish

There are many reasons to visit this long-standing Hackney favourite, but the decor isn't one of them...
Read more
Restaurants & cafés: British

Hackney's patterns of immigration have ensured the borough has never been short of decent dining options....
Read more
Restaurant: Shanghainese

This former pie-and-mash shop is a curious hybrid that fits right into Dalston's eclectic high street.
Read more
Café: European

So many lovely neighbourhood cafés and delis have opened in Hackney that they scarcely provoke a raised eyebrow any more...
Read more
Café: British

Barden's - better-known as a nightlife venue - also has an all-day menu including numerous breakfast and brunch options...
Read more
Find more restaurants in London
Sponsored listing
Fed by Water
There's a focus on clean living at this new concept restaurant in Dalston - it's all about a holistic approach to the food and drink that's served. That means environmental sustainability when it comes to sourcing, an apparently 'alkaline' Mediterranean menu, and 'pure' (filtered) water used throughout the prep. There's plenty of the latter to drink, too. The fully-vegan menu boasts an Italian bent, with options ranging from pizzas by the slice (think home-made cashew mozzarella-style cheese, soy ham, spicy seitan salami, soy sausage, olives and chilli flakes) to garlic bread, gluten-free pasta, healthy salads and 'pure' soups.  There's booze on the drinks list, so don't go thinking it's all holier-than-thou here. The Wild Card Brewery provides the real ale, Italy the lager and Devon the cider. Plus there's old world wines by the glass, and a cocktail list that includes negronis, mojitos, cuba libres and caipirinhas. But health freaks fret not - there are freshly squeezed juices, organic soft drinks, herbal teas and plenty of that filtered water. There's strong Italian coffee, too.  
Venue says: "Try vegan with #veganuary extended over February! We are offering 15% off all food Monday to Friday, noon-3pm, throughout February. #GoVegan"