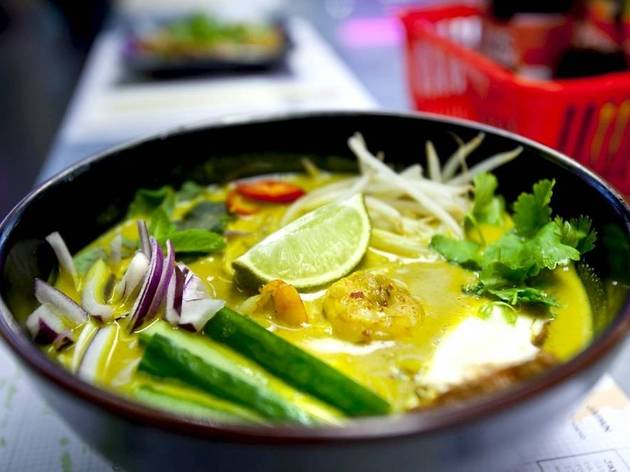 This busy Rathbone Place canteen is all about the flavours and feel of East Asian street food spots, with a colourful, noisy room and dishes from Thailand, Japan, Malaysia, Singapore and Vietnam.
Expect recognisable pan-Asian crowd-pleasers such as chicken satay skewers, laksa soups, summer rolls, pad Thai noodles, ramens, katsu curries and beef rendang. Sharing platters, small plates and express lunches and dinners are also available. And if you want to do something good while you eat? Order the pho – 50p from each one ordered goes to MAG, a charity that removes landmines from conflict zones.
There's a take away facility too, which proves popular with local workers dining al desko.
Venue name:
East Street
Contact:
Address:
3-5 Rathbone Place
London
W1T 1HJ

Opening hours:
Open 11.30am-11pm Mon-Fri; noon-11pm Sat; noon-10pm Sun
Transport:
Tube: Tottenham Court Road tube
Price:
Meal for two with drinks and service: around £40.
Do you own this business?
Average User Rating
3.9 / 5
Rating Breakdown
5 star:

10

4 star:

1

3 star:

3

2 star:

0

1 star:

3
Nothing special, nothing really fancy, but great location and very nice service for what they have.
The decoration of the place is quite quirky and will catch your attention. Since it is a combination of Asian food (literally all of them), I found it slightly confusing when looking at the menu. Good and tasty food in general, but some dishes were missing a bit of love and portions were on the small side of things.
Not bad but nothing special either.
So, East Street restaurant, its become a bit of a regular hang out for us recently. They've added some new dishes to the menu recently that I'm working my way through. So far I'd recommend the Monkfish curry, really really tasty and I'd say good value for £13. The dessert taster platter is an East Asian treat too. Yes please! Re the TimeOut review of the place, not sure what they expected. Yes, if you want the actual real deal get a plane ticket to East Asia, goes without saying really...?
We LOVE his place. The Changmai noodles are fantastic and the decor is very quirky
Had a fantastic dinner at east street. Really don't understand negative comments. Decor really cool Loved the nasi goreng - hit spot - tempura prawns / veg authentic generous portions and delicious. My partner v happy with her food - delicious mixed platter of starters and greatbflavour noodles. Drank cold beer Chilled out V happy! Service v friendly. Ok lt is a bit like wagamama but think wagamama but more colourful, more flavour, more individual.
It's ok and the interior is very cool. But as someone below said, it's really just Wagamama with better decor. If you want better Asian fusion food for the same price I'd tell you to go to Banana Tree Canteen on Wardour Street - it still wouldn't impress anyone from SE Asia but at least you get some flavour.
Quick and quite tasty, if lacking a certain punch. It was nothing to write home about and the venue was low on hubub (it looked nice but wasn't very cosy) but I'd go again.
Love this place, I work just up the road and have been here for lunch a few times now. I took my other half at the weekend too, after raving about the place so much he wanted to try it for himself. To start with the decor is fantastic, a lot of thought has clearly gone into the design. I'd also rate the service highly – fast, friendly and from waiters who bloody well know what they're talking about! Most importantly though, the food is To. Die. For! The dishes I've tried so far have been absolutely spot on. I'd recommend the Khao Soi (noodles in a red curry sauce) which is sublime and the corn fritters but my go-to favourite is their Nasi Goreng. Fresh ingredients, beautifully wok fried, fantastic flavours and good portion size. VERY moreish. The starter platter to share is very good too as you get a selection of the best 'small dishes'. I'd say the prices are very reasonable and the lunchtime menu is an absolute bargain. Beats the likes of Wagamama and Busabai Eat Thai hands down.
Had dinner here with a couple of girfriends las tweek: lovely evening. I grew up in Singapore and travelled extensively in Asia: the ambiance took me right back there. Food quality was excellent - Laksa probably one of the best I've tasted in the West and my friends lovedt their Adobo and Chicken Miso Ramen. Staff were super-helpful and genuinely friendly, and we loved the Asian cocktails! Great addition to this part of town north of Oxford St, will become a regular haunt for me.
Don't go to this place. The food is not authentic, portions are very small, and don't be fooled by the cheap decor: it's very pricey. Walk a few minutes toward Euston and there's tons better restaurants around. Total ripoff.
im filipino and my friend is malay-singaporean and boy were we excited when we found out our favorite foods are at this place!! unfortunately, its bland. missing the taste that is true. decor is brilliant. but the food is lacking in any authenticity. AND just to let you know for food to taste good it doesnt need to be expensive. ACTUALLY it should be the opposite cheap massive portions with an asian mother welcoming you in to eat some even though youre stuffed. if youve never tried the real thing and youre hoping to impress that new asian girl youre dating- dont try it here. but if youve never been to SEasia then youre in for a great stimulating environment.
Popped in by myself for lunch. Had Gyoza, Laksa and a Samsung Whisky bucket and reminisced about my travels in Asia. Although I was stuffed halfway through my Laksa, I still kept going back for more. Great service, the waitress was able to answer all of my many questions. Perfect place for a quick bite to eat before or after the cinema. Very reasonable.
Great Pan Asian food at very reasonable price! Love the street market feel/ambiance! As a vegetarian, was excellent to see so many veggie options on the menu. Would love for one to be in the city, especially seeing as it has a take out service. Will be making a return visit very soon.
Went here last night with friends we had the tampopo platter. I ordered the red curry which was very yummy and the somtam was on par with those I tasted in Thailand. My friends all enjoyed their dishes too. Tip: Try the sangsom and coke it comes in a plastic bucket with 2 staws!
Totally and utterly run of the mill. Wagamama practices this concept to much better effect.
An absolute gem of a place. I went for lunch pre launch and had the Chicken Miso Ramen, ramen noodles in a slurpilicious sesame(?) and chilli miso soup, topped with chicken and a boiled egg. Not my usual thing but I would definitely order it again. My group all tried some and were raving about it too. As I said, a gem, it has certainly earnt a place on my list of favourite feeding spots..
More venues
Sponsored listings