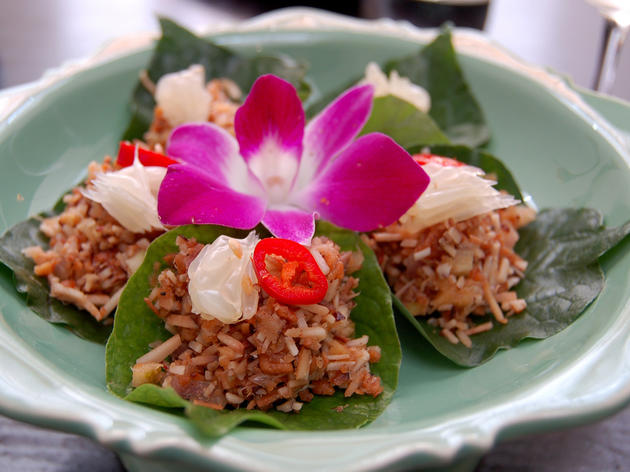 Slinky, contemporary decor, with dark wood and oversized lampshades, gives Isarn a polished, expensive image, but the menu is surprisingly wallet-friendly. Set lunches, which come in a bento box, are good value, and include a selection of spring rolls or fish cakes, curry, rice and fruit. Don't expect authentic Thai fieriness or superb cooking, but do sample some of the more unusual dishes, along with stalwarts like curries and pad thai – all stylishly presented.
Among the starters, betel leaf wraps with crispy duck and pomelo are a must-try, as are the traditional Thai desserts, which rarely appear on restaurant menus. Delicate coconut-cream pudding with taro and lotus seed comes wrapped in a hand-shaped pandan leaf case. Less sweet western choices include an enjoyable dense lemon cheesecake topped with strawberry ice-cream.
Isarn's narrow dining room is often packed with twenty- and thirtysomethings, probably due to its prime location on Upper Street and the reasonable prices. This remains a cut above several local establishments. In summer, try to get a table in the small rear courtyard.
More
Less
Isarn says
A contemporary Thai restaurant specialising in the unique and distinctive cuisine of the region.

An affectionate reference to the chef's birthplace, Isarn is renowned for its powerful and fragrant flavours. Signature dishes include green papaya salad served with gai yang (grilled chicken).
More
Less
Venue name:
Isarn
Contact:
Address:
119 Upper Street
London
N1 1QP

Opening hours:
Lunch served noon-3pm, dinner served 6-11pm Mon-Fri. Meals served noon-11pm Sat; noon-10.30pm Sun.
Transport:
Tube: Angel tube/Highbury & Islington tube/rail
Price:
Main courses £6.50-£14.50. Set lunch £6.95 bento box.
Menu:
View Menu
Do you own this business?
Average User Rating
4.1 / 5
Rating Breakdown
5 star:

7

4 star:

3

3 star:

1

2 star:

1

1 star:

1
Phenomenal!! Smells like the Thai islands, tastes better! Soft shell crab and mango salad incredible! Monkfish curry spicy and sweet!! Upper street location, koh pan gnan food! Reasonable price!! Will come again and bring friends!!
Fantastic quality Thai food and a restaurant that stands out among many on Upper Street. It's not the cheapest but well worth it for the service and delicious food.
Only 2 of the 5 waiting staff were Thai and the menu did not have Thai language subtitles to the menu items - always an indicator of lack of authenticity in my opinion. And thus it was. To call this restaurant Isarn, a region of Thailand famed for its spicy and distinctive range of food and then not have one authentic Isaan dish on the menu is laughable. There was the odd dish that mimicked an Isaan dish but the one I had - char-grilled chicken with papaya salad - had thick julienne of hard green papaya, rather than the grated and softish green papaya. Not at all like the papaya salad ('Som Tam') of Isaan fame.
The 'prawns and thin noodles' was not a bad rendition of the Thai dish 'Yam wun Saen' and the Mixed seafood in spicy sauce was excellent and inexpensive in Thai restaurant and seafood terms, despite being not similar to any Thai dish I know of.

So, based on an admittedly small sample of their dishes (and a take-away 2 years ago), observation and having eaten Thai widely in the UK and Thailand I would say the restaurant:
- is low on authenticity and is dumbed-down on spice for us Brits

- serves reasonably nice tasting food for all that
- is not a rip-off on price like some Thai restaurants (my wife's £6.20 175ml glass of Pinot Grigio did seem way overpriced, until I tasted it. My £3.50 bottle of Chang was as cheap as it gets in the UK)
- has perfunctory service which gets stretched later on when the restaurant is full
- has waitresses who engage in no conversation with customers (very unusual for Thais not to converse with other Thai customers like my wife and kid). Curious grey butchers apron kit too!
- people who want a reasonably tasty semi-spiced range of Asian-fusion type dishes without worrying about authenticity and content with efficient only service will not be disappointed
Generally I have found that Thai restaurants in mid size UK towns are better and more authentic than in London. I'd better try out Heron Bar (Bayswater) today! I live in Isaan and Bangkok - for 7 years, but have also tried many UK Thai restaurants on return visits to the UK.
We took my mum here for her birthday. When booking I asked if I they could something special for my mums birthday, like put a candle in a dessert that we would order. They said no and also said that they would charge me £10 if I bought a cake in. The location is great and the restaurant is beautiful but very narrow. The slim waitresses could barely get through. They did not have a child seat for my 2 year old niece. This place is definitely not for children. They got our drink order wrong and we waited a long time for our mains to arrive. We were there at 7:00pm and didn't not get our mains until 8:30pm. We had drinks and starters which came out in good time. I asked 2 times when our mains would arrive but none of the waitresses could give me an answer. The waitresses were very nice and smiley but didn't really know what they were doing. Very clumsy with orders and giving you your drink instead of placing them on the table. I finally ask a man who looked like he was the manager and he ran down to the kitchen to ask. He came rushing back up and tripped on the stairs. He did not acknowledge me and started talking to the waitresses in Thai, which I can only assume was about me. He finally told me that the food was on its way. When the food arrived the waitresses didn't know where to put the food so we took it upon ourselves to lay our own table. The food was lovely! But my niece was so hungry from waiting, we fed her peanuts and crackers and was so full up by the time the food arrived. When we finished our meal we wanted to get out of there as soon as possible that we asked for the bill before they even cleared the table. They did not ask if we wanted more drinks or dessert. When the bill came (quite quickly) they didn't even attempt to clear some of the table. As the waitress gave me the bill, she dropped it on the floor and stood behind me waiting for the payment. We did not pay the service charge for obvious reasons. I will not be returning to this restaurant or recommend it to anyone else. They have tried far too hard to make it too complicated. The food is great and they should just let it speak for itself. There are better Thai restaurants in London.
Me and my Dad came here. Ordered the crispy duck and pancakes to start, the duck was very dry so disappointed with that. For the main we ordered the prawn and scallop stir fry which was tasty, however we also ordered the monk fish green curry which really was too spicy and I could eat even half of it, you could taste the monkfish at all. It was all quite small portions too and the pad thai was bland. The waitresses did not offer us any second drinks or deserts - it was all very average considering the ratings! Won't be rushing back
I went here this evening for the first time, our meal was fantastic, the Thai fish cakes were authentic and bloody tasty. On top of this the service was brilliant, friendly and fast. I highly recommend Isarn and can't wait to go back and try some more of the menu.
I love this restaurant. The food is really amazing and the service is good too. I've been there twice now and look forward to going back again.
Went there last night, we were greeted nicely. I had a lovely raspberry Bellini. Food was delicious! Had the prawn and coconut dumpling and crispy duck in leaf. Massuman curry was lovely. Presentation was beautiful. Will def be going back.
As far as Thai restaurants in London go (from a snobby ex-Sydneysider), Isarn is a good'un. The review is right, the decor suggests posh dining but the prices are pretty much the same as you'd get in any less pretty Thai restaurant. The menu, particularly for vegetarians, is very friendly and a inventive by other Thai restaurant standards. We love the tofu steak dishes and back in fish-eating days the prawn and coconut dumplings, a starter, are amazing.
Delicious food and excellent service. We had prawn dumplings to start which were incredibly light, followed by some fiery but very tender squid with some crisp vegetables and coconut sticky rice. The best Thai I've had in Islington. The service was very attentive even though the restaurant was packed. Would definitely recommend!
Isarn offers authentic Thai food in a comfortable modern setting. By authentic, I mean that they don't hold back on the spices, or make their curry's over creamy. The chicken with mango & chilli jam was a stand out for us. We loved the western puds, especially the excellent gooey centred raspberry and chocolate pudding. All the food we had was way above 'average'. Having visited countless Thai restaurants in London, I have to say that Isarn is now one of our favourites. The staff were very attentive with out being intrusive. Highly recommended!
More venues
Sponsored listings