London's best community cafés
If you think community caffs are just for hairshirt hippies, think again. Affordable, quirky and local, these neighbourhood eateries are run on volunteer enthusiasm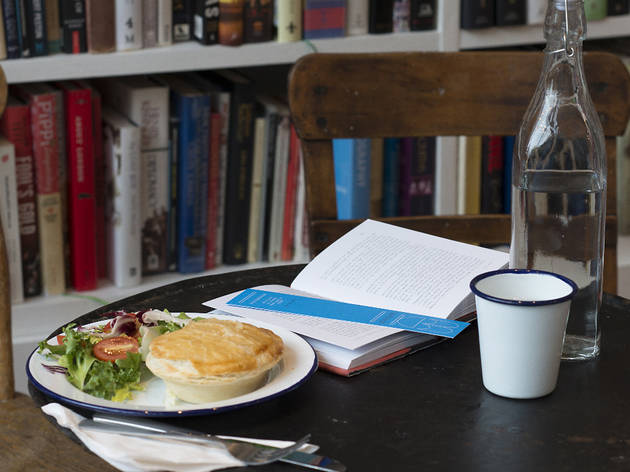 The good Samaritans of the caffeine scene, London's community and charity cafés are serving tea, coffee and hearty meals to make the city better. You might imagine an abundance of leaflets, donation boxes, raffles and bunting, but their most common denominator is good, old-fashioned charm, that makes volunteers and customers feel equally at home in them.

Some support people with specific needs, such as recovered addicts or ex-offenders; many aim to make their local community more ethical, more employable, or just more friendly; hardly any of them are run by the sort of people who buy shoes made of vegetable fibres. Here's a list of cafés and restaurants who will do some good with your dinner money.
Hackney's Pogo Café has now closed to be replaced by another vegan café. Run as a not-for-profit workers' co-operative, Black Cat aims to promote an 'ethical lifestyle'. Ingredients are predominatantly organic and ethically sourced. Expect wholesome soups, pies, jacket potatoes and the like on a regularly changing menu.
Read more
Back in the eighties this was a squat café, now it's a vegetarian co-operative restaurant with a menu changing according to the volunteer's speciality. Check the schedule on their website and book ahead to avoid playing cuisine roulette, and clear your diary, because service can be exceptionally laid-back. Low prices help to make up for that, though, and the lack of corkage charge means you can always BYO and eat on a budget.
Read more
Ian Jury started the Community Diner to help young people who live with disabilities, learning difficulties and issues which make finding work difficult gain qualifications in catering. They now serve every weekday in the café at LIFT, Islington Council's health and wellbeing centre. This is a venture that aims to make their employees more buoyant rather than their bank balance, and this shines through in their many success stories.
Read more
For all its ethical do-goodery and dairy-free pizzas, this Bethnal Green vegetarian eatery is a fine example of a venue that is great beyond its charitable purposes, thanks to an inventive menu, sunny outdoor tables and appealing community events. The locally-sourced, largely vegan (yet largely tofu-free) food, coffee, beer and cakes help to attract those whose laptops bear 'I heart vegan junk food' stickers and families in need of a nourishing pit stop after a long morning at the Museum of Childhood.
Book now
Read more
The café where no food gets left behind. Not in an eat-your-greens sort of way, but more the vegetable circle of life: compostable leftovers end up as fertilizer for next season's locally grown goods. Locals are drawn in by Saturday's vegan all-day brunch, locally-baked bread, knitting groups and mini farmers' market providing an affordable way to eat organic.


Read more
The endlessly wonderful Union Chapel's pre-gig and interval food is prepared by and in aid of the Margins Project, the chapel's drop-in centre and homelessness support service. Business training is provided to ex-service users as they help to plan, prepare, serve and sell generous plates of home-cooked meals at very reasonable prices.
Read more
So beautifully branded that you might be suspicious its charitable purpose is to rescue floundering media interns, but beneath the filament bulbs and enamel dishes is the warmest heart and some very enticing locally made goodies. The majority of their staff, who could charm the beards off many of Shoreditch's surly baristas, are trainees who have been rehabilitated by The Spitalfields Crypt Trust, a charity offering support for people recovering from addictions.
Read more
More of an event than a restaurant, the kitchen takes over music venue Passing Clouds every Sunday to cook a communal, freegan dinner. Eat for a donation, or for free if you contribute to the pot earlier in the day.
Read more
These guys are so charitable they could give Sir Elton a run for his heaps of money. Pie in the Sky was started in June 2011 by FoodCycle, who aim to reduce food waste and food poverty. So as well as the menu being healthy and an absolute bargain (the main meals are around £3.20), they're made from surplus food which would otherwise have ended up being dumped. They provide volunteers who are not in employment, education or training with skills that can take them on to full-time work.
Read more
The alma mater of London's charity cafés has stiff competition thanks to east London's influx of flat white-purveying newcomers, but they remain a cheerful, welcoming place for good coffee and homemade lunches. They train up to 100 people a year, many of whom are young ex-offenders from local mentoring programme Switchback.
Read more
Sponsored listing
Cattle & Co.
A smokehouse and barbecue joint right between King's Cross and Euston stations. Expect meat sharing-platters, racks of ribs and big-looking burgers and hot dogs. Plates such as chargrilled asparagus and leeks with rosemary mayo and poached egg, and seared tuna with seasonal vegetables suggest there could be finesse at play here, too. Craft beers by the bottle include Pistonhead Kustom Lager, Anchor Steam Beer, Brewdog Punk IPA and Brooklyn Lager. Desserts influenced by the US look indulgent – think waffles with ice cream and chocolate and orange sauce. There's a take away service, too. 
Venue says: "Try our 911 burger. Half chicken/half beef burger stuffed with goat's cheese jalapenos and topped with deep fried bacon and sweet potato."