London's best outdoor dining
Discover London's best places to wine and dine outdoors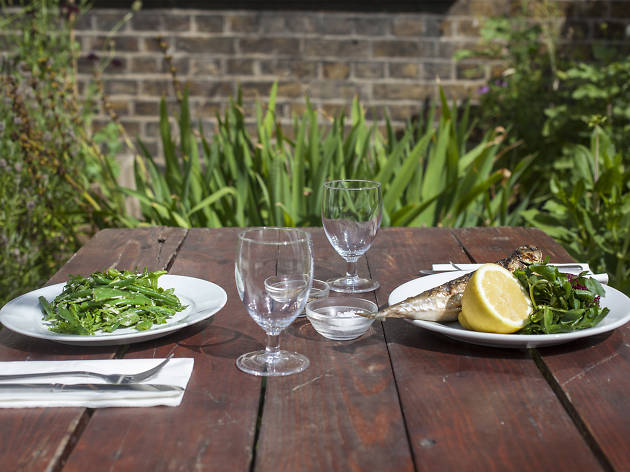 London is full of cafés, bars and restaurants that let you take it outside. Still, for every rose-trimmed terrace there's a caff with two tables plonked next to traffic lights – so it helps to know where the good outdoor spots are. Here's our area-by-area alfresco dining guide, including restaurants in central London. Do you agree with our choices? Use the comments box below or tweet your suggestions. And don't forget to check our guide to the best riverside pubs and bars and the best beer gardens for alfresco drinks.
Outdoor dining in central London
Outdoor dining in north London
Outdoor dining in east London
Outdoor dining in south London
Outdoor dining in west London
Carry on the outdoor dining
With limited sunshiney days in London, you need to make sure your picnic game is fully on point. Thankfully, we've taste-tested the best pre-packed picnic hampers available in London. So all you have to do is order one of these, dust off that blanket, find a dreamy spot in one of London's best parks and pray for good weather.
Read more
Sponsored listing
Oliver Maki
Rendered sleek, smart and stylish to within an inch of its life, this Japanese fusion restaurant teeters on being a bit too tasteful. With the exception of a dinky origami chopstick rest, which appeared courtesy of a shoo-in for London's most charming waiter, it was just a bit characterless. Luckily, it bucked the usual restaurant trend of smarter the place, smaller the portions; flavours were pretty on the mark too. Filo Shrimp Tempura, wrapped in angel hair vermicelli instead of the traditional batter, was crunchy and delicious, and came with a nicely spiced mayo. Crispy Calamari with black olives, if a little oily, was still light – although without the dipping sauce, it would have been bland. It was the wild card order that proved the winner: Shiromi Yuzu Tomato. The thought of crushing delicate sashimi with tomato and truffle sounded so intriguingly awful that I had to try it. Clean-tasting and tart, it rested on a wonderful granita flavoured with shiso (a Far Eastern member of the mint family) and the whole dish was beautifully balanced. However, things took a turn for the disappointing when the signature sushi arrived. An exhausting smorgasbord of flavours, it was trying way too hard.  If Oliver Maki were to heed Coco Chanel's advice ('Before you leave the house, look in the mirror and take one thing off') and lose some unnecessary ingredients, it might just turn out to be brilliant.  
Venue says: "We offer two lunch bento boxes for only £15 and £25, from noon-4pm on weekdays only!"