London's best restaurants for pizza
Discover where to find seriously good pizzas in London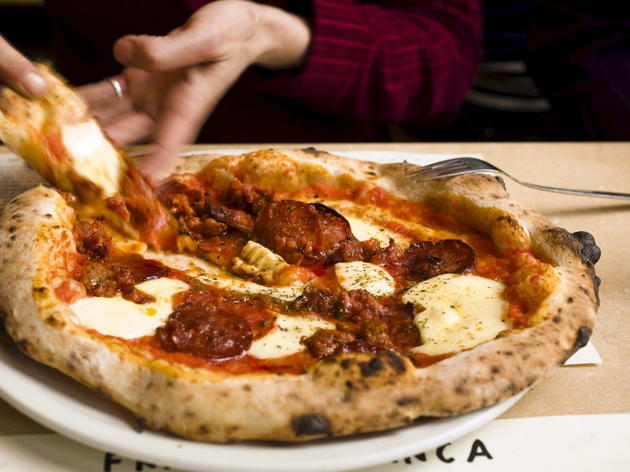 This delicious staple has been elevated far beyond its humble roots in London's Italian restaurants and beyond. So we've tried and tested the very best pizza to give you our top London pizzerias. Do you agree with our choices? Use the comments box below to let us know, or tweet us your suggestions.
Find more great fast food in London
The burger bandwagon rolls on and on. We've seen the rise and fall of hot dogs, ribs and kebabs, but the cravings for burgers in London never seem to die. Here, in our humble opinion, are the best burgers in town.
Read more
Sponsored listing
Tapas Brindisa London Bridge
The upsurge in Spanish food quality in London since the 1990s can in part be dated from the arrival in Borough Market of food importers Brindisa, bringing first-rate Iberian hams, cheeses and other essentials to the city almost for the first time. The firm's showcase tapas restaurants are equally a benchmark. In early 2011, star chef José Pizarro left to start José, but we haven't noticed any drop in standards, so you'll still find an ideal blend of superb ingredients and refined cooking (the latter normally confined to larger dishes). At the original Brindisa in Borough Market, 'black rice' (cooked with squid in its ink, with unusually fragrant aïoli) had a superbly smooth flavour, without any acridity; ham croquettes gained extra depth from the quality of the meat. Padrón peppers (Galician peppers simply fried and salted) exemplified wonderful produce being allowed to shine. The style is easy going, prices very reasonable – though inescapably higher for delicacies such as the finest Ibérico meats. Wines are sophisticated and priced accordingly. The only drawback is that it's often impossible to get a seat at the Borough and Soho branches, as there's no booking; fortunately, South Ken's Casa Brindisa does now take reservations.
Venue says: "Serving tapas since 2004 in Borough Market, London's greatest food destination."