London's best restaurants for pizza
Discover where to find seriously good pizzas in London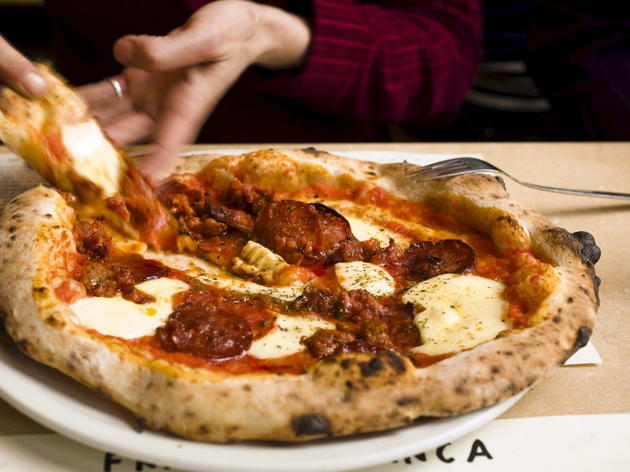 This delicious staple has been elevated far beyond its humble roots in London's Italian restaurants and beyond. So we've tried and tested the very best pizza to give you our top London pizzerias. Do you agree with our choices? Use the comments box below to let us know, or tweet us your suggestions.
Find more great fast food in London
The burger bandwagon rolls on and on. We've seen the rise and fall of hot dogs, ribs and kebabs, but the cravings for burgers in London never seem to die. Here, in our humble opinion, are the best burgers in town.
Read more
Sponsored listing
Plum + Spilt Milk
If security checks and passport queues have left you mourning the glamour of travel, dine here. On the first floor of the Great Northern Hotel just beside King's Cross Station, the check-in for Eurostar at St Pancras is but a fond adieu across the road, and the classy dining room seems to buzz with the excitement of having just arrived or preparing to set off. Directed by Michelin-starred chef Mark Sargeant, the kitchen showcases contemporary and classic British cooking. My dish of orange-poached figs in a salad with beets and English blue cheese was tangy, soft and well matched with crisp, candied walnuts. Mains aren't cheap, but my companion's lamb was pink, tender and, I'm assured, well worth the outlay, while my baked marrow melted deliciously on the tongue, and was served with heritage carrots that were earthy and delicately seasoned with coriander. Without a Continental train journey on which to snooze it all off, it was good to see that desserts are offered in two portion sizes. Thanks to the friendly guidance of the attentive but unassuming waiting staff, the piquant iced peanut and salted caramel mousse 'little pudding' proved just the ticket.
Venue says: "Brighten up your weekend with the 'afternoon jaunt' at GNH Bar. Two-for-one drinks on selected drinks every Saturday, 2–7pm."