London's best restaurants for pizza
Discover where to find seriously good pizzas in London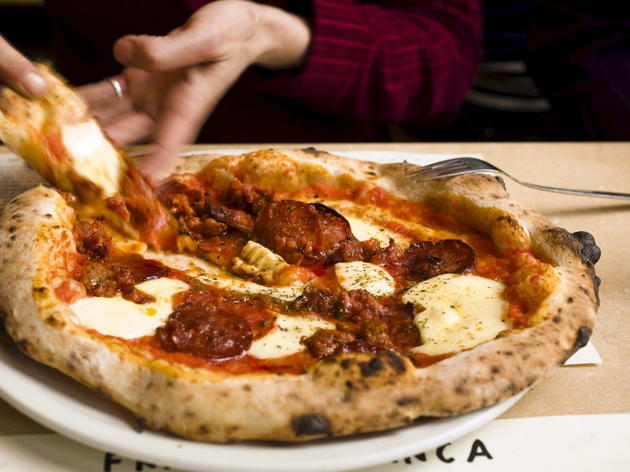 This delicious staple has been elevated far beyond its humble roots in London's Italian restaurants and beyond. So we've tried and tested the very best pizza to give you our top London pizzerias. Do you agree with our choices? Use the comments box below to let us know, or tweet us your suggestions.
Find more great fast food in London
The burger bandwagon rolls on and on. We've seen the rise and fall of hot dogs, ribs and kebabs, but the cravings for burgers in London never seem to die. Here, in our humble opinion, are the best burgers in town.
Read more
Sponsored listing
Fed by Water
There's a focus on clean living at this new concept restaurant in Dalston - it's all about a holistic approach to the food and drink that's served. That means environmental sustainability when it comes to sourcing, an apparently 'alkaline' Mediterranean menu, and 'pure' (filtered) water used throughout the prep. There's plenty of the latter to drink, too. The fully-vegan menu boasts an Italian bent, with options ranging from pizzas by the slice (think home-made cashew mozzarella-style cheese, soy ham, spicy seitan salami, soy sausage, olives and chilli flakes) to garlic bread, gluten-free pasta, healthy salads and 'pure' soups.  There's booze on the drinks list, so don't go thinking it's all holier-than-thou here. The Wild Card Brewery provides the real ale, Italy the lager and Devon the cider. Plus there's old world wines by the glass, and a cocktail list that includes negronis, mojitos, cuba libres and caipirinhas. But health freaks fret not - there are freshly squeezed juices, organic soft drinks, herbal teas and plenty of that filtered water. There's strong Italian coffee, too.