London's best restaurants for pizza
Discover where to find seriously good pizzas in London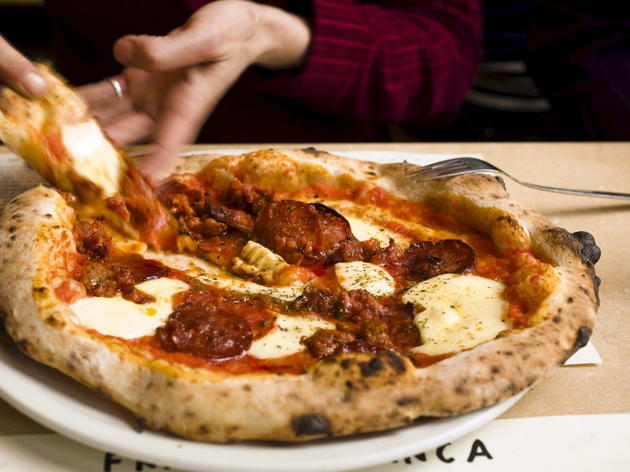 This delicious staple has been elevated far beyond its humble roots in London's Italian restaurants and beyond. So we've tried and tested the very best pizza to give you our top London pizzerias. Do you agree with our choices? Use the comments box below to let us know, or tweet us your suggestions.
Find more great fast food in London
The burger bandwagon rolls on and on. We've seen the rise and fall of hot dogs, ribs and kebabs, but the cravings for burgers in London never seem to die. Here, in our humble opinion, are the best burgers in town.
Read more
Sponsored listing
Pizza Street
Start spreading the news: for a spot that's at least a six-hour flight from Manhattan, this little joint in the middle of Chiswick has, surprisingly, nailed it. The wood-fired pizzas are epic – thin and crispy, with chewy crusts, and graced with layers of sharp tomato sauce, oozing mozzarella and a tasty mess of toppings. Then there's the venue. Just like New York, everything about Pizza Street is straight to the point. The dark wood and metallic interior makes dining in not the worst idea in the world, though with just the radio for entertainment, hard seats and plastic cutlery, there's not much of a vibe (except in the funky, fake-grass-clad loos). This place is great for takeaway, and there's even a massive sign above the till that tells you how to grab your grub and go. Dinnertime is busy, with a constant stream of locals collecting a single slice for £3.50, a large pizza for a tenner or X-large for £15. I opted for an X-large, as it's the only way you can get a half and half, which will cost you an extra three quid. The Beast is wonderfully spicy and meaty, heaped with pepperoni, smoked ham, sausage, jalepeño, chilli flakes and lots of oregano. The Anchovy – a classic combo with capers, olives and mixed peppers – is equally grand, if a little too salty. That's nothing that a good cocktail can't cure, but sadly the only drinks here are your typical fizzies, beers and cheap wine. Forget about the sides too. An avocado salad (£3.50) was pretty bland. But fancy isn't the
"Come and try the best artisan, New York-style pizza in Chiswick! Offering super thick shakes with our new recipes and flavours."