London's best restaurants for pizza
Discover where to find seriously good pizzas in London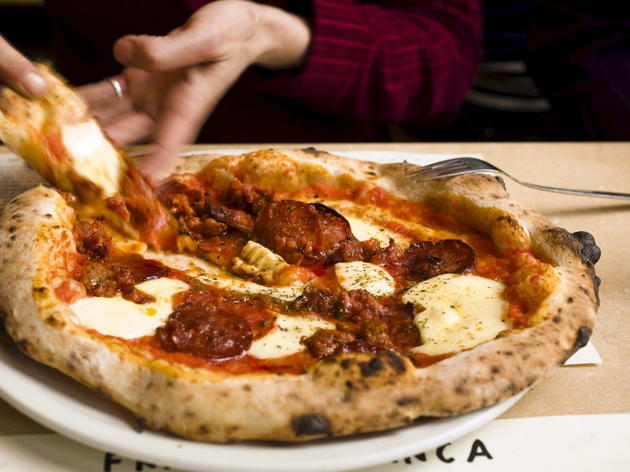 This delicious staple has been elevated far beyond its humble roots in London's Italian restaurants and beyond. So we've tried and tested the very best pizza to give you our top London pizzerias. Do you agree with our choices? Use the comments box below to let us know, or tweet us your suggestions.
Find more great fast food in London
The burger bandwagon rolls on and on. We've seen the rise and fall of hot dogs, ribs and kebabs, but the cravings for burgers in London never seem to die. Here, in our humble opinion, are the best burgers in town.
Read more
Sponsored listing
Boondocks
London isn't exactly lacking American-style comfort-eating – but as far as Stax Diner founder Bea Vo is concerned, there's room for more. Her new spot, Boondocks, is a funky dining hall that replicates the good eatin' and drinkin' you'll find at Stax – sugary cocktails, finger-licking fries and filthy, cheese-dripping burgers included. But the Boondocks menu has been pimped up with the sort of hearty fare that'll pull in homesick expats and empty-stomached 'Man v. Food' aficionados alike. Biscuits and gravy – two chunks of savoury scone-like bread drenched in a beige gravy – was tastier than it looked, if a teensy bit bland. The erstwhile sloppy joe, on the other hand, was a brilliant, saucy mess of a sandwich. Factor in desserts such as DIY S'mores and a coronary-inducing 'strawberry funnel cake' (fried dough topped with strawberries and a tidal wave of whipped cream) and it's fair to say Boondocks does the kind of indulgent, perfectly imperfect grub that's made for hangovers, heartbreaks or otherwise. All that, and you're guaranteed a nap afterwards. SO. MANY. CARBS.
Venue says: "Open as usual over Bank Holiday! Lunch Time Special - Burger, Fries and Lemonade for only £9.50 served Monday - Friday 12pm-5pm!"