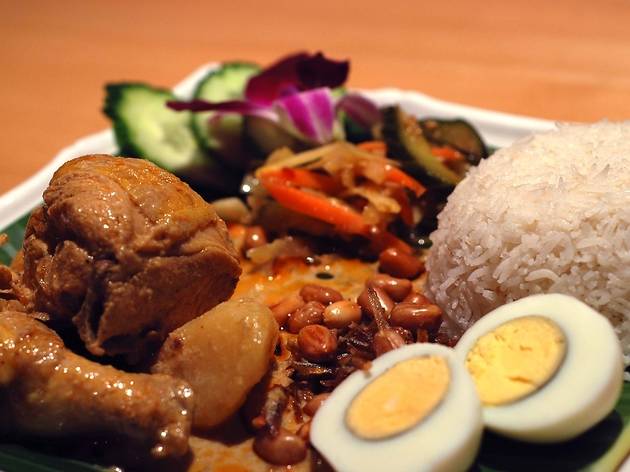 Make a bee-line here if you miss the hawker (street) food from the Straits, as this bustling café with its low prices reminds us of hot and humid days spent in Penang. We prefer to wait until a seat on the light ground floor becomes available, rather than eating in the dimly lit basement.
Friendly staff are on hand to help newcomers with the menu, which is a compilation of the greatest hits of Straits dishes. 'Nibbles' include satay, achar (spicy pickled vegetables in peanut sauce) and roti canai; char kway teow and nasi lemak are more substantial plates. We often order konloh mee – egg noodles served with a dark soy, oyster and mushroom sauce – accompanied by a separate bowl of prawn and chicken won ton. Another favourite is ipoh hor fun, flat noodles with shredded chicken and prawns in a clear chicken broth.
Drinks include teh tarik ('pulled tea') and bubble teas. Rasa Sayang translates literally as 'loving feeling', and we certainly left with fond thoughts towards this West End restaurant.
Venue name:
Rasa Sayang
Contact:
Address:
5 Macclesfield Street
London
W1D 6AY

Opening hours:
Meals served noon-10.30pm Mon-Thur, Sun; noon-11.30pm Fri, Sat
Transport:
Tube: Leicester Square or Piccadilly Circus
Price:
Main courses £6.90-£17.80
Menu:
View Menu
Do you own this business?
You may be interested in:
Average User Rating
3.9 / 5
Rating Breakdown
5 star:

6

4 star:

15

3 star:

1

2 star:

1

1 star:

2
As someone from the region, this was one of the first few Malaysian/Singaporean places which I visited when I moved to London. I feel that no matter where you are in the world, there will always be times when you yearn for a taste of home. Not knowing where was the best place to head - I headed to Rasa Sayang - and was pleased.
Granted, you can't expect the food to be exactly the same as back home, but I think they did a good job of replicating it. I particularly love the beef rendang (so soft, tender and sweet) , malaysian hokkien mee, prawn noodles (oh that sweet, beautiful prawn broth) and their assam fish. Everything was exploding with flavour, and certainly done with great respect to the original dish. It brought me straight back home, and made me feel so much better (I was ill that day!).
The downsides of this place? Well, if you are looking for good service, or in fact a good ambience - I would not recommend it. Like many other Chinatown restaurants, the service is unapologetically poor, and the focus is all on the food, and the flavour. However, if you are looking for something affordable, flavourful and comforting - head there, and I promise you'll come out feeling like your day just got a little better... :)
Shame that you don't mention a very interesting fact about this place. No less than Fredric Engels, co-founder of the modern Communist movement, lived in this building for years.
Very good all round. True malaysian.

I have been to this place once, amazing food. This place is a must-go for all Malay food lovers, and quiet reasonable on your valet. I am a great fan of East Asian cousins and Malay is one of my favorite, being India, Malay food has Indian & Chinese influence.
I am looking forward to visit again..
Amazing food! Great value for money!
First time I selected from the 3 course set meal (£13.90) - great value and a good "taster" to try their menu. Crispy wanton, nasi goreng istimewa and kueh dadar - lovely flavours. Second time Indian rojak (light tangy taste), nasi goreng (again! and confirmed I really like this dish with a tangy aftertaste) and kueh dadar. Restaurant is recommended. Like Won Kei's nearby you can end up being asked to share a table with other customers - not a problem. Looking forward to my next trip to Chinatown (Malay area!).
My name is Joe Wan, I am origin from Malaysia, has been living here for long. I used to work in the restaurant industry more than 15 years, based on The Art Club and Zuma. Very rarely for me to eat outside in the restaurant, reason: worried about disappointment on food, it isn't because of the money wise. The food taste must be 7 out of 10 for me to enjoyed it. I went to Chinatown to meet my friends last week and having a dinner in a Malaysia restaurant, Rasa Sayang. Very impressed, it looks like a cafe yet served very good food. The most satisfied meal for me is Seafood Char Kuah Teow(no pork, because is a Halal restaurant), Hainanese Chicken Rice and the Sotong Kangkung with Peanut Sauce, of course don't forget the Marmite Chicken Wings. The rest I will leave it for you guys to try. The price is reasonable and it suitable for Malaysian Tourists.
Ate here for the first time last night, and was very happy with our meal. In general the food was less spicy than I was expecting (possibly toned down slightly as we were both white?) but was very enjoyable. The char kway teow was different than I was expecting (prawns and what I think was squid, rather than the prawns, cockles and Chinese sausage I'm used to - maybe something to do with the restaurant being Halal?) but was very nice, with the essential smokey wok flavour. The roti was fresh and crispy/squidgy (just the way I like it) and the curry chicken was flavourful. The rojak was sweeter than I expected, but still nice, and the tea tarik and ABC we had to round of the meal were both enjoyable. Portions were huge, and prices good. Service was pleasant and very quick. The restaurant is incredibly busy on a Saturday night, and although I occupied the table for quite a long time (as my friend was very late arriving) the staff weren't pushy with me to hurry up. Recommended.
Friendly staff with excellent food at excellent prices. Thanks to time out for a wonderful find :-)
Nice Malaysian food serve in this restaurant. The food is reasonably price. Good choice of food on the menu. Like it there
First off, I am a malaysian chinese. The food tasted horrible and their service is inadequate. I personally brought some of my friends over for dinner and even recommended them that this resturant was outstanding, as i have been here over numerous times. We ordered a mixture of nasi lemak, hor fun, hainanese chicken with rice, beef rendang, stir fried sambal cluster beans, curry assam fish fillet and oh chien. The hor fun tasted adequate but however needs a little more taste as well as their beef rendang. Their 'stir fried sambal cluster beans' did not have enough chilli as it was recommended on their menu as 'The heat zone'. In addition to this, we ordered fresh orange juice, ice coffee, teh tarik , including hot and still water but one of their staff said they ran out of water?! and they don't offer water! It's all lies, how could they make their 'fresh' teh tarik (hot beverage) then? One of my friends headed to the toilet while we were finishing off, and along came another waitress taking her unfinished plate. She even dared to tell us to hurry up and quickly finish our food as there were not enough seats for other customers, when we just about received our dishes approx. 15 mins beforehand. Overall, I personally do not recommend 'Rasa Sayang' and will not visit again.
I had such a wonderful meal at Rasa Sayang with my Family, I will definetly be going back again on my next visit to London.The food was prepared and served very quickly and was very fresh and taste absolutely amazing.I would recommend The wanton soup, its one of the many dishes i really enjoyed, also becuase myself and husband enjoy seafood i would recommend the lovely hot bowl of seafood hor fun soup.The portion size for the starters were very big so i would say if you are on a budget order a couple of starters because very filling. The waiters and staff were very child freindly and the restaurant and toilets were very clean.I was happy with the bill as we paid next to nothing for good, clean authentic malaysian food.
I'm a Malaysian Chinese and love my food! I've always walked past Rasa Sayang while in Chinatown and thought I should try it. I would highly recommend it to anyone who misses their Malaysian! The food is pretty authentic, of pretty good portions, and not a bad price for the central London location. (If anyone wants a great cheapie Malaysian - go to Cafe Bonda in Paddington! I used to live a street away and it was always a haunt of Malaysian students in London - a clear sign of value and authenticity) The service isn't any better or worse than other Chinatown places. And I found it reasonably acceptable (you have to understand where you are!). No one was rude, sure some of the servers a little more brusque than others, but there were nicer waitresses as well. Granted, my food order was pretty simplistic and I only had water, so I wasn't a challenging customer by any means. And they didn't bounce us off the table even when it was clear we had finished with eating (they'd taken away the plates and we said no to dessert) and were just chatting away. The bill did appear unasked but that was probably after 15mins of table clearance. And it was a pretty busy night, covers-wise for them. It is a pretty small restaurant, so yes, they will seat you next to/very near other customers. But that's no different from Busaba Eat Thai or Wagamama's. No need to be precious about it. I was introducing a mate to the cuisine so kept it simple but classic - satay chicken, otak-otak (for something different!), kangkung belacan, beef rendang, and char keow teoy. Almost a bit too much too eat for just two girls! The satay was marinaded well but could have been better (using dark chicken meat rather than breast for example) but the sauce was pretty ok, and I always like the onion, cucumber and rice cube accompaniment as it should be served. Otak-otak was a little dry but the flavour still made me remember my ah-ma's freshly made products. Kangkung belacan was simple and well-cooked, altho' it could have used more of a chilli-belacan kick. The beef rendang was very good - mainly dry, nicely spiced and coconut-y, tender beef. Char keow teoy was tasty and seemed pretty close to the hawker-styles you can get in Singapore and Malaysia. All in all, I will go back there for my Malaysian food fix if I'm in the LeicesterSq/Soho area, and craving a taste of home!
awful service cant even get the orders right!been a regular but lost patience with all the screw ups!goodbye!
More venues
Sponsored listings