Red Market guide
London's late-night food market is rocking Shoreditch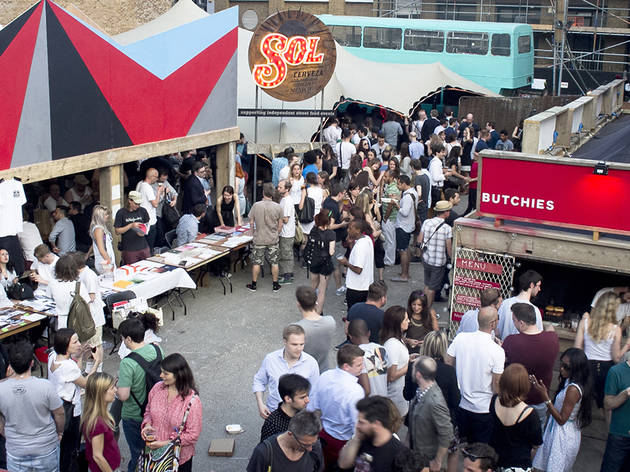 Every car park, rooftop and towpath at the more trendy end of London is filling up fast with food trucks, fancy cocktails and, if you're lucky, the odd art installation. Red Market, one of London's first pop-up street food markets (est. 2011) has now reopened for another season of alfresco revelry. Food this year includes tandoor-cooked rotis from the head chef of Whitechapel Punjabi restaurant
Tayyabs
and pizzas from Voodoo Ray's in Dalston. There will also be cocktails, DJ sets and a fake beach. What more could you wish for in the capital? Good weather, perhaps?
Find out more
about Red Market. Not in your area? Find
more great London markets
.
288-299 Old St, EC1V 9DP. Open Wed-Sat, 5pm-midnight.
Sponsored listing
Pepper Tree
In the autumn of 2012 Pepper Tree changed hands (to the owner of nearby Eco), and it reopened in early May 2014 with a smart new look. Little has changed in the format though - the tightly packed rows of wooden canteen tables offer a spot of elbow tennis for the young and noisy clientele.The menu is Thai, the prices affordable. On our visit in mid-May, only a week after the reopening, we were disappointed by the both the perfunctory service and lacklustre cooking. The greeter wandered off before showing us to our seats; the server plonked dishes down on our table without even making eye contact, let alone a smile. We had to go to the pass to attract the attention of staff to get the bill. This might be forgiveable if the cooking was exemplary, but the dishes we tried were either average or below par. Both a som tam (green papaya salad) and pad Thai verged on the bland, partly a result of both being vegetarian versions; without fish sauce or dried shrimps, they lacked a depth of sour and salty pungent flavours. The pad Thai noodles were mushy and broken. The best dish was a yellow fish curry, which had a good balance of flavours. Despite the good-looking refit and a revised menu, we can't help feeling that Pepper Tree really needs to up its game in other aspects of the operation, as what came across on our visit was complacency in both kitchen and front of house.