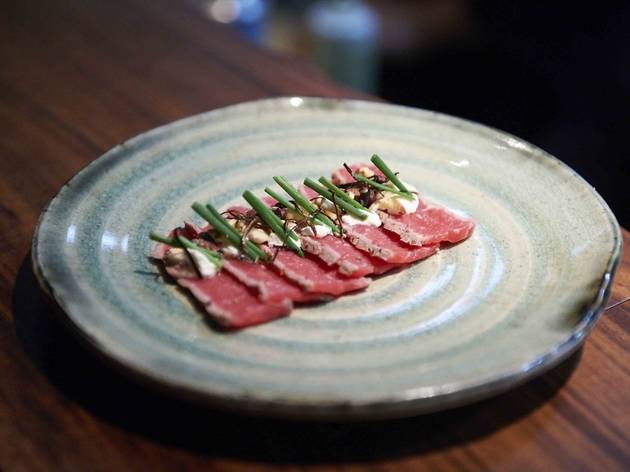 Just a few doors up from Wagamama, on Wimbledon's busy shopping strip, sits another Asian chain eaterie. But this one's a little different. Sticks n Sushi has been imported from Denmark, where there are ten branches; many design elements in the cavernous space allude to its Scandinavian origins – such as the comfy wooden chairs.
The sticks, or skewers, are safe and western-friendly: no gizzards, cartilage or other more uncomfortable cuts. They're nice enough, though chicken tsukune had more in common with a Swedish meatball than anything you'd find on a skewer in Japan. The sushi rolls come with gimmicky names and colourful coatings – such as 'Black Alaska' inside-out rolls sprinkled with black tobiko (flying fish roe) and filled with salmon, cream cheese and avocado; or 'Dreamy California' stuffed with miso aïoli and crabsticks, then rolled with chilli flakes and poppy seeds.
Vegetarians won't feel left out as there are plenty of veggie sushi choices and sides; sweet tomato slices with onion, soy and vinegar dressing is a tasty snack. With friendly staff, a youthful vibe and no shortage of seating, this is a fun venue in which to enjoy well-priced platters and cocktails on a lively evening out with friends.
Venue name:
Sticks'n'Sushi
Contact:
Address:
36 Wimbledon Hill Road
London
SW19 7PA

Opening hours:
Meals served noon-10pm Mon, Tue, Sun; noon-11pm Wed-Sat
Transport:
Tube: Wimbledon
Price:
Set meal £6.50-£28; £28.50-£60 (minimum 2).Meal for two with drinks and service: around £80
Menu:
View Menu
Do you own this business?
You may be interested in:
Average User Rating
4.5 / 5
Rating Breakdown
5 star:

11

4 star:

3

3 star:

1

2 star:

1

1 star:

0
Favourite spot in London!
Consistently excellent food, love the subtle updates to the menu that always offer a new favourite. Staff really know their stuff
As a sushi fiend I can't believe it took me so long to visit this place. Boy am I glad I did though! Hands down the tastiest sushi I've tasted in London! Decor was stunning as well and the staff were really lovely! I also loved how much variety their menu had! Highly recommend this spot for fellow sushi lovers!
I absolutely LOVE this restaurant - I live in Wimbledon, and bring all my visitors over whenever I can. This was my last night in the UK, and we decided to celebrate there. We were not disappointed - food was delicious as usual and Erik the manager even threw in some special goodies to wish me a good trip! I wholeheartedly recommend. Do order the softshell crab, squid salad, any of the set menus (I personally love Duck Salmon and his friends) - and their new addition to the menu, edamame hommous. I always loved the goat chesse stick with ham, they changed the recipe a little bit though but still great.
Been to this place 3 times the first time it was excellent 5 stars, second time did not seem as good but thought they might be having an off day so gave it another try and ordered what they call THE PRIVATE JET and i am sorry to say it was very disappointing the sushi was to thick and was not even cut right through the first time we visited this place it seemed special but after the second and third visit it was not good at all and massively over priced £6.50 for a beer from a bottle, if you are going to go i would go at the weekend not during the week when they have no staff, we love our food and do not mind paying good money for good food but this place is expensive and the food and service is poor 3 out of 10.
This reviewer obviously knows nothing about Japanese food. BBQ skewers are absolutely part of jspanese cuisine, and sticks and sushi do a very good version of it! I love the restaurants in Copenhagen and look forward to trying the uk joint.
I was recommended this place by a friend and had no idea what to expect. My usual sushi experiences are pretty small places (Apart from Nobu) so I was quite shocked to find a huge, almost manhattanesque restaurant when visiting Sticks and Sushi. Being a fan of 'The Killing' and other Danish / Swedish dramas and also Japanese food I realised this could be my perfect dining experience. My friend and I waited a minute or two to be seated at the bar as we had to wait for a table. Drinks were a little slow and there was some initial confusion as to whether we were to finish our drinks at the bar or at our table...However after this we settled down to a hugely enjoyable evening. The layout of the restaurant is very relaxed and I wish more places were like this. It just lets you enjoy your food and company in a comfortable atmosphere. The food was good but not spectacular. The sushi was well prepared and the 'sticks' had some great moments. We found the service extremely pleasant and I especially liked being called 'Sir' as opposed to 'mate' by the young staff. My only gripe is that whilst inventive and quite nice the espresso fondant cake part was from a packet - that's not acceptable in my book. However after we'd paid the bill we wanted a coffee - we asked the waitress and said that we'd already paid she said oh don't worry it's on the house. That rounded off a great evening where we had spent almost 3 hours chatting and eating. I loved the place and would definitely return!
The service here was terrible. It was incredibly slow throughout the evening even though the restaurant was not busy and there was more than enough staff. they brought out the food more 3 of the people at our table leaving one person to wait another 10 minutes for his food. and they took about 15 minutes to bring out the wine. when we ordered our deserts and coffees we all specifically asked for the coffees and deserts at the same time. they then brought out the coffees with no desert so after 10 minutes we asked the waitress for our deserts and she said she didn't realise we wanted them at the same time. when she finally brought the deserts we asked for the bill then after another 20 mins we asked for it again. the waiter brought over the card machine but we said we need the bill first before we can pay! when he finally brought over the bill they had added 12.5% service charge which we refused to pay because of the disgraceful service. this was a Sunday evening and we sat down at 8pm and didn't get out of the place until 10:30pm. throughout the night we could see the staff arguing with each other so something was clearly going on with the service but I have to say I will not be going back to this restaurant. While the food was nice the service was awful.
This is a fantastic restaurant. OK, so it doesn't serve pretentious (albeit authentic) dishes such as sea urchin, but how many people would want this anyway? All of the food is meticulously prepared and beautifully served. For the reviewer to reserve praise solely for the sushi rice is pathetic. How about objectively reviewing establishments, rather than spending your time there trying to think up something trendy or controversial to writ in your reviews? Restaurant 5*, Reviewer 0*.
Galima rygalovka. Nice bar
fantastic food, fantastic atmosphere, the best restaurant in wimbledon
More venues
Sponsored listings