1/7
2/7
3/7
4/7
5/7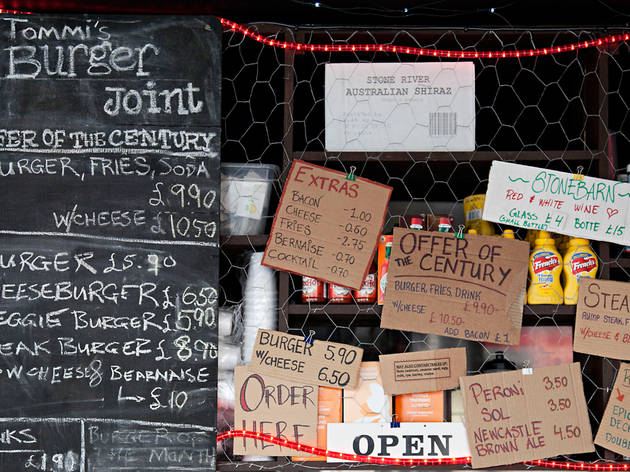 6/7
7/7
Relocated from its nearby 'pop-up' site, Tommi's has now found a permanent Marylebone home. As before, the vibe is ultra-casual and consciously back-to-basics, with a focus on burgers (including the much-lauded steak burger), sodas and shakes. Not forgetting properly skinny, crunchy and salty fries.
Venue name:
Tommi's Burger Joint
Contact:
Address:
30 Thayer Street
London
W1U 2QP

Opening hours:
Open 11.30am-10.30pm Mon-Sat; noon-9.30pm Sun
Transport:
Tube: Bond Street tube
Price:
Meal for two with drinks and service: around £20
Do you own this business?
Average User Rating
3.8 / 5
Rating Breakdown
5 star:

3

4 star:

8

3 star:

0

2 star:

3

1 star:

0
Cool little place, friendly staff and one of the best burgers in London! Mmmm..
Very ad hoc and a little bit grab and go, but my goodness I do love a good ol' Tommi Burger. I wish the seating wasn't a free for all, but if you just want some comfort in a bun - go here now.
I had come here a few times after seeing the queues outside meatliquor, when it was just on Marylebone Lane, and thought it Ok. However after a few patty&bun and honest burger meals, I was in the neighbourhood and decided to pop into its new address on Thayer St. I have to say, it was a very "meh" experience. The burger its self doesn't contain any trademark taste or punch that the aforementioned burgers have. No discernible traits that make it stand out, or house relish. On top of that there was some hard bit of bone in the meat and a fly in my girl friends lettuce. Didn't really help Tommis case. Also there is just a free for all seating, which I guess avoids the silly queues (if they ever happen here) but you just end up with a host of people wandering around eyeing up tables that might free up, its pretty hopeless.
The best burger in London, fact. I have been lucky and not so lucky to have tasted most burger offerings in London from the very good Patty & Bun, Honest and the awesome slider burgers at the Players bar, to the much hyped Five guys and uber trendy and a little too dark to see your food Meat Liquor. But for pure basic no gimmicks great burgers the steak burger from Tommi's is just the best. As subjective and emotive as this subject is, you have to try it to believe it.
And another one. Today I was informed that my burger craze is on its one year anniversary. It was this time last year I visited MEATliqour for the first time and from there I went crazy. So a year in and speaking to many people about burgers I tried a new place out on a friends recommendation. The hype and buzz of it all is starting to take over my life. This website, checking out twitter, food blogs and the news. Nowadays I need to be the first to know. I have grown as a man though, and not in my waist size either. I have learned to appreciate food more, cook more and also be understanding of different tastes. So Tommi's: it was okay. Sorry to say this but it wasn't anything special. I ordered the cheese burger and it was soft and delicate and had the very subtle flavour of good quality meat. However, a burger is a package and all in all, this burger was just a bit of alright. I bit into the burger and there was little hints of quality but not much. The softness of the patty made it feel like it wasn't even there. I think a bacon was needed for this burger just to add a little texture. I won't be coming back in any hurry. I will reiterate that this burger isn't bad. It's just not that great. This combined with the almost identical McDonalds chips served here just doesn't lead me to say "hey guys, guys, you have to go to tommis". www.lifeofshayan.com
Very well executed burger and buzzing atmosphere. Cheaper, quicker and better quality meat than rivals in the area such as Meat Liquor (which is crazy over-hyped). Only downside no booze on offer. Can see this becoming a regular for me for a quick bite though.
I'll be back. Good vibe , tasty burgers.
After the hype of a big build-up and a long time launching, it was all rather disappointing! We dined around 6pm on a Friday evening. Lucky to get a seat, although would have been happy to perch on one of the four stalls outside. The menu is very simple, just three burgers - beef, steak (is there a difference, apparently there is) and veggie. Times are hard in Iceland you know!! No alcohol is served yet but the concept of buying a soda and helping yourself from the fridge I liked. Approx £9 for burger, soda and chips didnt sound bad. The kitchen is as big as a broom cupboard; the Icelandic servers jostle for position with the chefs. Service was OK but nothing to write home about. Upon paying, i needed to move aside to allow a tray of mediocre pre-prepared lettuce/tomato/onion/sauce stacks to be passed through to the kitchen which slightly spoilt the surprice - In 'n' Out burger would be proud! After sitting for 20 minutes staring at not very much decor (ok, so its retro!), and still no sign of burgers. Even with three items on the menu, this certainly isnt fast food, which is nothing to be criticised if we want good cuisine, but upon tucking into what I was now drowling over, I was disappointed to see it had barely been showed the flame and was more Steak Tartare than burger patty. My girlfriends burger was completely the opposite, flamegrilled past the point of retaining moisture and positively carbonated! Chips on the other hand are good, on par with what is expected at McDonalds (!). We leave unenthused by having to wait as long as it took for a volcanic ashcloud to clear overhead for what turned out to be yet another uninspiring burger outlet for London. Do yourself a favour and join the queue snaking round the corner nearby to MEATliquor which everyone is talking about.
More venues
Sponsored listings