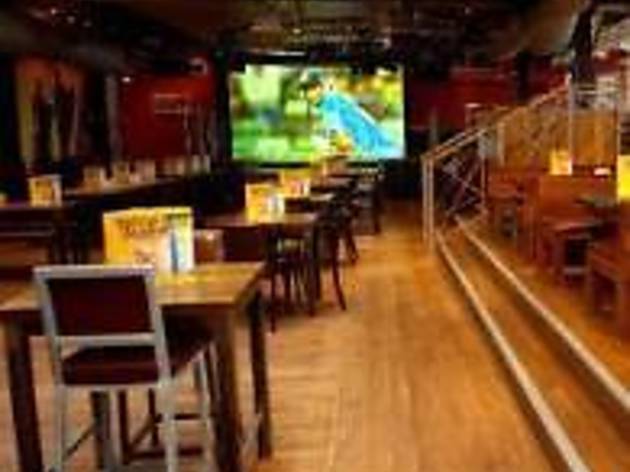 The content on this page is provided by a Time Out partner.
The Walkabout brand is well known for being the place to go for food, drinks and good times and this bar and restaurant in London's Temple is one of the chain's very best. An £800,000 refurbishment ensures that Walkabout Temple is decked out in the very latest, state of the art gear on which to catch all those major sporting events in 3D and HD, hear the latest and loudest party tunes and kick back and relax while you eat, drink and make merry in the cosy booths, VIP boxes or the pop up restaurant. At the bar, you'll find a full complement of drinks, from great wines at affordable prices to cocktails and top name beers – even more affordable at Happy Hour, Monday to Friday between 5pm and 7pm – while the food menu is based around an Aussie BBQ concept, including 'Bonza Burgers', steaks, sandwiches, pub grub classics and sharing dishes.
Venue name:
Walkabout Temple
Contact:
Address:
Temple Station Temple Place
London
WC2R 2PH

Price:
£25 and under
Do you own this business?
Rating Breakdown
5 star:

0

4 star:

0

3 star:

0

2 star:

0

1 star:

3
Be prepared to be taken out of the pub for no reason.
Went there last Friday with some friends (mixed group of boys and girls). We arrived quite early, paid our ticket, had some drinks and were dancing and having fun. Then at some point after 2am, some of us were waiting for part of the group that was in the toilet, when 2 bouncers went up to one of my friends and took him out of the pub. I followed them, as I thought they had mistaken him for someone else who might have been causing trouble, because we had not been really talking to anyone outside our group.
Then he was told he had to leave the place because "he had had too much drink". My friend was quite calmed, since he had stopped drinking like 2 hours before, and asked if he could have a alcohol test or something to prove that, but he was just told "you cannot get back in".
I then approached the manager, a young lady who said that if we had any complaint, we could complain to her. I asked why my friend had been taken out, since he was not causing any trouble. She said "He wasn't taken out because of causing trouble, but because he had too much drink. You can go back and enjoy the rest of the night but he will not get back in". Obviously we were not going to leave our friend outside and "go back to enjoy the rest of the night". I asked if she could prove what she claimed. My friend had stopped drinking 2 hours ago, he was not causing trouble, he was not sick, he was not talking to anyone outside our group of friends, he was not pushing anyone, he was not sleeping... nothing you could say "ohh look at that guy... he is too drunk". If he had done any of those, I would understand the situation, blame my friend and would not be writing this comment. But sadly they could not justify why they decided to spoil the end of our night.
So if you go to this place, be prepared to go through the embarrassment of being taken out when you are behaving properly because they might think that "you had too much drink". Never ever happened to us in any club before.
Aggressive security and week management give this place a miss...................
I just got back from Walkabout just now, and my only thought is "wow"! I am around for the worst bar ever. In all of this vast world, of all the bars there have ever been, and all the bars there ever will be, I can safely say that I was around for the worst of all time. What a time to be alive!
You lot must be the only bar to ever be too scared to back up your own prizes in a pub quiz. Every other pub I've been too will let you spend the bar tab you've won on the night. Not walkabout though, they're happy to let you book a few weeks in advance for a few hours slot in which you can spend it. Awful people.
As soon as you use such phrases as "Terms and Conditions" and "Small Print" to debate a pub quiz prize you know you've gone too far. Not only that, but it said literally nothing in all the size zero small sprint about not spending the bar tab on the night. So you're not only a terrible bar but also a terrible bar full of liars,
Also, the terms your bumfluff manager used to convince us of your strategy were absolutely appalling. "If we make you come back another day to spend your bar tab, your more likely to spend some extra money on top of that, so we'll make more".
Oh brilliant, I was worried that your bullshit policy was completely nonsensical, but now I see that it was so you could squeeze even more money out of your customer, I guess it's fair enough. You're customer relations are superb.
You can forget me or any of my friends ever spending a penny in your pathetic establishments ever again.
Also, fair enough your deep fat fryers being down; these things happen. But not telling your customers when they order a burger meal that they can't get any chips, instead giving them a tiny dish of lettuce for no discount is yet another scummy thing to do. Sums up this awful place. Profit first, customer a distant last.
More venues
Sponsored listings