Where to watch the Boat Race
Beat the crowds and find the best spot to watch the Boat Race 2017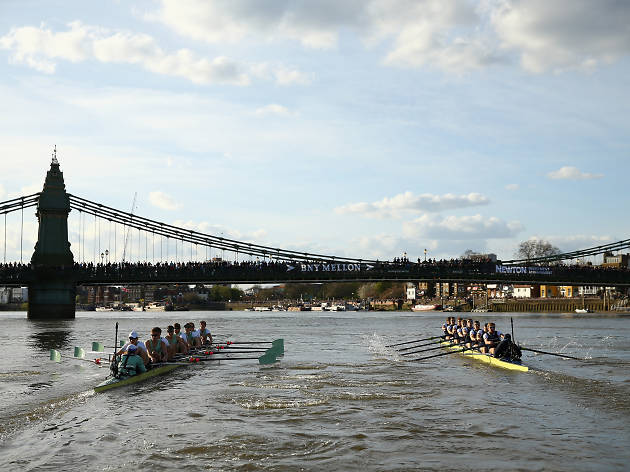 The organisers claim that up to 300,000 spectators in London will line the four-and-a-quarter-mile Oxford v Cambridge Boat Race course from Putney to Mortlake on the afternoon of Sunday April 2 2017, with The Cancer Research UK Women's Boat Race starting at 3.10pm, and The Cancer Research UK Boat Race starting at 4.10pm. So where will you be? We've put together a list of prime location pubs along the route, all perfect for a pint while you spectate.
While there's no grandstand this year, the Black Lion will still be setting up a heated marquee complete with a live band. Outside, they'll be serving up hot pies and food from the barbie, or there's a £25 Sunday roast from noon till 3pm (which has to be booked in advance) for those sitting indoors.

MIDWAY POINT
Read more
The ever-popular Blue Anchor pub will be hosting an outside bar and barbecue for those wanting a riverside view, whilst indoor screens will be showing all the action in case the rain arrives.

MIDWAY POINT
Read more
This year, the Old Ship will be hosting their very first Boat Race Festival. Details so far include lots of beer, live music and fantastic riverside views of all the action. Find more information at oldshipw6.co.uk.

MIDWAY POINT
Read more
Like its neighbour Blue Anchor, the roomier Rutland Arms is well-placed and always very busy. Expect to find traditional pub food and a good view of the race, crowds permitting.

MIDWAY POINT
Read more
Boat Race in the Park Festival (Bishop's Park and Furnivall Gardens)
Hammersmith & Fulham Council and the Boat Race organisers will once again be holding two special free 'Boat Race in the Park' events at Bishop's Park in Fulham and Furnivall Gardens in Hammersmith. Bishop's Park will have a big screen, beer tents, food, family fun and live music.

Sun Mar 27. Bishop's Park, SW6 6EA and Furnivall Gardens W6 9DH

Visit theboatraces.org for more information.
You can kick off the race here and stay long after it's over. The Boathouse has a sizeable terrace overlooking Putney Bridge, where they'll have a pop-up bar and hot dog and pulled pork stand for the Boat Race. Then once the race is over and a winner is crowned, this Putney pub will be celebrating with live music.

AT THE START
Read more
As always, the Duke's Head going to town with Boat Race festivities. There will be live music from 2pm, screenings of both (men's and women's) boat races, screening ofthe Grand Naction (which takes place on the same day) and then live DJs until late in the downstairs Rowing Club. Entry is free, but you are recommended to get there early.

AT THE START
Read more
With the starting line outside its front door, the Star & Garter always go big for the Boat Race. Along with TV and projectirs screening the race, three floors will host live bands and DJs, wo'll will be playing from midday through to the small hours of the evening. Entry is free all day.

AT THE START
Read more
A very short stroll from the river (and with excellent views), this renowned jazz pub will have live music until the start of the race.

OVER HALF WAY
Read more
Capacious and perfectly located, Ye White Hart pub are planning 'live music, food and fun'. Keep your eyes peeled for more details on their Twitter, @whitehartbarnes.

OVER HALF WAY
Read more
Read more about the Boat Race
Join the crowds and line the four-and-a-quarter mile course from Putney to Mortlake on Sunday March 27 to catch all the action
Read more