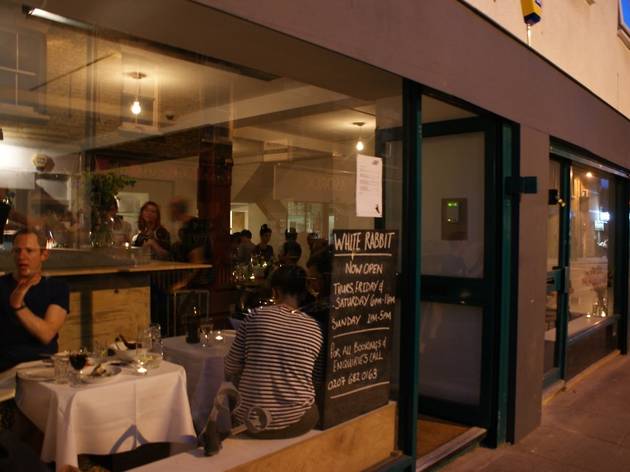 The stripped-back aesthetic at this Dalston restaurant (think concrete, wrought iron, mismatched furniture and bare white walls) seems a good fit for its location. Its trendy clientele aid the look, too.
The menu – a mix of European dishes with influences from further afield – is made up of small plates designed to share. Expect dishes such as grilled aubergines with tahini yoghurt and a jalapeno sauce, Cornish mussels with clams, coriander and grilled lime, and grilled rump of lamb with peas, mint and shoots. Brunches of baked eggs with burnt end beans, or black pudding with hash brown and hollandaise prove popular.
Keep an eye out for seasonal and chef's menus, as well as a Sunday roast with meats cooked in a charcoal oven.
Venue name:
White Rabbit
Contact:
Address:
15-16 Bradbury St
London
N16 8JN

Opening hours:
Open noon-4pm, 6pm-midnight Tues-Fri; 11am-4pm, 6pm-midnight Sat; 11am-6pm Sun
Transport:
Tube: Dalston Kingsland rail
Price:
Meal for two with drinks and service: around £60.
Menu:
View Menu
Do you own this business?
You may be interested in:
Average User Rating
3.4 / 5
Rating Breakdown
5 star:

4

4 star:

5

3 star:

2

2 star:

3

1 star:

2
Sharing plates for brunch is taking the p*** a bit. One poached egg on some salmon £7 and you have to pay extra for toast. Scrambled eggs on one peice of unexceptional white toast £7. Pancakes served on a board so that the small amount of maple syrup soaked into the wood. To have a decent brunch (and I don't have a huge appetite) you pay around £20 with minimal service, nowhere to hang your coat (table with benches), grotty loos and panpipe music (seriously?) This place seems focused on maximum profit above everything else. Very disappointed.
Great food. Inventive and interesting with very few misses. Not cheap but worth it.
I found the White Rabbit by coincidence while walking around Dalston.What a surprise!!
I don't know understand why the people criticized the price as we had a lovely meal for two for just £22.
We ordered the offer of 3 items for £22 and the food was delicious. The broccoli was just superb mixed with fresh mustard seeds , almonds and what seemed to be marscapone cheese. The mix was just delicious. We also ordered the pot with potatoes onions and eggs and the pot with beans and sausages. Both also perfectly cooked and great mixed of flavors.
Congrats to the chef for giving us a culinary orgasm !!
They also have fresh made lemonade and fresh juices what is a + if u fancy a healthy drink option.
Yes, the restaurant have a super informal atmosphere that must not be the taste for snobby noses , with tattooed waiters, or underwear display under their pants but I found it hilarious. They were very friendly and very efficient serving.
It was the perfect place for Sunday lunch. I love this place. I will come back !!

Yes the food's lovely and imaginative, yes the staff are friendly and yes the vibe is good. But the place is so ruinously expensive, and the servings (even the "large" plates) so small that it's impossible to recommend the place. Seven quid for half a head of broccoli, seared and drizzled in a mead and mustard purée? Seriously? Our lamb belly was nicely sweet, the onglet rich and well-prepared, the mussels were, well, mussels... But we left in need of a plate of chips and an overdraft. If you're on some weird diet and you want your wallet to share the pain then this is the place for you. Otherwise get yourself to Mangal or Testi and give this overpriced Nathan Barley magnet the swerve.
Good atmosphere and food was delicious but terrible value for money. 'sharing plates' are tiny so make sure you order at least 2 each. And cost more than Michelin starred restaurant St John. The service was terrible. One of our mains arrived at the same time as ordering it and before the drinks and bar snacks, so was obviously someone else's. We were not advised on how much to order (so were still starving after we'd finished the food we had) and when we tried to order more our waiter told us there was 'a rush on the kitchen' and so no, we couldn't order any more food. Surely the only thing a restaurant does is sell food?! Very disappointing.
Ate here last night with a pal and was very impressed. We had two starters, three mains and two desserts and a bottle of wine. Bill including a tip was around £90, so not cheap, but I think a fair reflection on the quality of the food. Starters we had an incredible burrata with lemon and fennel and excellent pork and pistachio terrine. Both well sized and priced. For mains we had the artichokes which were very cheffy but delicious, the rabbit confit which was great and the only slightly underwhelming dish of the evening, the lamb belly. Wasn't bad per se but at £15 for one small cut of meat with gravy seemed to be pushing it a bit. Desserts we had a divine chocolate ganache and the salted caramel doughnut which was a fun take on things and also very tasty. Service was friendly and upbeat, although towards the end of the evening a little slow. We were happy leisurely drinking wine and chatting though so wasn't a problem for us - might be for some in a hurry. Will definitely return.
Delicious food, great service, great value.
We've been here 4 times. For breakfast and dinner. The staff have always been lovely, engaging, fun, helpful and quirky. I think their choice of waitresses is great, they look cool, but they're warm and friendly! The one thing I found a little...well...not very restraunty...was that the waitress said she hadn't tasted any of the dishes, as they only get a free meal once per quarter! Good practise in restaurants is to at the very least give tastings to your staff to inform them and educate them for the customers. We don't like the 'sharing platter' concept so much... but we like the food - the jerusalem artichoke was AMAZING, smooth as silk and depth for days, loved the crumb topping. We loved the martini espressos - some of the best I've had and I've had MANY! The dessert last time was imaginative and fun and fruity and just a delight! Really loved that. I think we always spend a lot more here than we thought we would, maybe it's the smallish portions... The waffles with dinner are great. Breakfast - American pancakes and bacon - are great. The atmosphere is always lovely, welcoming and the service is always friendly. It's a real gem on Bradbury St. and every night I pass, I live down the road, it's bustling - even on Mondays and Tuesdays! Please feed the staff though, they need to understand the menu to relay their experience back to the customer.
As a New York transplant and Dalston resident, I was really keen to try this place. The atmosphere is pretty good, but this place wouldn't last a minute in NYC. They have a "sharing plates" concept, but the problem is that they charge 12 pounds for 5 bites (yes, bites) of steak or two tiny portions of lamb with extremely disappointing presentation, making you wonder if someone has been chewing on your meal back in the kitchen. Ridiculous, especially in a neighbourhood where you have really good gastropubs like the Prince Arthur or Scolt Head that charge that for a real main course. The vibe is good, but the food is bordering on the absurd.
Best restaurant in Dalston. Really nice to finally have something other than Kebabs and Nandos. Desserts are my favourite here. Portions are small, but I don't think they're overpriced - you can taste the quality. Beautiful decor, lovely parquet floor, friendly staff. Try the cocktails. Yum.
We went for Sunday lunch, choose from the 'sahring menu' spent 120.00 GBP between 4 of us and left hungry. Tiny portions overpriced. Found the waitress surley and aloof. Won't go again,
Really disappointing evening. Food was really tasty, but there were too many things that wound me up about this place. None of the dishes said they had nuts in, but two of the dishes we ordered did indeed contain nuts, causing my boyfriend to have an allergic reaction. We never would have ordered those dishes if nuts were listed on the menu. When we asked the waitress she was really rude and said that it was his fault for not saying he was allergic! No apology, no suggestion of how she could help (maybe offering to bring something out that had no nuts?? Or a drink? Or even just saying sorry would have been nice!) just this bizarre defensive attitude. We felt really uncomfortable and it kind of ruined the evening. His allergic reaction meant he couldn't taste anything after that anyway. Also, the policy of all the dishes coming as and when they're ready just doesn't really work if it means that side dishes arrive after all the main dishes have been eaten. And then we were practically bundled out of our seats when our time slot elapsed. I know they have to turn the table around, but 5 more minutes and we would have been finished anyway - there was no need to hustle us out of there. All in all it just added to the feeling that we weren't welcome, which is a shame, as apart from the really rude service the food and atmosphere here is actually pretty good.
I had a fantastic time at WHite Rabbitt- the staff were really friendly and the atmosphere is great. it#s perfect for a cosy dinner for 2 or a bit group gathering. We popped in on a Thursday evening and despite being fully booked they found us space at the bar and it was really comfortable and we felt really looked after. Food was imaginative and tasty. Will definitely be returning and planning on trying the brunch menu this weekend!
I've eaten at White Rabbit a few times now, and I must say I've been really impressed every visit. Interesting dishes, the meat smoked and cured on site. A huge wood fire oven that fills the restaurant witha beautiful aroma. The wait staff are warm and friendly, and know the menu inside out. I think Time Out, upon a second visit may experience what I, and many others have experienced, which is why, with only word of mouth White Rabbit is full to the brim most weekends.
More venues
Sponsored listings