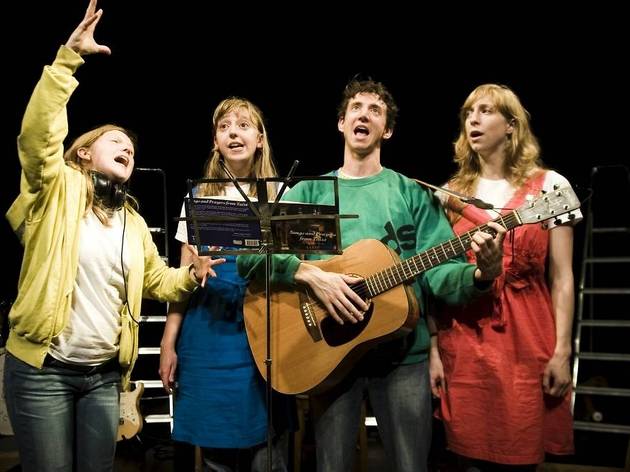 Since their Edinburgh Fringe debut in 2008 it's been obvious that Little Bulb are a company with electric potential. Fringe hits often fade when they transfer to a more demanding audience in the capital. But 'Operation Greenfield', which opened at Edinburgh in 2010, plugs Little Bulb's potential into fully amped reality.
It's a great choice for Steve Marmion's zesty new season of theatre at Soho, which crosses over with cabaret, live art, impro and comedy. But this small, powerful show has enough exuberance, wit and originality to light up any London theatre.
Clare Beresford, Eugenie Pastor, Shamira Turner and Dominic Conway have stayed true to the endearing, jamming vibe of earlier Little Bulb shows such as charming but rambling impro folk opera 'Sporadical', commissioned by the Forest Fringe.
Their geeky musical skills – on the flute, the drums, the xylophone and the electric guitar – are completely integral to this particular tale, of the coming-of-age pains of a Christian teenage band as they discover folk, funk, rock and hormones on the way to the annual Stokely talent competition.
It's a slight, daft, surreal story, but it's the way they tell it that's so impressive. The actors embody the pain, the thrill and the sheer gawky awkwardness of being a teenager. But they also find a sublimely theatrical, homemade way of making those painfully intense teen dreams – of sex, of religion, of eternal friendship or of creative bliss – take flight.
Nostalgia meets genuine aesthetic daring in a show that's so sweetly persuasive, it could almost make the Christian rock band cool again – or 'relatively cool', which is Dominic Conway's geeky bandleader's more realistic aspiration. Eugenie Pastor's hilariously mulish French girl, new to the band and to Stokely, plays the flute and yearns to be the Virgin Mary with all the ungainly passion and growing pains of a lonely schoolgirl. Clare Beresford jollies things along with lashings of forest fruit squash, innocent enthusiasm and great percussion. And Shamira Turner is wonderful as the intense maths nerd who gets spiritual guidance from Elvis, gorgeous angel feathers and a lesbian subtext to complete her metamorphosis into a being who has, unlike the others, soared far beyond those church rehearsal rooms.
The Gorecki-drenched climax is lavish and a tad overblown, but this genuinely original, charmingly offbeat company has well and truly earned its wings.