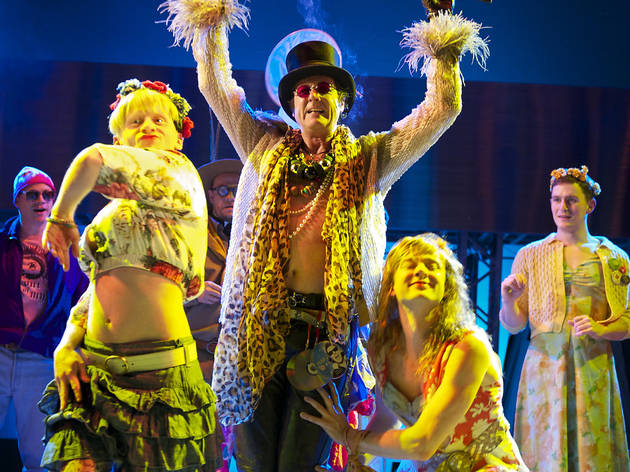 'The Winter's Tale', which plays in rep with Propeller's more successful 'Henry V', is a tricky proposition: it always seems like the play Shakespeare wrote for a bet, sticking together tragedy, pastoral comedy, and an improbable reconciliation involving an animated statue.
All-male Propeller's version starts promisingly – Michael Pavelka's set introduces us to a mirrored metallic room, atmospherically lit with candles. In the foreground, sand trickles from the ceiling as if an hourglass has almost run its course.
The eerie hum of fingers running round the rims of brandy glasses sets up the charged atmosphere in which King Leontes of Sicilia starts to suspect King Polixenes of Bohemia of having an affair with his wife Hermione. Yet this is where it starts to go wrong. Leontes's shift between bonhomie and paranoia has to be judged perfectly, but Robert Hands's performance bumps like a speedboat over a choppy sea.
Richard Dempsey's Hermione is a model of sophisticated, self-contained femininity – but this too is a problem. He is so self-contained that there is little sense of chemistry between him and Leontes. Without an emotional investment in their relationship, the audience must look to strong supporting roles such as Chris Myles's Camillo and Vince Leigh's redoubtable Paulina to sustain the tragic tension.
The pastoral second half is done in gloriously brash Woodstock style: Tony Bell shines as an Alice-Cooper-style Autolycus. Yet it's Ben Allen – movingly cast as both Leontes's dead son Mamilius and his daughter Perdita – who anchors the production emotionally. Hands's performance grows more compelling the more broken Leontes becomes. But while his reunion with Hermione has a fractured dignity, it does not provoke the tears I have seen in other 'Winter's Tales'.