Heads up! We're working hard to be accurate – but these are unusual times, so please always check before heading out.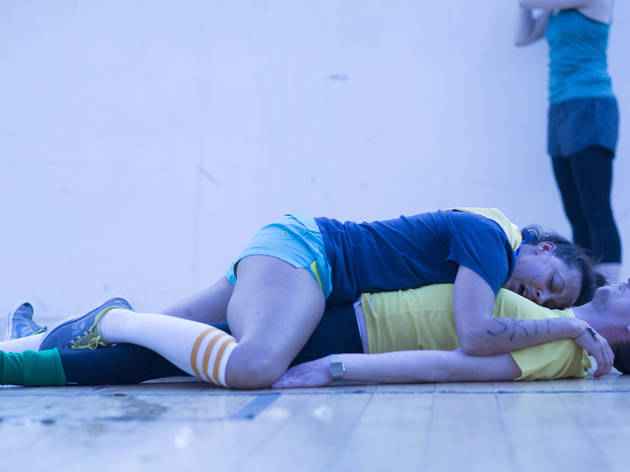 A Series of Increasingly Impossible Acts review
Northern Stage at King's Hall
When the Lyric Hammersmith's Secret Theatre rep project debuted last year, it instantly attracted a sort of crazed cult of anonymity, with certain fans getting furiously angry at anybody who revealed any identifying details of productions that were initially only billed as 'Show 1', 'Show 2', etcetera.
You got the impression that this wasn't exactly what the Lyric camp wanted – the object of the initial secrecy was to stress the importance of the rep company assembled to perform the shows, not to suppress all information about them. And now the veil has lifted – on tour, the former shows '1' to '4' have been billed by their actual names, and ditto for the erstwhile 'Show 5', which hits Edinburgh under its real title, 'A Series of Increasingly Impossible Acts'.
Delightfully, though, I still can't tell you what will happen when you see it: it's a devised, semi-improvised show which takes the form of a sort of physical and emotional assault course, with one of the rep cast picked out of a hat each night to serve as the night's 'protagonist'. It's a charming affair, not least because of how genuinely funny the physical tasks are – most notably a recurring sequence in which the night's protagonist (on press performance the modest, plain-spoken Katherine Pearce) attempts a literally impossible series of tasks: bending a huge metal bar, attempting to fit inside a small suitcase, trying to lift a tyre using telekinesis.
The key sequences, though, are the ones where the protagonist is required to shout out a series of their fears and insecurities while wrestling a fellow cast member who does the same. There is something both hilarious and genuinely touching about the spectacle of a woman knackering herself physically and emotionally, but doing it with good cheer, among friends.
Romantic and bodily insecurities seemed to be the theme of Pearce's performance – it would be interesting to see how different the show would be on another night, with another cast member. Really different, I'd hope – conceptually 'A Series of Impossible Acts' is a lot of fun, but it's not the loopy tasks that make it, but the sense that the protagonist is sharing something of herself with us, spontaneously and in the moment.
By Andrzej Lukowski
The latest Edinburgh Fringe theatre reviews