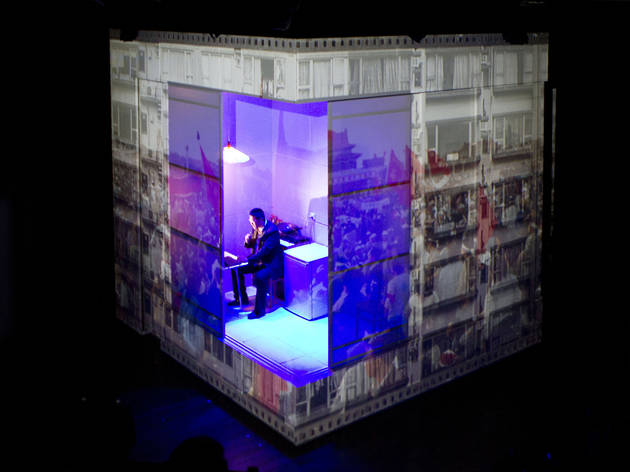 1/8
© Finn Ross
Benedict Wong (Zhang Lin)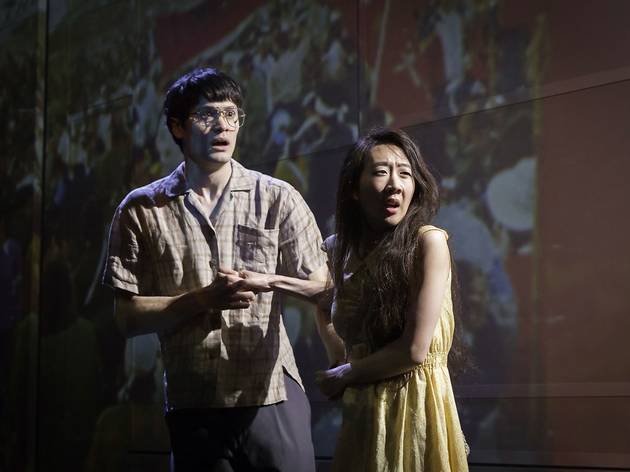 2/8
© Johan Persson
Andrew Leung (Young Zhang Lin) and Elizabeth Chan (Liuli) in Chimerica at the Almeida.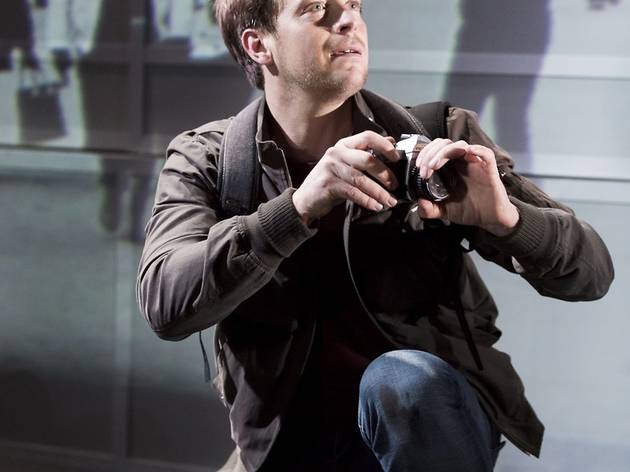 3/8
© Johan Persson
Stephen Campbell Moore (Joe)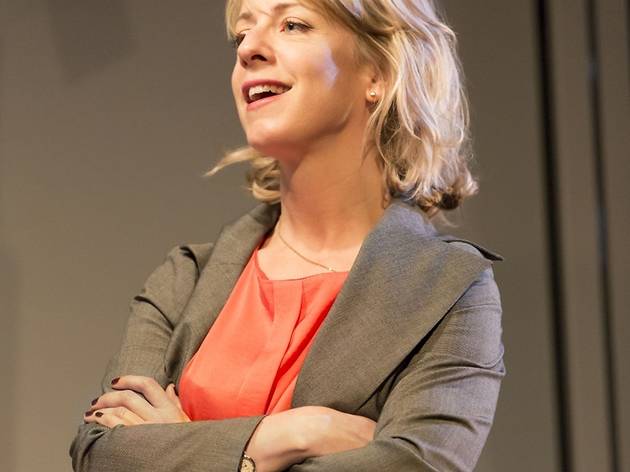 4/8
© Johan Persson
Claudie Blakley (Tessa)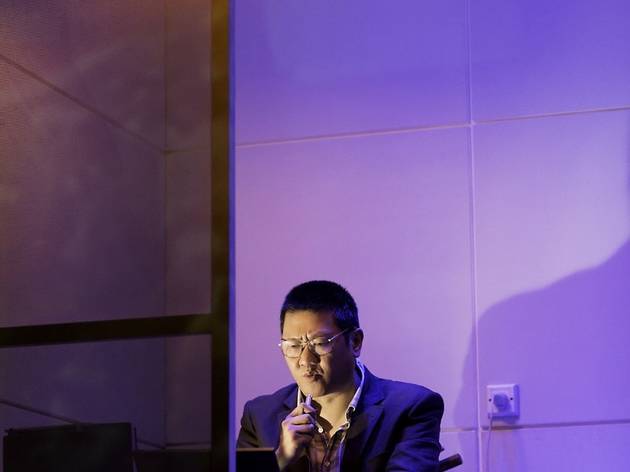 5/8
© Johan Persson
Benedict Wong (Zhang Lin) in Chimerica at the Almeida Theatre.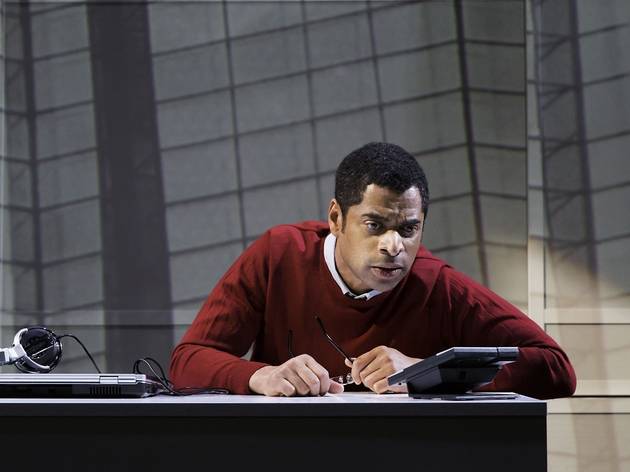 6/8
© Johan Persson
Karl Collins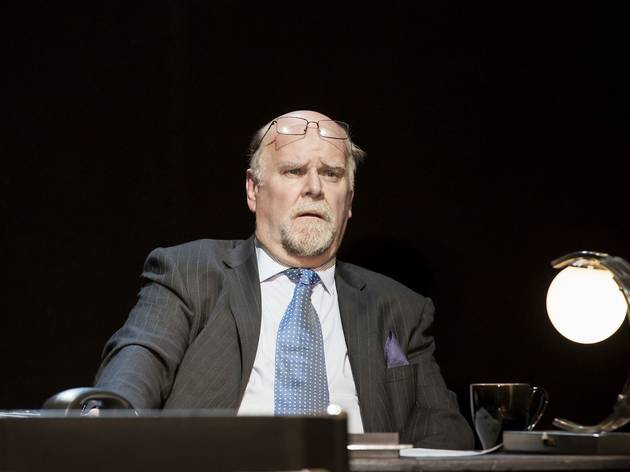 7/8
© Johan Persson
Trevor Cooper in Chimerica at the Almeida Theatre.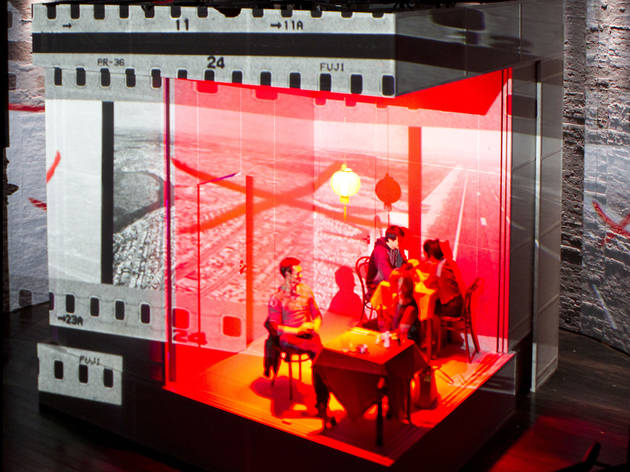 8/8
© Finn Ross
Whatever happened to the tank man of Tiananmen Square? That's the question that drives Lucy Kirkwood's sprawling transpacific political thriller – six years in the making and worth every one of 'em.
The so-called 'tank man' is the iconic image of the 1989 Tiananmen Square Massacre:a lone, unidentified figure with a crumpled plastic bag facing down a column of government armour. Long-distance shots of him were taken by six press photographers – 'Chimerica' imagines a seventh, Stephen Campbell Moore's tough, idealistic New York snapper, Joe.
Two-and-a-half decades on, with Obama's re-election campaign in full swing and China on the cusp of global superpower status, Joe's obsession with that day and the images he took as a teenager is reignited after a trip back to China and an encounter with his old friend Zhang Lin (Benedict Wong).
Brilliantly directed by Lyndsey Turner, 'Chimerica' is a triumph of storytelling first and foremost. It's a gripping, multilayered and meticulously researched thriller told in dozens of scenes that jump slickly out of Es Devlin's rotating gauze set, on to which Chinese slums and New York tenements are projected as the action hops freely between Beijing and the Big Apple.
Its three hours are never less than gripping as Joe's quest – somewhat reminiscent of that undertaken by Jack Nicholson's detective in Roman Polanski's seminal 'Chinatown' – takes him, his colleagues, his friends and his brilliantly brittle British love interest Tessa (Claudie Blakley) on an odyssey through a modern America increasingly compromised by its entanglement with a resurgent China.
It's a deeply filmic experience, like an expansive HBO mini-series expertly compacted into an evening at the theatre. There is a lot of character development, but they're wonderful characters, and Kirkwood's sharp, incisive dialogue is splendid. And Turner's cast is first rate: Joe's self-destructive romance with Tessa and his sparky buddy comedy chemistry with Sean Gilder's hardbitten reporter Mel provides the momentum. But it's frail, haunted and funny Wong who provides the beating heart, the reminder that China is much more than an abstract sociopolitical concept.
'Chimerica' is not without its flaws, but ambition, impact and sheer watchability transcend them. It's a detective story with great characters and a timely backdrop, but it comes with a sucker-punch final section that makes a powerful and not at all obvious case for the tank man image as a pivotal moment of divergence between China and the West.
A co-production between the Almeida and Headlong, the company founded by incoming Almeida artistic director Rupert Goold, 'Chimerica' may suggest a slightly terrifying future for the planet, but it promises a bold rebirth for an Islington powerhouse that's fallen on slightly chintzy times.
By Andrzej Lukowski
Venue name:
Almeida Theatre
Contact:
Address:
Almeida St
Islington
London
N1 1TA

Transport:
Rail/Tube: Highbury & Islington; Rail: Essex Road; Tube: Angel
Price:
£8-£32. Runs 3hrs 5mins